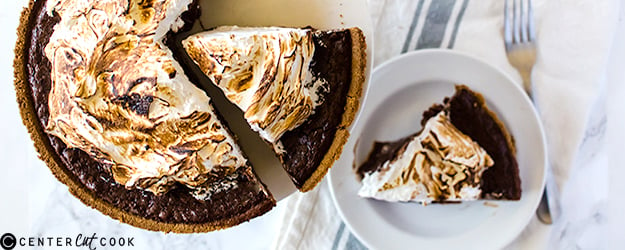 There is something about s'mores that immediately brings a smile to everyone's face. Some genius figured out that graham cracker, chocolate, and marshmallow are the secret to bringing pure happiness to the world. S'mores are amazing in any form, but I've recently fell in love with s'mores pie.
What makes s'mores pie so amazing is that you get a lot of s'mores in one sitting AND you get to share s'mores easily with everyone who sits down for a slice with you. It is the perfect dessert to have when you are craving s'mores, but don't want to go through making individual s'mores for everyone.
I wanted to keep this recipe incredibly simple so I used a premade graham cracker crust, but you can use your favorite recipe for a buttery 9-inch graham cracker pie crust. There are a lot of different ways to make the chocolate filling, but my favorite way is to make a filling that is mostly like a ganache, but baked so it holds its form, but it makes it lighter and you can leave it at room temperature without changing the texture.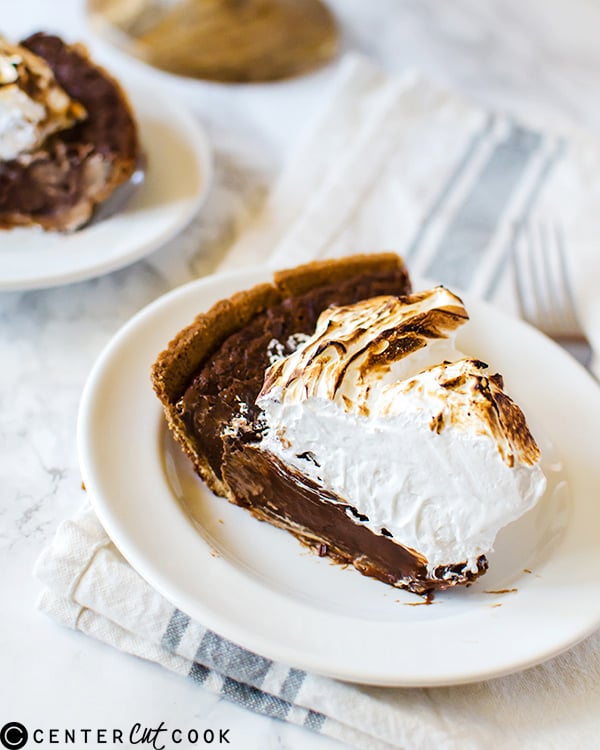 For the marshmallow, I used a quick swiss meringue fluff that is lighter than the store bought version and so quick and easy to make I love using my kitchen torch to toast my marshmallow, but you can carefully toast the marshmallow under the broiler. I recommend keeping your eyes on the pie as the marshmallow and pie crust can easily burn.
INGREDIENTS
5 oz semi-sweet chocolate
5 oz milk chocolate
3 tablespoons granulated sugar (also tasty with brown sugar)
1 1/4 cup heavy cream
2 large whole eggs, room temperature
1 9-inch graham cracker pie crust
2 large egg whites
1/8 teaspoon cream of tartar
1/2 cup granulated sugar
1 teaspoon vanilla extract
DIRECTIONS
Preheat the oven to 350 degrees F.
Gently melt the chocolate with the sugar and heavy cream. Allow to cool slightly.
Beat the whole eggs and slowly add some of the chocolate mixture to the eggs while constantly beating the eggs. Slowly pour the egg mixture back into the chocolate mixture while constantly mixing the chocolate.
Pour the chocolate mixture into the graham cracker crust and bake for about 30 – 35 minutes, or until the edges are mostly set, but the center is still a bit jiggly.
Leave out at room temperature to cool, then refrigerator until fully chilled.
While the pie is chilling, beat the egg whites with the cream of tartar until foamy in a heatproof bowl. Heat a small pot of water until it boils, then turn down to a low simmer. Add the sugar to the eggs and place over the simmering water, making sure that the bowl does not touch the water. Constantly and quickly begin beating the egg whites until it is white, ribbony, and the granulated sugar has dissolved into the whites.
Transfer to a stand mixer, or use a hand mixer to beat the egg whites until it forms stiff, glossy peaks, but are not dried out. Fold in the vanilla.
Place the marshmallow over the pie and toast using a kitchen torch, or under a broiler for about 1 – 2 minutes.
Allow the marshmallow to cool. Serve cool or room temperature.