Soft and Chewy Classic Peanut Butter Cookies
These Classic Peanut Butter Cookies are the best version around!! Perfectly moist, chewy, soft, thick, and delicious!
I can promise you this will be the only version of peanut butter cookies you will ever need. They are my family's absolute favorite! I will admit, normally I am definitely a chocolate girl. I usually don't have dessert at all, unless it's chocolate. There are few exceptions to this rule. One of them is these cookies. It might have something to do with my childhood, or maybe just that these cookies are so perfectly textured and absolutely delicious!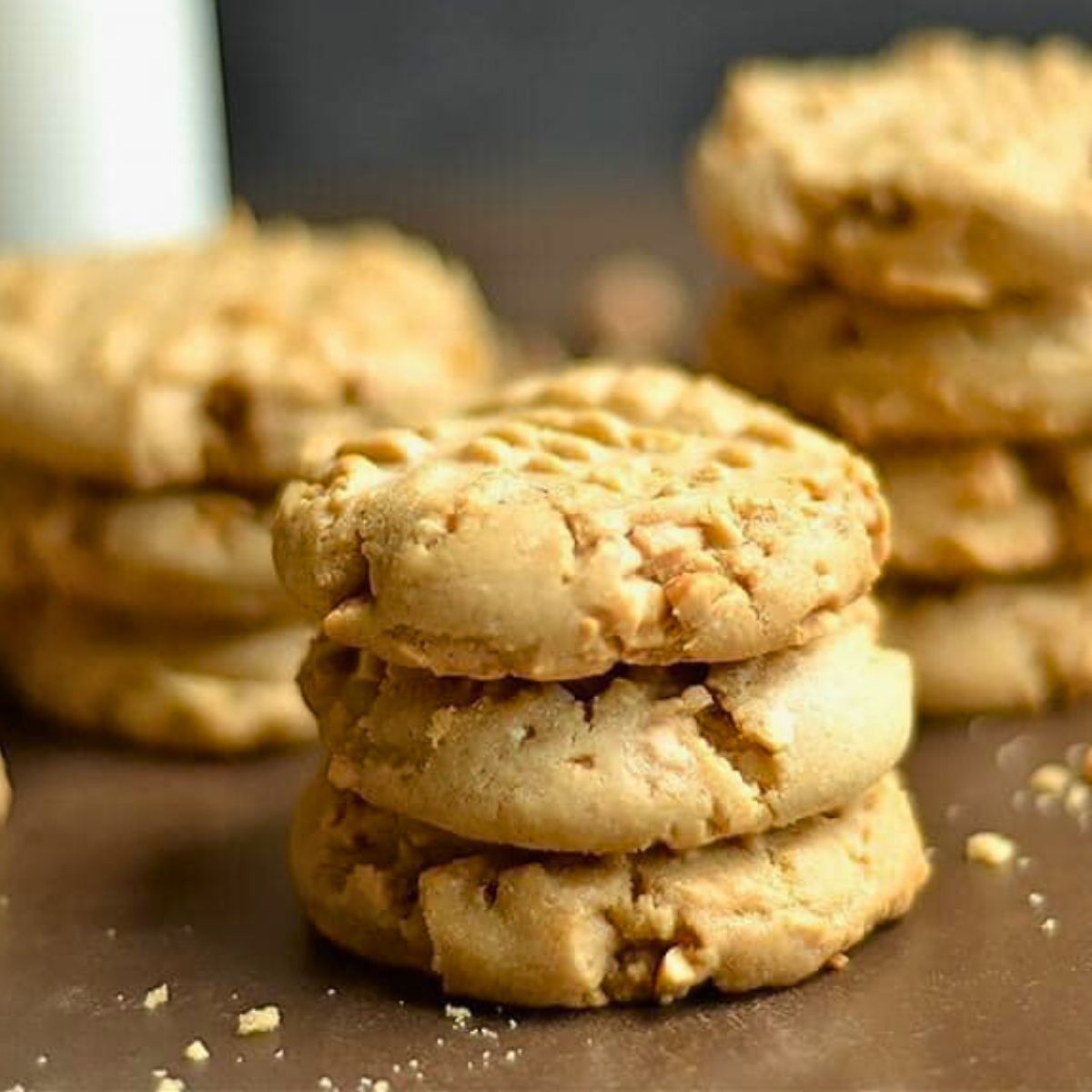 This is my "tried and true" recipe that I have tweaked over the years to make them absolutely perfect. A few things that make them so yummy. First, they contain peanut butter chips. Second, they also have roasted and salted peanuts. So far, you really can't go wrong! I love how they are thick and soft, unlike crunchier and flat peanut butter cookies that I have tasted. They are also super easy to whip up, and I can always keep the dough on hand when needed.
One of the most important things about making the perfect peanut butter cookies, is to let the dough chill for at least 3 hours. This helps to maintain their thick shape. In our house, I usually have a batch of peanut butter cookie dough in the fridge or the freezer. This particular recipe will make a huge batch! The best news is, you don't have to bake them all at once. In fact, my family loves it when they get a freshly baked cookie after dinner, so I usually only bake a few at a time. The dough will last for about 3 days in the fridge, and after 3 days it's best to store it in the freezer. You can easily bake the cookies from frozen dough as well! It may require an extra minute or two in the oven.
Some days, all you need is cookies and milk to make everything better. Enjoy!
Classic Peanut Butter Cookies
Soft and chewy classic peanut butter cookies.
Ingredients
1

cup

unsalted butter, room temperature

¾

cup

granulated sugar

¾

cup

dark brown sugar, packed

2

large

eggs

2

tsp

vanilla extract

1

cup

peanut butter (crunchy or creamy)

3

cups

all-purpose flour

1

tsp

baking soda

1

tsp

baking powder

1

cup

peanut butter chips

½

cup

roasted and salted peanuts, chopped

optional
Instructions
Using a mixer, beat together butter and both sugars (a paddle attachment is best for this). Beat until creamy (2-3 minutes). Add in 1 egg at a time, and continue to beat at a lower speed. Once eggs are incorporated, add in vanilla and peanut butter. Pause to scrape down the sides of the bowl with a rubber spatula when needed. Beat until well combined and creamy, set aside.

In a smaller bowl, mix together flour, baking soda, and baking powder. Fold dry ingredients into wet until a thick dough forms. Be sure to scrape down the bottom and the sides of the bowl to ensure dry ingredients are completely mixed in the dough. Fold in peanut butter chips and peanuts. Cover dough and refrigerate for at least 3 hours (or overnight).

Preheat your oven to 350 degrees when ready to bake.

Using a 1.5 – 2inch ice cream scoop, or large spoon, spoon cookie dough onto a baking sheet about 2 inches apart. Using a fork, gently press down on the cookies in two directions to create a criss-cross fork pattern across the cookies. Cookies should flatten slightly, but maintain a thick shape.