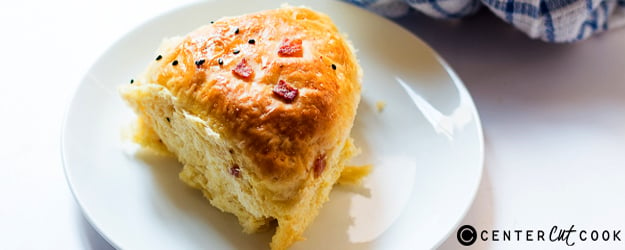 These pumpkin dinner rolls are the softest, fluffiest rolls that I've ever made. Combined with bacon, these dinner rolls smell heavenly and are utterly irresistible. Infact I think everything pumpkin should be combined with bacon. The slightly sweet, spicy pumpkin flavor is perfect with the smoky saltiness of bacon.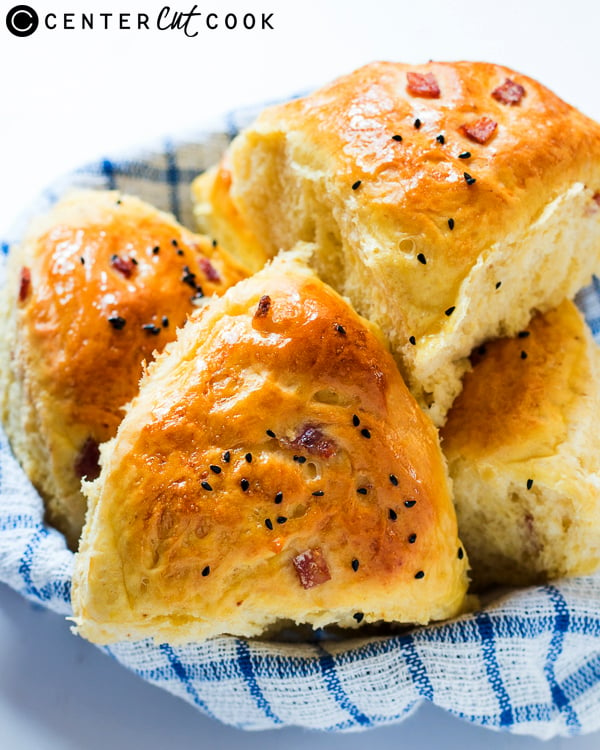 And when you have a gorgeous soupy pumpkin lentil curry for dinner, these rolls are a great way to mop it up. I usually make these rolls in small batches because they are fast and easy. This way there are no leftovers and they can be freshly baked for dinner again. That's what makes these dinner rolls perfect for small families who can never finish the 24 piece dinner rolls recipes that we usually see.
While I truly feel that bacon takes these dinner rolls to the next level, if you are vegetarian you can skip the bacon and just follow the rest of the instructions. The baked rolls also freeze well, and can be made ahead.
INGREDIENTS
2 1/2 cup All Purpose Flour
1 tablespoon Pumpkin Pie Spice
1/2 teaspoon Nutmeg Powder
3 Bacon Strips, chopped finely
1 teaspoon Salt
1 tablespoon Sugar
2 1/4 teaspoons Instant Dry Yeast
1/3 cup Milk
3 tablespoons melted unsalted Butter
1 large Egg
1/2 cup Pumpkin Puree
Egg wash for brushing
Sesame seeds for topping (Optional)
DIRECTIONS
In a bowl, mix together flour, pumpkin pie spice, nutmeg powder and salt.
In a microwaveable measuring cup, warm the milk for 20 seconds in the microwave. Once lukewarm, add sugar and yeast to the milk and mix. Set aside for a 2-3 minutes till yeast starts frothing up. This step is optional as instant yeast does not need to be activated, but it's something I like to do.
To the milk and yeast mixture, add butter, egg and pumpkin puree and whisk till properly combined.
In the bowl of a stand mixer combine the wet and dry ingredients. Knead for 6-8 minutes on low speed till the dough is smooth and not sticky. Ideally you should not need extra flour, but in case you do, add flour a tablespoon at a time till the dough is no longer sticky.
Lightly grease a large bowl with oil and place the dough in the bowl. Cover with plastic wrap and place it in a warm, draught free place till the dough doubles in size. This should take about 45 minutes to an hour.
Punch the dough down and turn it out on a non stick surface. Add bacon to the dough and knead lightly till the bacon is combined in the dough. Divide the dough into 8 equal parts.
Line a baking tray with foil and brush lightly with oil. Roll each piece of dough into a ball and place them on the baking tray, leaving a little space in between them to let them rise.
Cover them, and place them once more in a warm, draught free place till they almost double in size. This should take about 20-25 minutes.
In the last stages of rising, pre -heat oven to 375F. Brush the rolls with egg wash, and top with sesame seeds. Place the baking tray in the oven. Bake for 18-20 minutes.
Remove and let the rolls cool for 10 minutes before turning them out on a rack to cool further.
Servings: 4