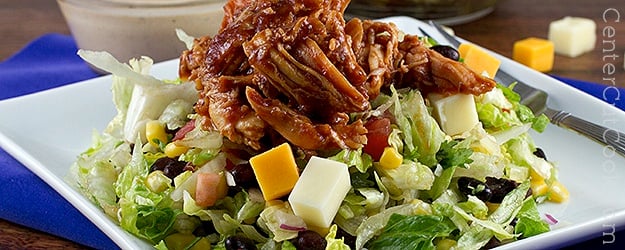 Happy Monday everyone! I am back after a weekend where my husband spoiled me rotten for my 29th Birthday! We've both lived in the Chicago area for our entire lives, except for the 4.5 years we spent in Iowa for college, and despite this, I still hadn't been up in the John Hancock Building. That changed Friday when my hubby took me to the Signature Room on the 95th floor. It was aaaaamazing! Seriously beautiful. Please excuse the terrible iPhone photos, but I just have to show you the view….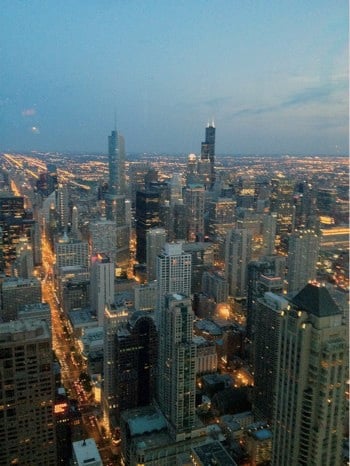 He had made 8:30 reservations so that by the time we ate dinner, it would be dark and we could see the beautiful skyline at night. The views were breath-taking, truly, and I loved seeing the city from up high! It's hard for me to determine which I liked better, the views, or the food, because our meal was quite tasty too! Check out the dessert presentation (white and dark chocolate mousse cake):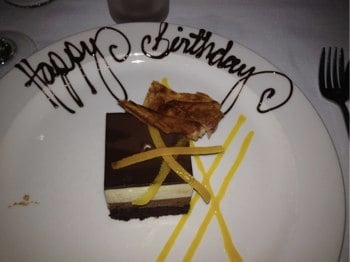 Sooooo good!
Enough about my fab evening at The Signature Room, let's talk about this Southwestern BBQ Chicken Salad! During the summer, we try to eat salads at least one or two nights per week. I love salads because they make a perfect light supper. Usually I try to change them up so that we aren't getting bored with the same salad week after week, but I love this Southwestern BBQ Chicken Salad soooo much that I really could probably eat it week after week and not ever get sick of it.
A good salad is made-up of two specific things – great ingredients and a dressing that compliments those ingredients. This has both! The salad includes things like black beans, corn, cilantro, tomatoes, chunks of cheese, and bbq chicken (yum!). Homemade BBQ Cilantro Lime dressing compliments this salad SO perfectly, and have I mentioned that it comes together quickly? I used a rotisserie chicken from the store to help speed the process along, but this is also a great recipe to make when you have leftover chicken on hand.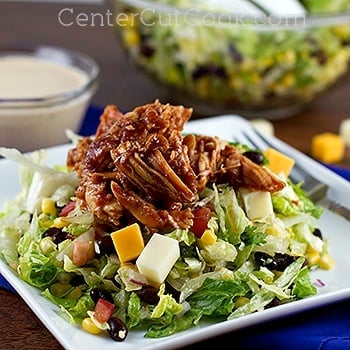 SALAD INGREDIENTS
3 cups pre-cooked rotisserie chicken, shredded
1 cup bbq sauce
1/2 head of shredded iceberg lettuce
1 head romaine lettuce, shredded
1/4 red onion, finely diced
1/4 cup fresh cilantro, shopped
15 ounce can black beans, rinsed and drained
15 ounce can or corn, drained
2 roma tomatoes, seeded and chopped
8 ounces any cheese of your choice, cubed (I used cheddar and monterey jack)
DRESSING INGREDIENTS (BBQ Cilantro Lime)
1 cup mayonnaise
2/3 (more or less, depending on how thick you want the dressing) cup milk
1 tablespoon vinegar
2 tablespoons cilantro, finely chopped
1/2 lime, juiced
1 teaspoon sugar
1 garlic clove, minced
1/2 teaspoon salt
1/8 teaspoon cayenne pepper
1/4 teaspoon black pepper
1/4 teaspoon ground cumin
1/2 cup BBQ sauce
DIRECTIONS
In a large bowl, combine chicken with bbq sauce. Place in the refrigerator until you're ready to use it.
Combine the remaining salad ingredients in a large bowl – iceberg lettuce, romaine, black beans, corn, tomato, cilantro, and cheese. Toss to distribute ingredients evenly.
In your blender, combine all of the ingredients for the BBQ Cilantro Lime salad dressing, except the milk. Slowly begin pouring in milk and continue adding it until you've reached your desired consistency. I found that I used a little less than 2/3 cup milk.
Place some of the salad mixture on a plate, and top with a spoonful of the BBQ Chicken. You can either serve the dressing on the side, or mix in some of the dressing prior to serving (about 1/2 cup of dressing is needed to coat the entire bowl of salad).
Serves 4
Recipe adapted from
Mel's Kitchen Cafe