Can we all take a moment to fully appreciate the amazingness that is bread? It is probably the best thing we've ever created as humans. Maybe that's an exaggeration, but not by much. Bread is the best and only made more amazing when we cut it up and stuff it with some delicious things. That's why this spinach and artichoke pull apart bread is probably the tastiest thing ever.
My favorite part about this spinach and artichoke pull apart bread is that it is so easy to put together which makes it perfect for last minute snacking when guests stop by. The longest part of the whole process is waiting for the cheese to melt while baking in the oven. And I don't even mind that part too much as I smell the garlic, spinach, and artichoke cook and meld with the gooey cheese. The waiting is just as good as the eating. Especially when you don't even have to wait for too long.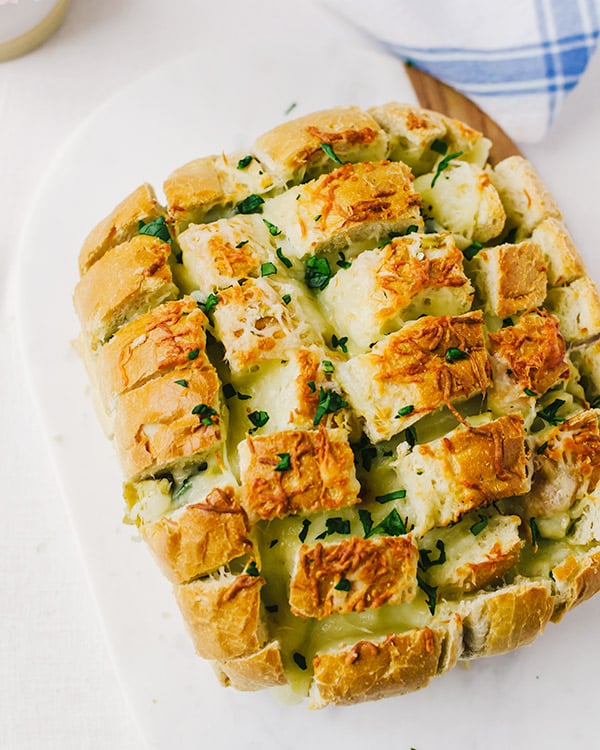 You can use any type of loaf bread for this recipe, but I prefer a really nice crusty loaf of sourdough bread. Experiment with different types of bread such as challah or multigrain bread if you like. I love to try different types of cheeses when making this spinach and artichoke pull apart bread. You can use cheddar, mozzarella, Asiago, Parmesan, Gouda, or just about any cheese you have on hand.
The bread is best when it is freshly made, but you can store it wrapped up in aluminum foil and reheat covered in the oven at 300 degrees F for about 15 minutes, then for another 2 minutes uncovered.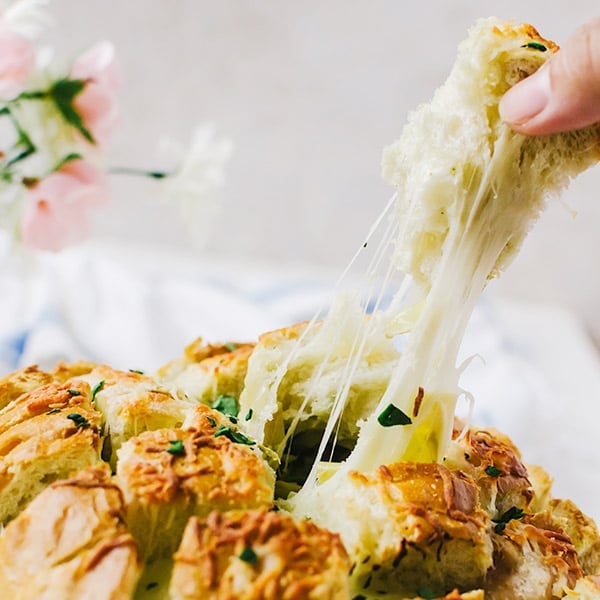 INGREDIENTS
1 large round, crusty sourdough bread loaf
1/4 cup butter
2 cloves garlic, finely diced
14 oz artichoke hearts, diced
10 oz spinach
Salt and pepper to taste
2 cups cheese (I used an Italian mix)
DIRECTIONS
Preheat the oven to 350 degrees F.
Make several cuts down the length of the bread, making sure not to cut through the bottom of the loaf. Repeat going down the width of the loaf so you have little squares all around the loaf.
Heat a skillet on medium high and add the butter.
Once the butter is melted and a little foamy, add the garlic and cook until fragrant.
Immediately add the artichokes, spinach, and salt and pepper to taste. Cook until the spinach is wilted and remove from heat.
Add a little less than half the cheese to the spinach and artichoke filling then stuff between the squares of the bread. Top with the remaining cheese.
Lightly cover with aluminum foil and bake for about 20 minutes.
Uncover and bake until the cheese on top begins to lightly brown, about another 2 – 4 minutes.
Serve hot, but is also good warm or room temperature.
Servings: 6 – 8 people