So you have a bunch of bananas sitting on your counter that are suddenly over-ripe, more black than yellow, mushy, and you're wondering what to do with them. Do you toss them out? Or do you print this recipe for Banana Chocolate Chip Crumb Muffins and quickly get to work making the best (no, really!) banana muffin recipe that you've ever tasted?
There is only one right answer, my friends. Only one. This recipe for Banana Chocolate Chip Muffins with crumb topping is what your muffin dreams are made of. When banana bread meets chocolate chips, it's simply amazing. But add in a crumbly topping made with cinnamon, brown sugar, butter and a little flour? It takes these banana muffins from good to insanely good. It's the kind of recipe you will make for your friends and family to impress them, because they will undoubtedly be impressed.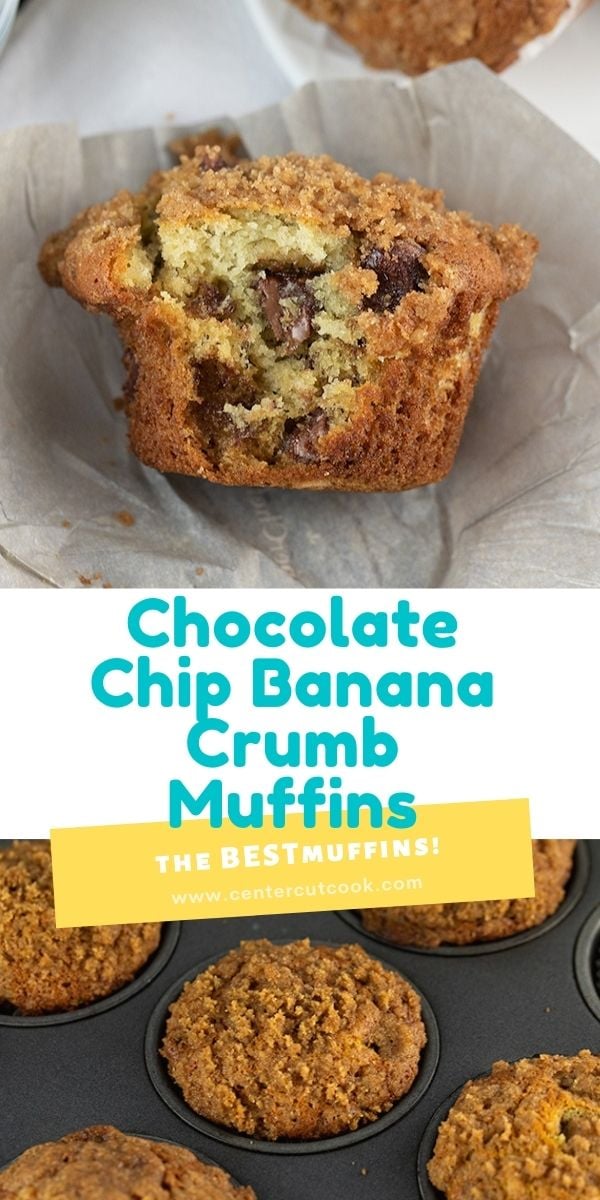 And the best part? These muffins are so dang easy to make. Truly. You don't even need a mixer.
This is the kind of recipe where you will find yourself staring down those green underripe bananas on your counter, wondering exactly how long it'll take before those bananas are overripe and begging to be made into muffins. You might even find yourself Googling "how to ripen bananas" when your patience is running thin and you need these muffins in your life NOW, not in 4 days when your bananas have reached peak banana-muffin-making-over-ripeness-perfection.
So let's talk about that first, how do you quickly ripen bananas?
How to Quickly Ripen Bananas
There are a few methods that can be used to quickly ripen bananas.
1. Paper Bag: Place them in a paper bag. This can still take some time but is a good option for fully green bananas that you want to ripen up quickly within a few days.
2. Oven: Bake them in the oven. This option is best if your bananas are already yellow, but still firm and not quite to the mushy stage yet. Line a baking sheet with parchment paper, place your unpeeled bananas on the baking sheet and bake them in a 300 degree F oven for 20-30 minutes. During the baking process, the peels will turn black and the insides will become soft and mushy, the perfect consistency for baking with bananas.
3. Microwave: Again, this option is best with bananas that are already yellow, just not mushy yet. Start with unpeeled yellow bananas and poke them with a fork or knife. Place them on a microwave safe plate and microwave them in 30 second increments until the bananas are mushy.
Bananas that have become ripe naturally will be sweeter and best for baking, but if you are in a bind, any of those three aforementioned options to quickly ripen your bananas will work.
How to make Banana Chocolate Chip Muffins
Once you've established that those overripe bananas are an open invitation to make this recipe, you will gather your ingredients. You will need the following:
Flour, baking soda, baking powder, salt, mashed bananas, granulated sugar, egg, melted butter, and chocolate chips.
My favorite brand of chocolate chips to use for baking is Ghiradelli (this is not sponsored, it is truly my favorite, go-to brand) but you can use any chocolate chips that you have on hand. While I generally tend to use about 1/2 cup of chocolate chips, I usually just eye-ball it. You can include as many chocolate chips as your little heart desires. And if your heart desires no chocolate chips (is this even possible?!?), or you don't have any on hand, go ahead and leave them out. These muffins will still be delicious.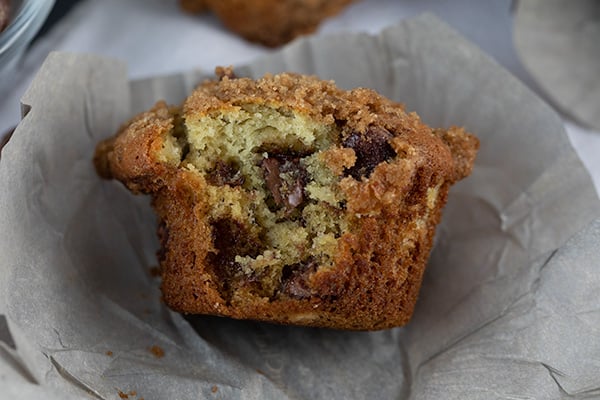 How to make the Crumb Topping
Once you have a banana chocolate chip muffin with a crumb topping, you are going to wonder where this crumb topping has been all of your life while simultaneously feeling like every single muffin you make from here on out NEEDS the crumb topping added to it.
To make the crumb topping, you will need brown sugar, flour, ground cinnamon and butter.
Start by adding the brown sugar, flour, and ground cinnamon to a bowl. Then use two forks to work the butter into the mixture. You could also use your clean fingers to work the butter into the mixture, but two forks or a pastry cutter will work best.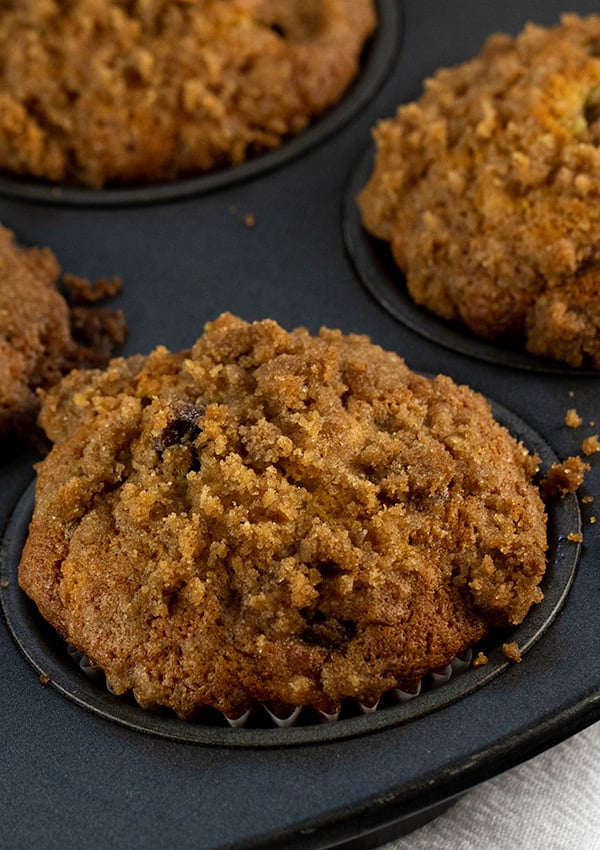 How many muffins does this recipe make?
Is there anything better when you make batter for muffins and it PERFECTLY fills the muffin tin. You will get 12 muffins with this recipe. I like to use an ice cream scooper to scoop the muffin batter into my prepared muffin tin. You could also use a 1/4 cup measuring cup to scoop the batter into your prepared muffin tin.
Once you have scooped the batter into the muffin tin, you will use about 1 teaspoon of crumb topping per muffin. Evenly distribute the crumb topping on all of the muffins, then bake for about 18-22 minutes, or until a toothpick inserted into the center of the muffin comes out clean.
What to serve with Banana Chocolate Chip Crumb Muffins
My little guy likes to eat these muffins just slightly cooled from the oven with peanut butter slathered on top. When you slather peanut butter on a warm muffin, it gets all melty and delicious and is such a delicious, special treat.
While you can't go wrong making banana bread, I have to say that I'd take these Chocolate Chip Banana Crumb Muffins over a loaf of banana bread any day. These little muffins are moist and flavorful with a subtle banana flavor. Warm or cold, they are fantastic either way.
Looking for more banana recipes? I've got you covered!
Easy Banana Pancakes

Pumpkin Banana Muffins
Banana Bread
Banana Bread Cookies
Instant Pot Mapble Banana Bread Oatmeal
Classic Banana Pudding
Banana Cupcakes with Peanut Butter Frosting
Banana Upside Down Skillet Cake
Nutella Swirled Banana Muffins
If you try this recipe, and I hope you do, please come back here to leave a comment and let me know what you think! And don't forget to take a picture and tag me on social media using the hashtag #CenterCutCook
Enjoy!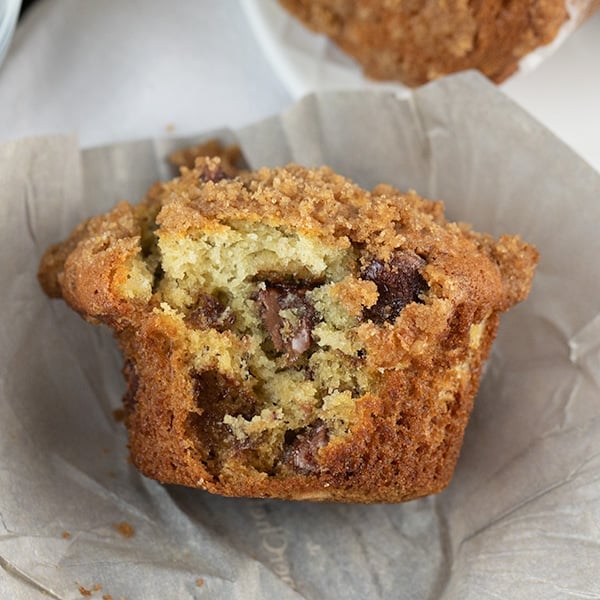 MUFFIN INGREDIENTS
1 1/2 cups all-purpose flour
1 teaspoon baking soda
1 teaspoon baking powder
1/2 teaspoon salt
2 bananas, mashed
3/4 cup white sugar
1 egg, slightly beaten
1/3 cup butter, melted
1/2 cup milk chocolate or semi-sweet chocolate chips
CRUMB TOPPING INGREDIENTS
1/3 cup packed brown sugar
2 tablespoons flour
1/2 teaspoon ground cinnamon
1 tablespoon butter
DIRECTIONS
Pre-heat your oven to 375 degrees F and prepare a muffin tin by greasing it or using paper liners.
In a large bowl combine flour, baking soda, baking powder, and salt. Set aside.
In a small bowl combine mashed bananas, sugar, egg, and melted butter.
Combine the wet ingredients into the dry and stir lightly until combine.
Fold in chocolate chips.
In a small bowl combine brown sugar, flour, and ground cinnamon. Use a fork to mix in the butter until you have a crumbly mixture.
Spoon 1/4 cup of muffin dough into each muffin cup. This should yield 12 muffins.
Divide the crumb topping mixture among the 12 muffins (about 1 teaspoon per muffin)
Bake for 18-22 minutes, or until a toothpick inserted into the center comes out clean.
Allow to cool for a few minutes, then serve.
Servings: 12