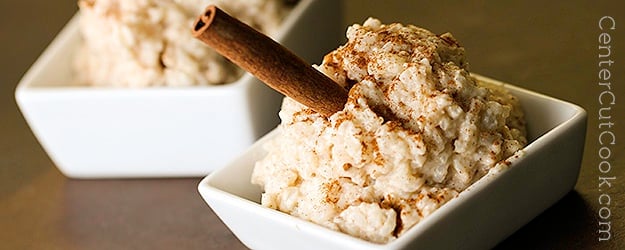 Oh I wish, how I wish I could file this recipe for Cinnamon Rice Pudding under "healthy" because then I'd definitely eat it for breakfast, but probably lunch and dinner too. I ate rice pudding all the time as a child, and any time I eat it, to this day I am brought back to my childhood days. I was sort of hoping that when I looked at the ingredients for rice pudding, that it would consist of ultra healthy things instead of whole milk, sugar, and rice. In case you're wondering, it really is more like dessert, but that didn't stop me from eating it for breakfast three days in a row now. Oops! ;)
It had never occurred to me that I ought to try making rice pudding at home. For the last year or so, I was buying pre-packaged cups of rice pudding at Costco. A couple of weeks ago, Ryan said, "you know, you should try making rice pudding." Well why didn't I think of that? At that point my search for the perfect recipe began.
I know I've mentioned it before, but I love America's Test Kitchen almost as much as I love chocolate. Their job is to test recipes, which is fabulous for you and me because it means that they do all the hard work of discovering which recipes stand out. I decided for this rice pudding, I didn't want to deal with multiple fails, instead I wanted great results right away which is why I chose their recipe as my base.
Let me tell you, it did not disappoint. This recipe for Cinnamon Rice Pudding is a winner! All you need is a little patience because it will take almost two hours to complete the recipe but it is made entirely on the stovetop – no oven needed here. Trust me, my friends, it is worth the time it will take to make it! Creamy, cinnamon-y, thick, rich, delicious. You will just love this!
You'll start by cooking about 1 cup of rice. Instant rice DOES NOT WORK here. I used long grain rice, which is what I'd recommend. Once the rice is tender and the water is absorbed, you'll add in milk, half and half and sugar. I recommend using whole milk for this recipe. I never buy whole milk, but added it to the grocery list, just for this recipe.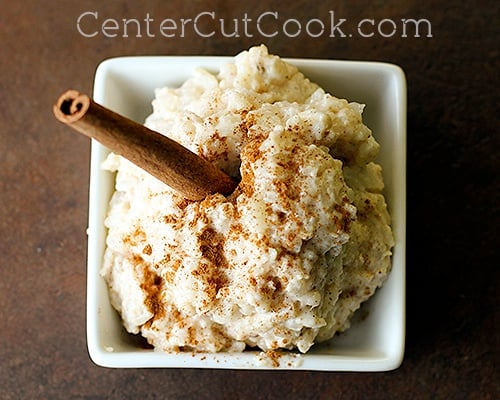 You'll let that mixture cook for a good 45 minutes. It'll take some time for the rice to absorb all of the liquid, and for it to thicken up. You'll know it's thick enough when a spoon can stand up in the middle of the pudding.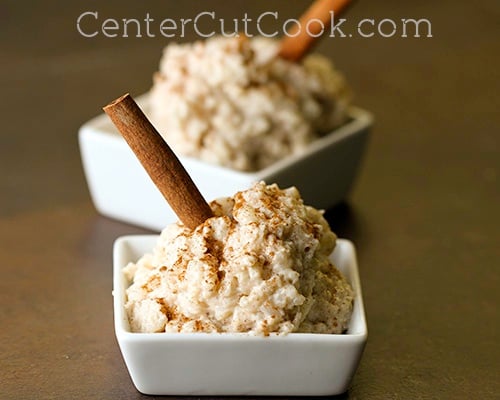 Once you remove the pan from the stove, stir in a little vanilla extract, a little almond extract, and some cinnamon. Then, the most important part (for me at least) is to chill it in the fridge. Some people eat their rice pudding warm, if this is you, serve and enjoy! If you're like me and prefer to eat your rice pudding right out of the fridge, allow it to chill for at least an hour before serving.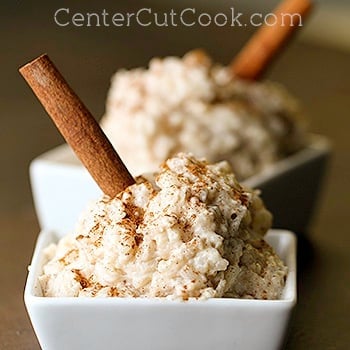 INGREDIENTS
2 cups water
1/4 teaspoon table salt
1 cup long grain rice
2 1/2 cups whole milk
2 1/2 cups half and half
2/3 cup granulated sugar
3/4 teaspoon vanilla extract
3/4 teaspoon almond extract
1 teaspoon ground cinnamon
DIRECTIONS
In a large saucepan, bring about 2 cups of water to a rolling boil. Add in salt, and rice, reduce heat to low and simmer for about 15 to 20 minutes or until the rice is tender and the water is absorbed. You'll want to stir occasionally.
When the water is fully absorbed into the rice, stir in whole milk, half and half, and sugar. Adjust the heat to medium high and cook until simmering. Reduce the heat to medium low and cook for about 30 minutes. Then, reduce the heat to low and cook for 15 minutes longer, or until a spoon will stand up in the center of the pudding. It should be thick! Make sure to stir often during this step so that the rice pudding doesn't burn to the bottom of the pot.
Remove the rice pudding from the heat and stir in vanilla extract, almond extract, and cinnamon.
Transfer the rice pudding to a bowl and cover with plastic wrap. Allow the Cinnamon Rice Pudding to chill in the fridge for at least an hour before serving.
Cover leftovers well and store for up to three days in the refrigerator.
Recipe adapted from
Ameriaca's Test Kitchen