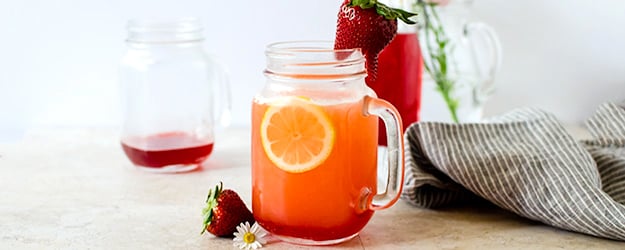 Through most of the year, I prefer to keep my drinks to mainly water and maybe some coffee or tea here and there. When summer arrives, however, I crave something more. Nothing seems to hit the spot quite like a tall glass of strawberry lemonade. I love the combination of sweet strawberries and lemons in the summer. I can, and often do, end up making a batch of this lemonade just to end up drinking it all on my own.
This strawberry lemonade is so easy to make and makes a great last minute drink to serve if you have some ice handy. I actually like to keep strawberry simple syrup on hand because it is excellent for drizzling on pancakes or making strawberry milk or a quick strawberry juice. Usually I discard the leftover strawberries after making the syrup, but if I am having pancakes, sometimes I do like to fold them into the batter!
Once you've made the simple syrup, it just takes two more ingredients for a delicious summer drink. This particular recipe makes four generous servings, but you can very easily double or triple the recipe. Or even cut it in half if you need! This recipe is basically foolproof.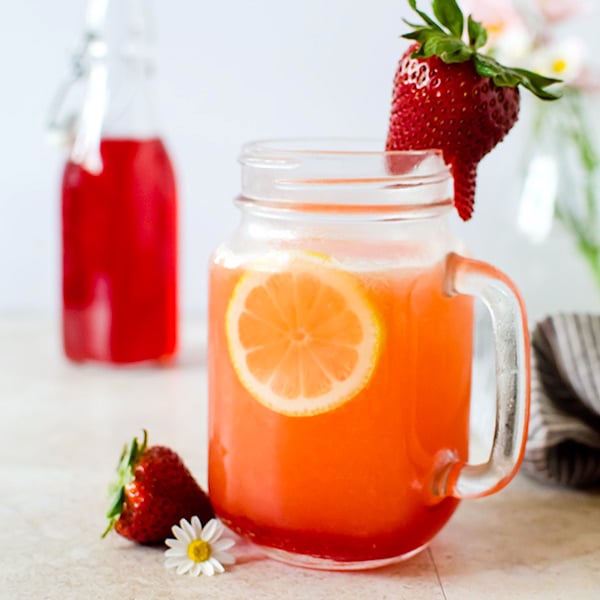 Strawberry Simple Syrup Ingredients
Strawberry Lemonade Ingredients
DIRECTIONS
Begin making the strawberry syrup. Add everything for the strawberry simple syrup into a saucepan and heat on medium high heat.
Stir occasionally and mash the strawberries until the sugar is dissolved and the mixture is slightly thickened.
Leave to cool to room temperature. Skim off any foam or bubbles on the top and discard. Strain out the berries and lightly squeeze out the juice from the berries. You can use a fine mesh strainer, but do not scrape the bottom of the strainer.
Place the syrup in an airtight container and chill.
To make the strawberry lemonade, mix together the lemon juice and water together and add the strawberry syrup to sweeten. Add as much or as little as you like. I like to let everyone add the syrup to their own individual glasses so they can sweeten their lemonade to their personal tastes.
Recipe can be halved, doubled, or tripled according to your needs!
Garnish with sliced lemons and strawberries if desired.
Servings: 4 large glasses