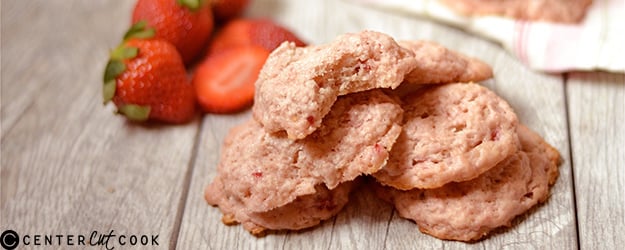 Now that spring seems to be sticking around, I am in the mood for all of my favorite fruits! Fresh strawberries are all over the stores these days, and we have been eating them like they are going out of style. My kids have been packing them in their lunchbox, we've been adding them to smoothies, and I have been baking up a storm with strawberries! My latest are these super yummy Strawberry Shortcake Cookies. I love that these cookies are a portable and more simple way to enjoy all the flavors of traditional strawberry shortcake!
These are really simple to make and come together with limited and basic ingredients: flour, sugar, fresh strawberries, butter, cream, and baking powder. One of the more important steps is that I blended the strawberries and cream together quickly in my blender. This will make the mixture fluffy, but also give the cookies their pink color. You may have small chunks of strawberries in the cookies as well. Another important aspect is the cold butter. Be sure to cut it in the flour mixture well, so that it resembles a coarse mixture without any butter chunks. I use a pastry knife, but you can also throw the flour mixture in a food processor.
Finally, these taste AMAZING right out of the oven!! My husband enjoyed with some vanilla ice cream and fresh strawberries, while my kids put a little whipping cream and strawberries on their cookies. Either way is delicious! I personally enjoyed mine plain with a cup of tea. They have a perfect biscuit/cookie balance that I just LOVE!
INGREDIENTS
2 cups all-purpose flour
1/2 cup sugar + 2 tablespoons for sprinkling
2 teaspoons baking powder
1/2 teaspoon salt
6 tablespoons cold salted butter, cut into small chunks
2/3 cup heavy cream
1 cup fresh strawberries, diced
OPTIONAL TOPPING INGREDIENTS
Vanilla ice cream
Whipping cream
Fresh strawberries
DIRECTIONS
Preheat your oven to 375 degrees. Grease or line a cookie sheet with parchment paper.
In a large bowl, mix together flour, 1/2 cup sugar, baking powder, and salt. Add in small chunks of butter, and cut the butter into the flour mixture using a pastry knife until it is coarse and crumbly (you can also use a food processor). Set aside.
Using a high powered blender or food processor, blend strawberries and heavy cream until strawberries are pureed (should only take about 10 seconds). Mixture will be fluffy.
Slowly fold the strawberry cream mixture with the flour. Completely combine until all flour pockets have been mixed well and forms a thick dough like mixture. Using an ice cream scoop or large spoon, scoop dough onto the cookie sheet setting about 2 inches apart. Sprinkle each cookie with remaining sugar.
Bake for 20-22 minutes or until cookies begin to brown on the edges. Remove from oven and let sit for another 5 minutes on the cookie sheet before serving.
Add optional cream, ice cream, or strawberry toppings.
Store in an air tight container (best stored in the freezer if they will not be consumed for a few days).
Servings: 18 cookies