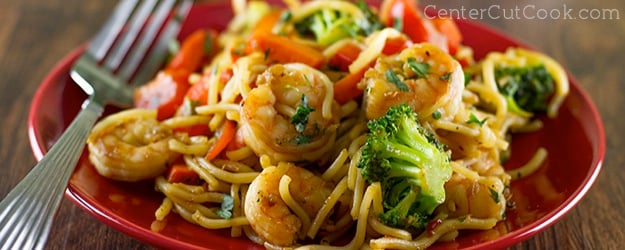 When it comes to eating vegetables, one of my all-time favorite ways to do it is in the form of stir-fry! I don't think I've met a stir-fry I haven't liked, whether I'm eating at home, or out at a restaurant like Stir Crazy or Flattop Grill (two of my faves when it comes to create-your-own-stir-fry restaurants!). The combinations are endless, and it's SUCH an easy way to consume lots of healthful veggies!
The recipe I'm sharing with you today is one of my favorite meals, ever. Truth be told, I have a lot of faves, so take it for what it's worth, but I can make this over and over and over again without getting sick of the stuff! When I first started making stir fry, I'd always use chicken and a soy sauce based sauce. Perhaps I like this one so much because it's different. For starters, I use shrimp, but the other big difference is the sauce. I use a combination of Thai sweet chili sauce, soy sauce, fish sauce, and a little sriracha hot sauce (leave out if you don't want heat). It sounds like an odd combination but the result is fantastic!
Did I mention yet, that this is ready in under 30 minutes? One of the benefits of using shrimp is that it's super quick cooking. I'm talking 2-3 minutes and you are d-o-n-e! Secondly, I used some pre-cooked organic chow mien noodles that I bought at Costco (O'hana House is the brand). I could wax poetic on how amazing they are (they are so versatile, and PRE-COOKED!), but I won't. I just discovered them recently and plan to use them in lots of recipes in the future. If you're not a fan of chow mien noodles or you don't have any on hand, you could serve this stir-fry over rice and it would work just as well. The bottom line is that this stir-fry is versatile AND tasty, AND ready in a zip!
PS: If you've never cooked with fish sauce before, don't fret. It sounds a little weird but is used in Asian fare quite often. You can find it in the international foods aisle (Asian section). Also, if you don't like things spicy, just leave out the sriracha hot sauce and you'll have a mild stir fry sauce. If you like things extra spicy, add a little more sriracha hot sauce.
To simplify this recipe: Use your favorite stir-fry vegetable mixture from the frozen food section.
To go all out: Cut up your own fresh veggies.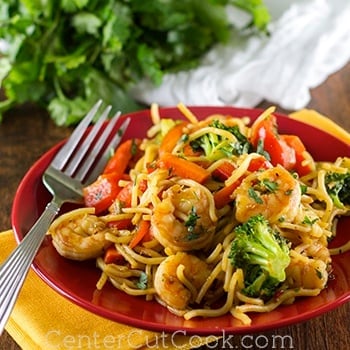 STIR FRY INGREDIENTS
12 ounces cooked chow mein noodles (I like O'hana House Organic)
1 pound raw shrimp (31-40 count, peeled, deveined, tails removed)
2 teaspoons soy sauce
1/2 teaspoon cornstarch
2 tablespoons canola oil or vegetable oil
1 1/2 cups broccoli, cut into small chunks
1 cup match stick carrots
2 red bell peppers, cut into small chunks
1 clove garlic, minced
1 tablespoon fresh cilantro, chopped
Salt, pepper to taste
SAUCE INGREDIENTS
DIRECTIONS
In a medium sized bowl, combine 2 teaspoons soy sauce with 1/2 teaspoon cornstarch. Stir to combine, then add in shrimp and toss to coat. Set aside for 10 minutes.
In a small bowl combine fish sauce, soy sauce, thai sweet chili sauce, and sriracha hot sauce (if desired) to create the stir-fry sauce. Set aside.
Heat 1 tablespoon oil over medium-high heat in a large non-stick skillet or wok. When the oil is heated, add in shrimp. Cook for one and a half minutes, then flip the shrimp and cook for another minute and a half or until the shrimp is pink and cooked through. Remove the shrimp from the pan and set aside.
Add a little more oil if necessary (up to 1 tablespoon), then add in broccoli chunks. Stir fry for about 3 minutes, then turn the heat down to medium and add in carrots, red bell peppers and garlic. Stir fry for about 1-2 minutes.
Add in stir-fry sauce from step 2, and cooked chow mein noodles. Stir to coat and keep over the heat for another 2 minutes.
Stir in chopped cilantro and adjust salt and pepper to taste.
Serve immediately.
Recipe from
CenterCutCook