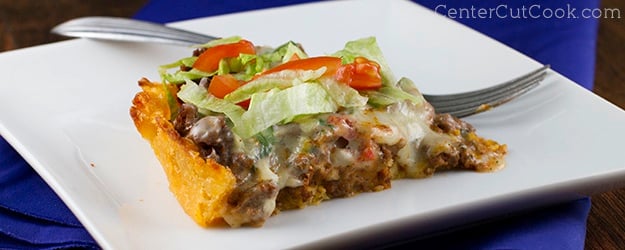 If you're looking for a new twist for taco night, look no further than this delicious Taco Pie with Queso Blanco! This fabulous little recipe came to be after I had everything we needed in the house for tacos, except for tortillas! I decided I'd try to come up with something taco related…. and well… Taco Pie fit the bill, and I had all the ingredients I needed!
Just like dessert pies, the crust with this Taco Pie is key. There are several options you can take including a pre-made refrigerated pie crust from the store, using crescent rolls, or the route I took which involved potato flakes. I keep potato flakes on hand for some of the dough recipes I make, and they worked perfectly in this recipe. The potato flakes get mixed with a little butter, milk, and some taco seasoning, and then pressed into a pie plate. The result isn't a super crispy crust, rather it has a little bit of crunch but remains soft. We liked it this way, despite the fact it was tricky to get it out of the pan in one single piece without it falling apart!
The filling is simply ground beef mixed with some taco seasoning, and salsa! I debated about which toppings would suit this pie best, and ultimately, I decided to make a batch of homemade Queso Blanco to slather on top. You could, of course, buy pre-made queso from the store, but the homemade stuff is easy and delicious! Alternatively, if you didn't want to take the queso route, you could top Taco Pie with fresh shredded cheddar cheese, along with lettuce, tomato, and any of your favorite taco toppings.
Enjoy!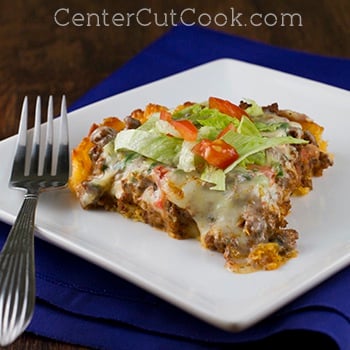 CRUST INGREDIENTS
4 tablespoons butter
2/3 cups milk
1 tablespoon taco seasoning
2 1/2 cups potato flakes (instant mashed potatoes)
PIE INGREDIENTS
1 pound lean ground beef
Remaining taco seasoning
2/3 cup fresh salsa
1/2 teaspoon chili powder
1 cup queso blanco
Chopped lettuce and tomato, and crushed Doritos
DIRECTIONS
Pre-heat your oven to 350 degrees.
Make the crust by melting butter in a sauce pan. Stir in milk and allow it to heat for a few minutes. Remove the butter/milk mixture from heat and stir in 1 tablespoon taco seasoning and potato flakes. Stir to combine.
Press the mixture in a 9.5 or 10 inch pie plate.
Bake for 10 minutes, or until it starts browning.
While the crust is pre-baking, cook the ground beef and drain any excess fat.
Stir in remaining taco seasoning, chile powder and salsa.
Pour the mixture into the pre-baked pie crust.
Bake for 15-20 minutes, or until the crust is nice and golden.
While the taco pie is baking, make homemade Queso Blanco, alternatively, you can buy queso from the store.
Spread 1 cup queso blanco over the taco pie.
Top with shredded lettuce, tomato, and crushed Doritos if desired, and serve. It will be tricky to get the pieces of pie out of the dish as it's more of a crumbly crust than a firm one…but it's so delicious!
Recipe from
CenterCutCook