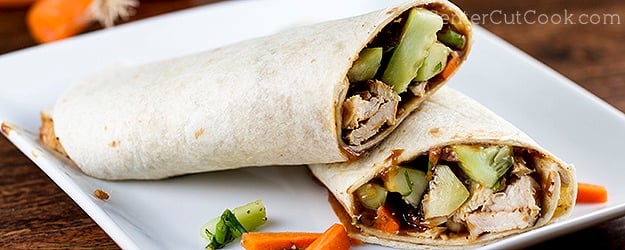 Crunchhhhhy.
Crunchhh.
Crunch.
The best word I can think of (aside from delicious) to describe this Thai Crunch Wrap with Chicken and Peanut Sauce is crunchy. The same sort of crunch you hear if you were to… oh, let's say step on a beetle that decided to make your shoe its home (true story).
The crunch is this wrap is just delightful! The crunch coming from my shoe today when I went to cut the grass and discovered a beetle was inside? Well….
The flavors of Thai food are some of my favorite on the planet, especially authentic peanut sauce. My typical order at any Thai joint is usually pad thai with a side of peanut sauce, or pad see ew with, you guessed it, a side of peanut sauce. This peanut sauce isn't quite the same as what you'll find in a Thai restaurant, because it's thrown together pretty quickly and doesn't include coconut milk, or fish sauce, which traditional peanut sauce's have. What I like about it is that this entire meal includes ingredients that I typically have on hand, so a trip to the grocery store usually isn't needed to throw this together at the last minute.
A word of caution though. If I had to rate this meal on a scale of 1-10 in terms of how delicious it is, I'd probably give it a 7 or 8 which means I really enjoyed it (I reserve 9's and 10's for a select few recipes like this Balsamic BBQ Glazed Chicken or The Best Fajitas). My hubby, on the other hand, would probably give this recipe a 5 or 6. He was NOT a fan of the spicy peanut sauce, so I definitely recommend testing the peanut sauce before slathering it all over your wrap. If you know you like Thai flavors, then you'll probably love this!
Should you decide to try this recipe out, which I highly recommend, in under 30 minutes, you'll have a delightfully crunchy wrap (thanks to the cucumber/carrot salad seasoned with cilantro ) with juicy chicken and a spicy peanut sauce. A perfect summer supper (serves 4).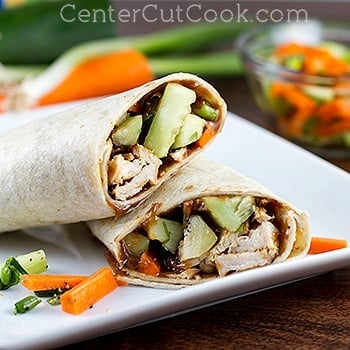 CHICKEN INGREDIENTS
CARROT/CUCUMBER SALAD INGREDIENTS
1/2 cucumber, peeled, and cut into chunks or strips
1 cup shredded carrots
3 green onions, chopped
2 tablespoons fresh cilantro, chopped
2 teaspoons sugar
2 tablespoons white vinegar
1/2 teaspoon salt
PEANUT SAUCE INGREDIENTS
1/4 cup peanut butter, room temp
2 tablespoons soy sauce
1/4 teaspoon cayenne pepper
1/4 teaspoon black pepper
1 tablespoon vinegar
DIRECTIONS
Combine the soy sauce, vegetable oil, salt, pepper, and garlic powder in a large ziplock bag. Add chicken and toss the chicken in the bag to coat with seasonings.
Heat a grill pan to high heat. Add chicken and grill about 6-7 minutes per side, or until juice runs clear. Remove chicken from the pan, cover it, and allow it to rest for about 5 minutes.
In a small bowl, combine all of the ingredients for the carrot/cucumber salad. Cover, and place in the refrigerator until you're ready to use it.
In another small bowl, whisk together all of the ingredients for the peanut sauce. Add more or less cayenne pepper, depending on your heat preference.
In a large skillet, heat tortillas over medium heat.
Slice cooked chicken into strips.
Spread a spoonful of peanut sauce over each tortilla.
Add a spoonful of carrot/cucumber salad, and chicken. Roll it up burrito style.
If desired, double the peanut sauce recipe and serve additional peanut sauce on the side for dipping.
Recipe adapted from
Rachel Ray