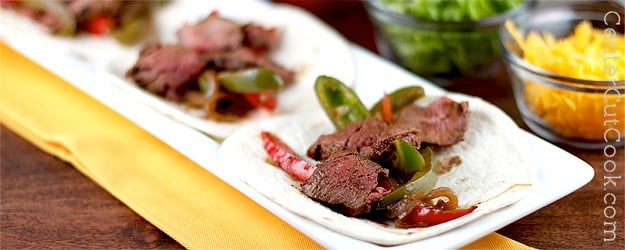 When it comes to making fajitas, you absolutely must start with The Best Fajita Marinade which is what you'll find here. This incredible marinade works beautifully with steak or chicken and only needs a few hours of marinate time before grilling. I've played around with marinade after marinade over the years, searching for "the one" that could be called "The Best," and I'm thrilled to report, this is it. The Best Fajitas!
The Best Fajita Marinade Ingredients
Let's talk about the marinade for these fajitas. A good marinade is absolutely essential for The Best Fajitas. And when you're a fajita fanatic, you can easily decipher "good" fajitas from The Best Fajitas! A super simple marinade comes together in seconds, with the help of your blender. Then it's slathered all over the meat of your choice (I used steak this time because I had it on hand, but I regularly use chicken and even shrimp) and allowed to marinate for 3-4 hours. During that time the marinade works its magic turning ordinary meat into extraordinary.
To make this fajita marinade, you'll need the juice from 1 orange and the juice from 3 limes along with garlic, chipotle chiles in adobo sauce, ground cumin, salt and black pepper, olive oil, liquid smoke, and soy sauce.
How to Grill Steak or Chicken for Fajitas
The fact that this meal can be prepared entirely on the grill earns it extra bonus points from me. I LOVE when there's not a single pot or pan to be washed and not a spec of grime on my stovetop. With grilling season upon us, these fajitas are likely to appear on our table (and your table too, once you try them) at least two times per month. And the leftovers are AMAZING!
After your steak or chicken has marinated for 3-4 hours, it's time to grill! Heat your grill to high heat for steak and medium heat for chicken. When your grill is heated up, place the meat on your grill. For steak, cook for 4-8 minutes per side, depending on preference. For chicken, grill for 6-8 minutes per side or until cooked through.
What to Serve with Fajitas
Wondering what to serve with the best fajitas? I typically pair these fajitas with Mexican Rice and Brown Sugar and Cinnamon Glazed Pineapple. Both of these sides are out of this world delicious.
Make sure to have all of your favorite toppings on hand, along with tortillas. I like to make my Easy Pico de Gallo and The Best Guacamole.
Notes: I used beef tenderloin for this recipe, only because I had it on hand. Typically I use flank steak for fajitas if I want beef, and it always turns out wonderful. Lastly, for the marinade, don't leave out the liquid smoke. Seriously. It adds such a delicious flavor, and can be found in the condiments aisle of your grocery store.Alternatively, you could certainly smoke this on a pellet grill like a Traeger.
Happy grilling, and please enjoy The Best Fajitas!
This recipe was originally published in June of 2012 and updated in June of 2022.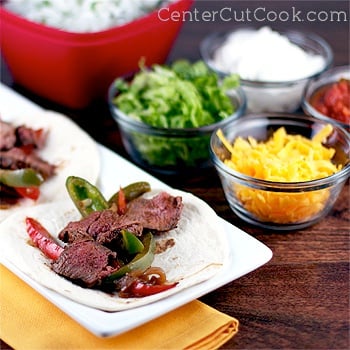 MARINADE INGREDIENTS
Juice from 1 orange
Juice from 3 limes
2 garlic cloves
3 chipotle chiles in adobo sauce
1 teaspoon ground cumin
1 teaspoon salt
1/2 teaspoon black pepper
4 tablespoons olive oil
1 teaspoon liquid smoke
1/2 tablespoon soy sauce
FAJITA INGREDIENTS
1 red bell pepper, sliced into strips
1 green bell pepper, sliced into strips
1 medium onion
6-8 ounces mushrooms, sliced
Juice from half of a lime
1/2 tablespoon soy sauce
1 tablespoon olive oil
Salt
Pepper
2 pounds flank steak
Garnishes – lettuce, salsa, sour cream, cheese, guacamole, etc.
DIRECTIONS
Add all of the marinade ingredients to your blender and blend on high for a few seconds until you have a smooth marinade. In a large zip-lock bag, add your meat (you may want to cut it into large chunks to fit better) and pour the marinade over it. Toss the bag around a few times to ensure that the meat is coated. Put the bag in the refrigerator for around 3-4 hours.
About 30 minutes before you're ready to grill, remove the meat from the refrigerator. One of the tips I learned in regards to grilling meat is to allow it to come to room temperature before placing it on a hot grill, and it works wonderfully.
Heat your grill or grill pan to high heat. Place the steak on the grill and allow it to cook for about 4 minutes on each side or until the meat is cooked to your liking. Medium Rare: 130-140 degrees. Medium: 140-150 degrees. Medium Well: 150-155 degrees. Well done: 160+ degrees. If you're cooking chicken, it should be cooked to 165 degrees.
When the meat is cooked, remove it from the grill and allow it to rest.
In a skillet, or in a wok designed for your grill, sauté' vegetables in olive oil. Season with salt, pepper, soy sauce, and the juice from half of a lime. When the vegetables are tender, remove from heat.
Slice the meat into strips against the grain after it has rested, heat the tortillas, and serve with your favorite garnishes.
Enjoy!
Recipe adapted from
Tyler Florence