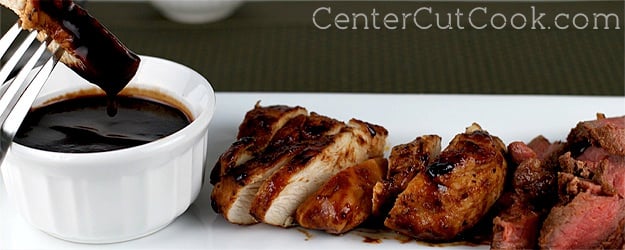 Summer is one of my favorite seasons for one simple reason: grilling. We finally invested in a Big Green Egg last year and it completely changed the way I think about grilling. I could go on and on about it, but I won't, because I'm sure I'll be talking plenty about it in a few months when it's not cold and wet here in the Midwest, and we actually get out to use it. In the mean time, I used a grill pan to grill up some Balsamic BBQ Glazed Grilled Chicken, and steak. It was simple and delicious, and will definitely go on my list of meals to make again!
This recipe is all about the balsamic bbq sauce that you use to baste the chicken while it's grilling. It's not your traditional bbq sauce, that's for sure. You start with a whole cup of balsamic vinegar and then sweeten it up with a little brown sugar and some ketchup. Worcestershire sauce and dijon mustard adds an additional layer of flavor. You season it with a little salt, pepper, and garlic powder, and let the sauce reduce in a sauce pan for about 15-20 minutes at which point it's ready for basting and dipping.
While I used a grill pan with great success, I know this recipe would turn out even better using a grill. I made chicken and steak, but you could choose any meats you'd like. This would even be great on a pork roast, or you could also use it on veggie kabobs. To go along with the chicken and steak, I made some green beans and used a spoonful or two of the balsamic bbq sauce to season them and they were fantastic!
Is anyone else just itching for Spring to arrive? I can't wait for grilling season! :)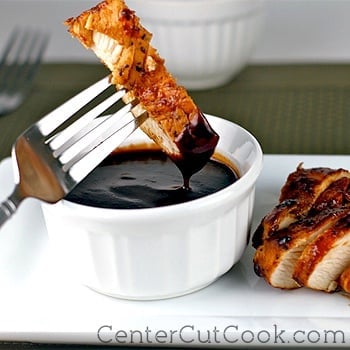 INGREDIENTS
DIRECTIONS
In a sauce pan, combine balsamic vinegar, ketchup, brown sugar, Worcestershire sauce, Dijon mustard, salt, black peper, and garlic powder. Stir then simmer for about 15 to 20 minutes or until the sauce has reduced by about 1/3.
Season chicken by lightly sprinkling it with salt, pepper, and garlic powder.
Heat your grill or grill pan to medium heat and place the meat on the grill. Use a pastry brush to brush each piece of chicken with some of the balsamic bbq sauce.
The chicken will need to cook until it reaches 160 degrees which was about 8 minutes on each side. As the chicken is cooking, brush each side with sauce every few minutes.
Once the chicken is cooked through, allow to rest for a few minutes before serving. Be sure to serve the remaining warm balsamic bbq sauce for dipping.
Recipe adapted from
Giada De Laurentis