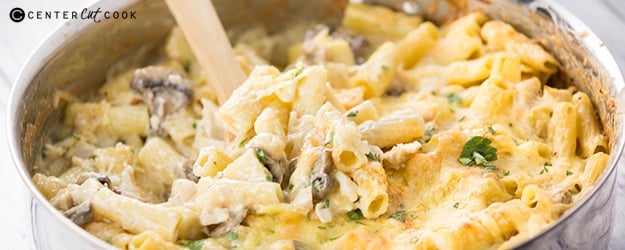 One of my favorite go-to quick and easy dinner ideas during the week is baked pasta. It's a little more exciting than plain ole' spaghetti and there are so many ways that you can change it up from making it with chicken, ground beef or sausage to adding in a variety of veggies like mushrooms, spinach and broccoli. You can also experiment with the cheeses and it's hard to go wrong! Today I'm sharing my latest recipe for Three Cheese Baked Rigatoni with chicken and mushrooms and it's deliciously cheesy!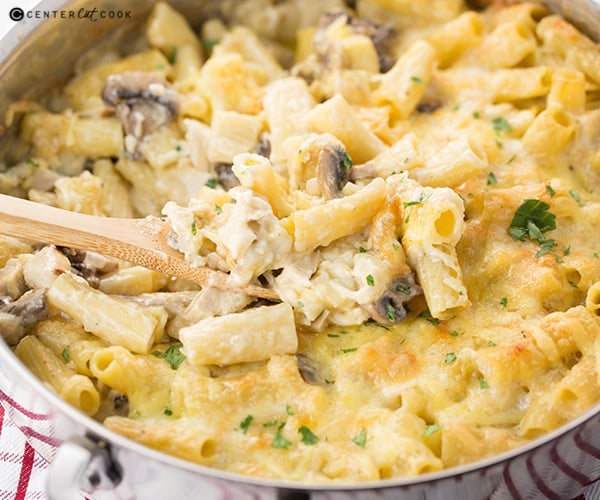 One of the great things about this recipe is that if you have a skillet that is safe for the oven, you will only need two pans – one for the pasta and one for the sauce. If you don't have an oven-safe skillet, you can always transfer the pasta to a casserole dish to bake. Either way, it'll be delicious! You'll just have one less pan to wash if you can use an oven-safe skillet.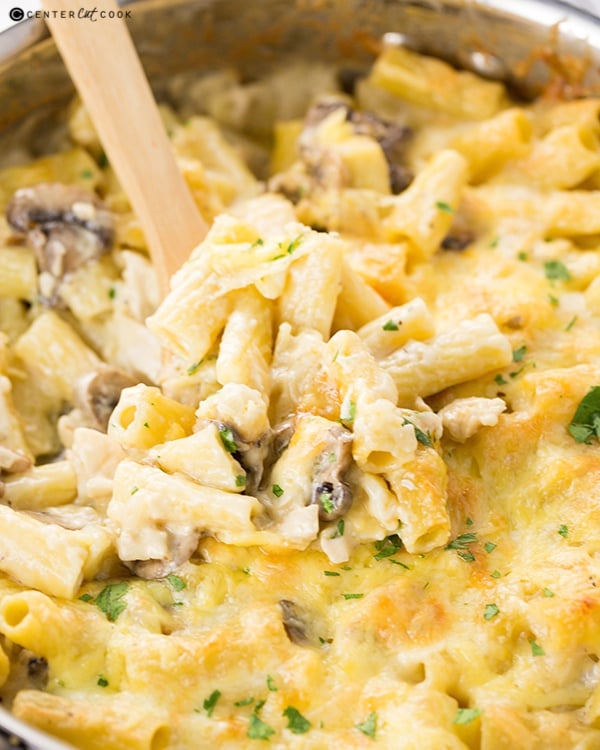 I used some leftover grilled chicken in this recipe. You can leave the chicken out all together if you want a vegetarian version, or you can also toss in some cooked shredded chicken. Here's my recipe for Easy Slow Cooker Shredded Chicken that will work perfectly in any recipe that calls for cooked chicken.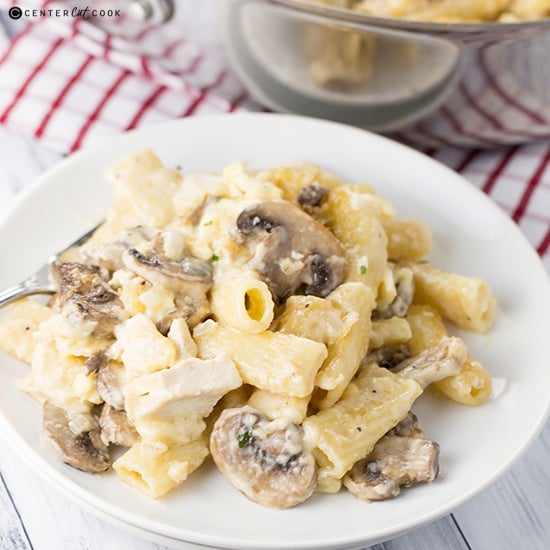 We LOVED the mushrooms in this recipe but go ahead and leave them out if you don't like mushrooms. In place of mushrooms you could add in spinach, broccoli, or any other veggie that you'd like. Once you've made the sauce and combined it with the pasta, you'll top the whole thing with a little more cheese and bake it until it's deliciously cheesy, golden and bubbly!
I like to serve this Three Cheese Baked Rigatoni with a salad and sometimes I'll even make my Perfect Cheesy Garlic Bread to go along with it.
Enjoy!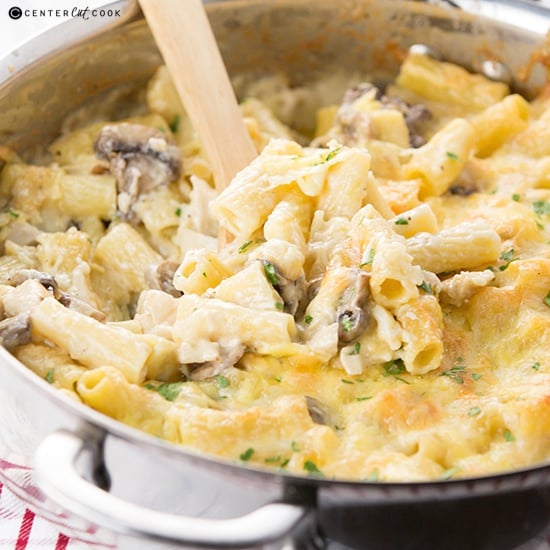 INGREDIENTS
1 pound rigatoni
8 ounces fresh mushrooms
1 small yellow onion, diced
1/2 tablespoon olive oil
5 tablespoons butter (I used unsalted)
3 cloves garlic, minced
1/4 cup all-purpose flour
2 cups milk (I used 1%)
1/4 teaspoon salt
1/4 teaspoon black pepper
8 ounces mozzarella cheese, grated
8 ounces smoked gouda, grated
8 ounces provolone cheese, grated
10 grilled chicken, diced *optional
DIRECTIONS
Pre-heat your oven to 375 degrees.
Cook pasta for a few minutes less than package directions.
In a large oven-safe skillet, melt 5 tablespoons butter and combine it with 1/2 tablespoon olive oil over medium heat. When the butter is melted, sauté the onions and mushrooms until tender. Add in the garlic and cook for a minute longer.
Sprinkle the onions, garlic, and mushrooms with 1/4 cup all-purpose flour and whisk well. Allow the flour/butter mixture to cook for a minute or two.
Begin to slowly whisk in the milk making sure to work through any clumps. Season with 1/4 teaspoon salt and 1/4 teaspoon black pepper – more or less to taste.
When the milk is well combined with the flour/butter, reduce the heat to low. Reserve about 1/3 of each of the cheeses and set aside. Stir in remaining cheese and stir until the sauce is smooth and creamy.
Add in grilled chicken if you wish and stir to combine.
Combine the sauce with the cooked pasta. Add additional salt and pepper if you wish.
If your skillet is oven-safe, sprinkle the remaining cheese over the skillet. If your skillet is not oven-safe, transfer the pasta to a large casserole dish (something like a 9 x 13), then top with the remaining cheese.
Bake for 30 minutes, or until the cheese is melted and bubbly.
Allow the pasta to cool for a few minutes before serving.
Enjoy!
Recipe from
CenterCutCook