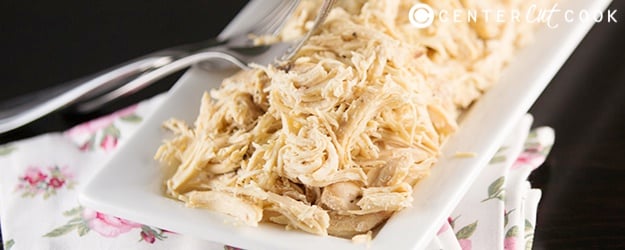 Some of my favorite recipes like tacos and enchiladas call for pre-cooked shredded chicken. Aside from buying a rotisserie chicken at the grocery store, one of the easiest methods to make shredded chicken is to use your handy dandy crock pot. The best part? You can use completely frozen OR thawed chicken. It works with both! This is perfect for all of those times, that if you're like me, you forget to take chicken out of the freezer to thaw.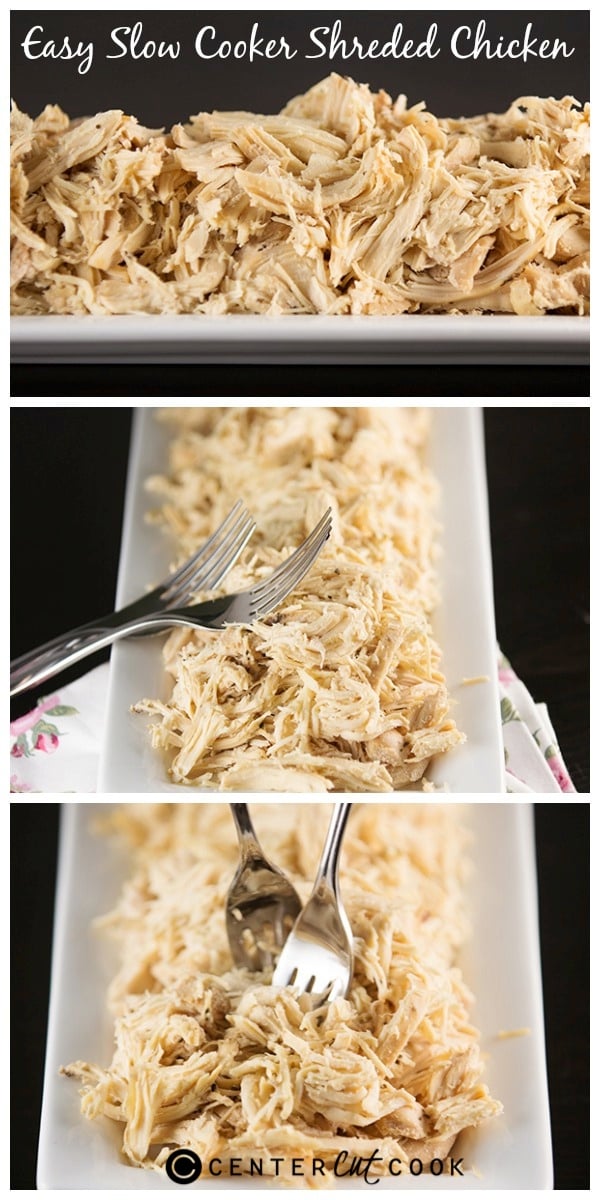 The method is simple – toss everything into the crock pot, turn it on, walk away for several hours and you're left with tender chicken just ready to be shredded. One of the simplest ways to shred chicken is to use two forks. This is the route I usually take. Another super simple method is to use your stand mixer with the paddle attachment. Yes, your stand mixer is the perfect tool for shredding up chicken.
Some recipes out there for slow cooker shredded chicken do not call for any liquid. Here's the reason I ALWAYS use liquid (chicken stock or chicken broth). It is impossible to know how much natural juices each piece of chicken is going to release. Sometimes chicken seems to have a lot of juices, other times? Not so much. I always add liquid to prevent the chicken from drying out which is the last thing you want to happen. The worst case scenario is that you need to use a slotted spot to remove the chicken from any excess liquid. Always, always use a little liquid is my best advice. :)
As I mentioned, you can use frozen or thawed chicken, either works and the cooking time really won't vary much. No matter if you use fresh or frozen chicken, you'll still be left with super tender chicken that's perfect for your favorite recipes.
Here are some of my faves that call for pre-cooked shredded chicken:
And of course it works perfectly with tacos, quesadillas, and sandwiches. Enjoy!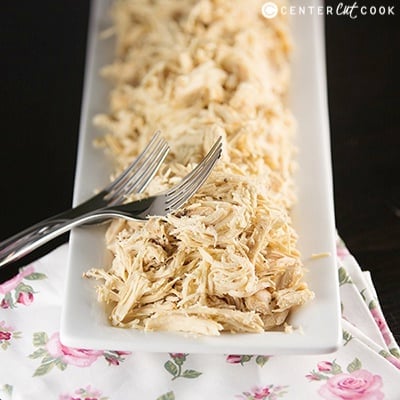 INGREDIENTS
4 large boneless skinless chicken breasts (frozen or thawed, either works)
1-2 cups chicken stock or low-sodium chicken broth
1 teaspoon salt
1 teaspoon black pepper
DIRECTIONS
Place all ingredients in your slow cooker and cook on low for about 8 hours (4 hours on high). You'll know when the chicken is done when it is super tender and will easily shred. You can also temp it to be sure- chicken should temp to 165 degrees (I use my favorite instant read thermometer for this).
Remove the chicken from the slow cooker. Sometimes I use a slotted spoon if there's a lot of liquid remaining, other times I'll just use tongs. Use a stand mixer with the paddle attachment to shred the chicken, or simply use two forks.
Use this chicken in all of your favorite recipes that call for pre-cooked shredded chicken (suggestions above). It's also great for quesadillas, tacos, and sandwiches.
Use the chicken within 5 days or freeze leftovers in an air-tight container for up to 6 months.
Recipe from
CenterCutCook