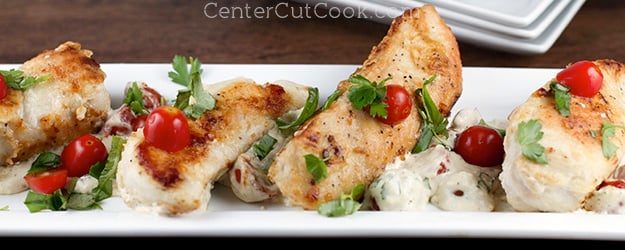 One of my favorite ways to prepare chicken is to simply cook it in a large skillet, and serve it with a pan sauce that's made in the same pan as the chicken. I LOVE one-dish dinners because there's less clean-up, and I LOVE pan sauces because there are so many different options.
This dish came together after I was trying to determine how I could use up some grape tomatoes I had on hand. And after visiting the farmer's market at Daley Plaza last week, I also had basil and parsley plants that I couldn't wait to use! This recipe turned out to be the perfect use for both the tomatoes, and the fresh basil and parsley. Despite the fact that it's served with a creamy pan sauce, it's actually quite light.
I served this Tomato and Basil Chicken with fresh green beans, and fruit salad, and it was a really delicious summer supper. And with only one pan to clean up, this is my kind of meal! Note: If you do not like tomatoes or basil, feel free to omit them. You could also substitute other items like mushrooms and thyme.
Serves 4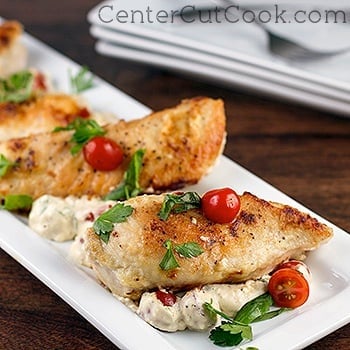 INGREDIENTS
4 boneless skinless chicken breast halves
2 tablespoons flour
Salt
Pepper
1 tablespoon vegetable oil
2 tablespoons fresh basil, chopped
A handful or two of grape tomatoes, cut in half
4 ounces cream cheese, regular or light
3/4 cup chicken stock or broth
1/4 teaspoon garlic powder
1 tablespoon chopped fresh parsley
DIRECTIONS
Cut two chicken breasts in half so that you are left with 4 boneless chicken breast halves. Season each side of the chicken with salt and pepper.
Place flour in a shallow dish. Coat each piece of chicken with flour.
Heat oil in a large skillet over medium-high heat. Add chicken and cook for about 5-7 minutes per side, or until the juices run clear.
When the chicken is cooked, remove the chicken from the pan and cover with foil.
In the SAME pan, add chicken stock and use a whisk to pull up any chicken bits that are stuck to the bottom of the pan.
Whisk in cream cheese, and stir until the sauce is smooth. This will take a few minutes. Allow the sauce to simmer for a few minutes. If you use reduced-fat cream cheese, you may not be able to eliminate all of the clumps.
Stir in garlic powder, chopped basil, parsley, and tomatoes, but reserve a bit of the basil, parsley, and tomatoes for garnish.
Add in the cooked chicken so that the sauce coats it.
Serve chicken with a spoonful of sauce, and sprinkle a couple of tomatoes and a pinch or two of chopped basil and parsley on top for garnish.
Recipe adapted from
Kraft Recipes