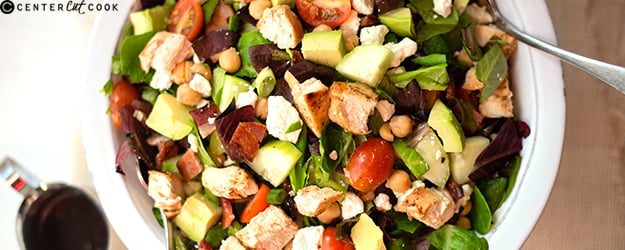 Salads can be such a toss up when ordering out — whether they're gonna fill you up, or just leaving you wanting more food. I often find that most salads aren't as healthy as the restaurant might want you to think. Oftentimes, they're covered in very high saturated fat dressings and contain a ton of unhealthy ingredients.
Or, they're too simple and lack any real protein that will actually fill you up and make you feel satisfied until your next meal.
Neither of those options make me happy as a consumer…or as a salad lover.
So, what to do?
Well, how about making your own salad at home, using fresh, healthy ingredients, and making sure you add tons of healthy protein that will fill you up, nourish your body, and make your tastebuds happy?
Sounds awesome, right? Good!
The best thing about this Ultimate Chopped Salad is how easy it is to make. I love the idea of chopped salads – just make it bite-size and toss it in. You could even have leftover chicken you have on hand that you can toss in so you don't even have to cook anything!
If you've never made your own salad dressing before, have no fear: they are super duper easy to make and taste amazing. This balsamic vinaigrette just contains 4 ingredients and is so incredibly delicious and the perfect addition to this chopped salad.
Here's to hearty and healthy salads!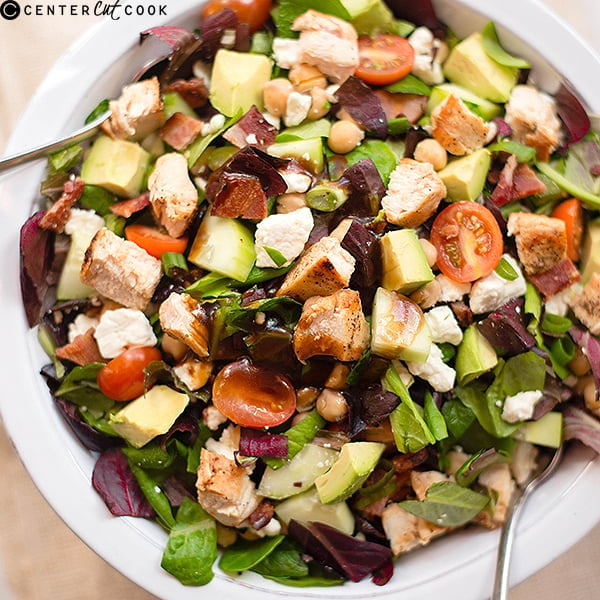 INGREDIENTS
1 tbsp. olive oil
1/2 tsp. kosher salt
1/4 tsp. ground black pepper
1/8 tsp. garlic powder
2 chicken breast, skinless, boneless
4 cups (10 oz.) lettuce/salad greens, chopped
1 cup cherry or grape tomatoes, sliced in half
1 avocado, diced
2 slices bacon, cooked and crumbled
1/4 cup gorgonzola crumbles
1/2 cucumber, peeled and diced
1/2 cup cooked garbanzo beans
For the Balsamic Vinaigrette:
1/4 cup olive oil
2 tbsp. balsamic vinegar
1/2 tbsp. dijon mustard
1/2 tbsp. honey
DIRECTIONS
Heat a skillet over medium-high heat and add the oil.
Season the chicken with the salt, pepper, and garlic powder and then add to the hot oil. Cook, flipping occasionally, until the chicken is well-browned on both sides and is cooked through, approximately 6-8 minutes.
Once chicken is cooked through, remove from the heat and dice into bite-size pieces.
In a large mixing bowl, combine the chopped salad, halved tomatoes, diced avocado, crumbled bacon, gorgonzola crumbles, diced cucumber, garbanzo beans, and diced chicken. Toss gently to combine.
In a separate small mixing bowl, combine the olive oil, balsamic vinegar, dijon mustard, and honey and whisk vigorously. Pour this balsamic vinaigrette dressing, as desired, over the chopped salad and serve.
Servings: 2-4