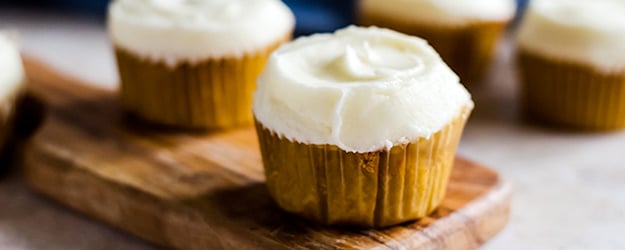 When it comes to dessert, there is nothing like a classic. A classic vanilla cupcake is a crowd pleaser that is very hard to resist. A good vanilla cupcake should be buttery, not overly sweet, and so light and fluffy, it basically just melts in your mouth.
These classic vanilla cupcakes are just that.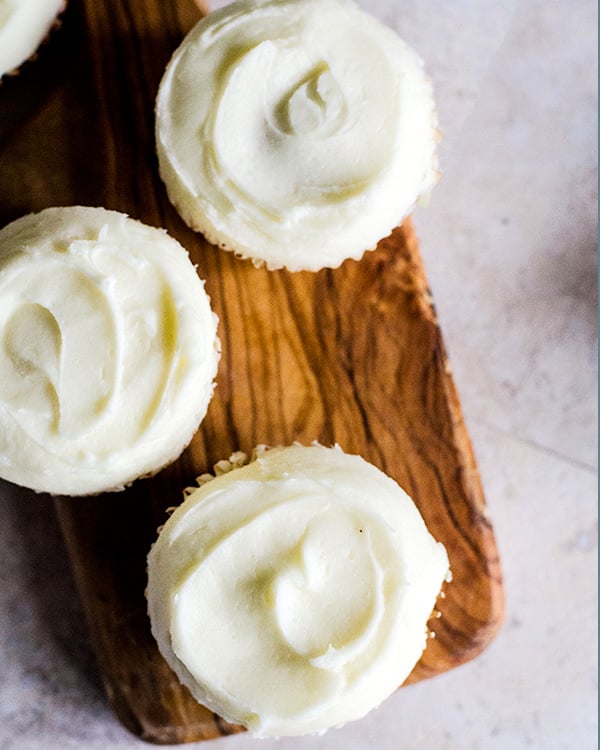 Think of those perfectly pillowy cupcakes you get at the bakery. Think of how each bite sends you into an almost trance-like state of bliss. Now imagine a cupcake that is even better than that. Yes, I said better. The only real trick is making sure you really beat the butter and sugar together to get it as light as possible, then doing the same when you beat in the eggs. The end batter should be airy to the touch.
Then of course, the buttercream. Honestly, any homemade buttercream is leaps and bounds better than any frosting you get at the store. My trick – the one I use on every recipe that calls for vanilla frosting – is to add a drop of two of almond extract. It adds that extra bit of flavor that enhances the vanilla and makes the frosting so good, you want to eat it by the spoonful. Trust me on this!
If you are looking for a good, foolproof classic vanilla cupcake recipe, you will fall in love with these.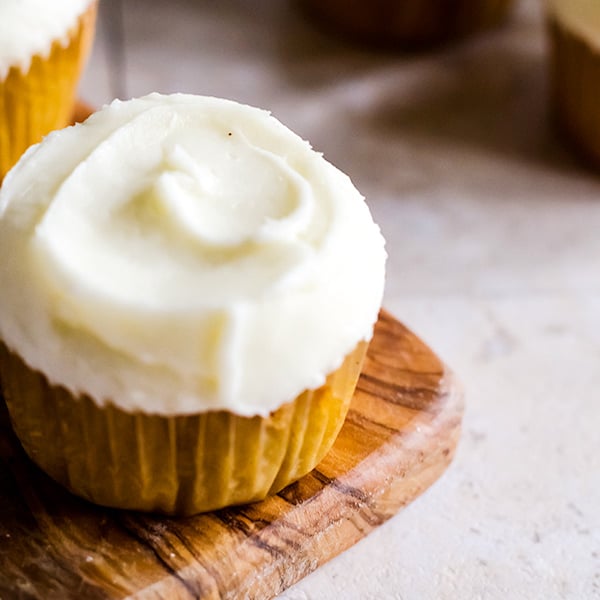 INGREDIENTS
FROSTING INGREDIENTS
1 stick (8 tablespoons) unsalted butter, room temperature
3 cups powdered sugar
1/4 teaspoon salt
2 teaspoons vanilla extract
1/4 teaspoon almond extract
2 – 3 tablespoons heavy cream
DIRECTIONS
Preheat the oven to 350 degrees F. Line a muffin tin with cupcake liners.
In a medium bowl, mix together the flour, baking powder, and salt. Set aside.
Beat the butter and sugar together until light and fluffy. Add in the eggs one at a time, beating at least 1 – 2 minutes between each addition. Beat in the vanilla extract.
Alternate between adding the flour and the heavy cream to the butter mixture. Add the flour in three additions and the cream in two. Begin and end with the flour.
Evenly divide the batter among 11 cupcake liners.
Bake for about 15 – 18 minutes, or until a toothpick inserted in the middles comes out clean. Leave to cool completely on a wire rack.
Beat the butter for the frosting until smooth.
Add the powdered sugar to the butter one cup at a time and beat well between each addition until fully incorporated.
Add the salt, vanilla, almond, and heavy cream and beat until smooth. When adding the heavy cream, start with one tablespoon at a time until you reach the consistency you like.
Frost the cooled cucpakes using your favorite method.
Servings: 11 cupcakes