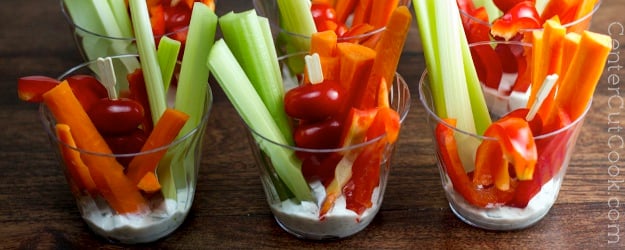 When it comes to entertaining, sometimes it's not about what you make, it's about how you present it that will earn you compliments! Take for example these veggie cups. At just about any party I go to, there is usually a veggie tray with all of your typical veggies, and a container full of dip in the center. People serve this because it's one of those things you know people will enjoy, and it's simple.
Anytime I'm looking for inspiration and ideas, I typically turn to Pinterest. So when I decided to try and find a new way to present veggies, that's exactly where I went, and where I found the idea for these cute little veggie cups. If you do a search for veggie cups, you'll see all kinds of variations. They are all just so cute, CUTE, cute!
After I saw this idea, I couldn't wait until I had an opportunity to make these veggie cups for a crowd. The opportunity came, and I was so excited to bring them to the celebration after my nephew was baptized. I anticipated everybody would love them, and I was right! I got compliments from so many people, and heard several say they would have to remember this for the next time they hosted a party. Success! Thank you Pinterest…
Notes: I used this homemade ranch dip and it worked out great! I prepped 40 veggie cups and tripled the recipe of ranch dip, and it was just the right amount. Additionally, instead of taking the easy route and buying baby carrots, I got whole carrots and cut them into sticks (the old fashioned way) so that I could control the length. It looked more pleasing to the eye to have the veggies extend beyond the top of the cup. Your prep time will vary, depending on how many cups you make.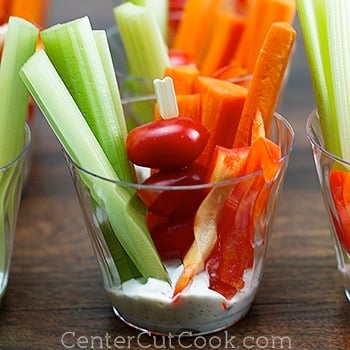 INGREDIENTS
Tumbler cups, or any other clear plastic cup
4 carrot sticks per cup
3 celery sticks per cup
3 red pepper strips per cup
3 grape or cherry tomatoes, per cup (I skewered the tomatoes on bamboo tooth picks)
1 spoonful of ranch dip per cup (recipe here)
DIRECTIONS
Place a spoonful of ranch dip on the bottom of a tumbler cup. Arrange 4 carrot sticks, 3 celery sticks, 3 red pepper strips, and 3 skewered grape tomatoes in the cup.
Refrigerate until ready to serve.