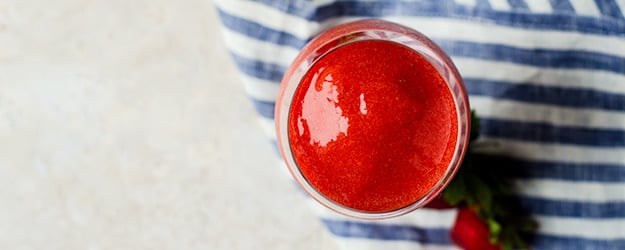 Ever since having a baby, I rarely drink. Before it was because I had a baby on my hands and there was no point in it since I would constantly be worrying about the baby. Now that my daughter is older, she is a lot more curious and doesn't like when grown-ups have their own drinks without her having something special of her own. Instead, I like to make virgin cocktails for us so I can make something special that we can share together. It makes her feel good that we have our own special drinks together.
This virgin strawberry daiquiri is a favorite around the house during the summer. She loves it because it has strawberries and really keeps her cool. I love it because it's so fruity and incredibly quick and easy to make. It's literally just tossing the ingredients in a blender and blending until smooth and frosty. Top with a fresh strawberry for garnish, and you are set for the summer.
I like to sometimes make a double or triple batch and freeze some for later. If you want to do that, just blend with only half the liquid and minus the ice cubes. When you are ready to blend, add in the remaining liquid. As for the liquid, I like to use either apple juice or white grape juice which helps thin out the virgin strawberry daiquiri to make it pourable and adds some sweetness. In case you were wondering, it doesn't alter the flavor too much with the quantity used.
INGREDIENTS
2 cups frozen hulled strawberries
1/4 cup lime juice
1/4 cup simple syrup
3/4 cup apple juice or white grape juice
5 – 6 ice cubes
Fresh strawberries for garnish
DIRECTIONS
Mix all the ingredients together in a blender and blend on high until well combined.
Pour into glasses and top with a fresh strawberry for garnich.
Servings: 2 – 3 servings