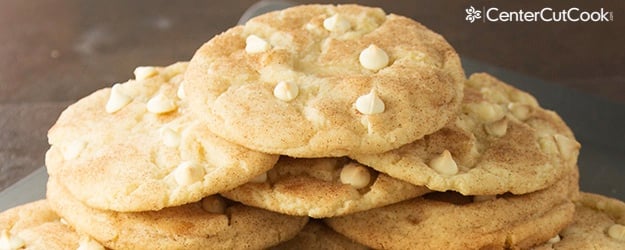 White Chocolate Chip Snickerdoodle Cookies. Need I say more?
The Snickerdoodle is one of those cookies that makes me feel all warm and fuzzy about my childhood.
I was super lucky growing up in that my grandma lived right up the road from our house. On the same street. Does it get any better than that? It does actually. Not only did she live right up the street, but she was an amazing cook and baker who had us over for dinner regularly, and made sure there were plenty of sweet treats to go around.
As she got older, she'd make jokes about her baking and warned us that her cookies might not taste that good because there was a good possibility she forgot to add an ingredient. Funny thing, they always tasted good, no matter if she left out an ingredient or not.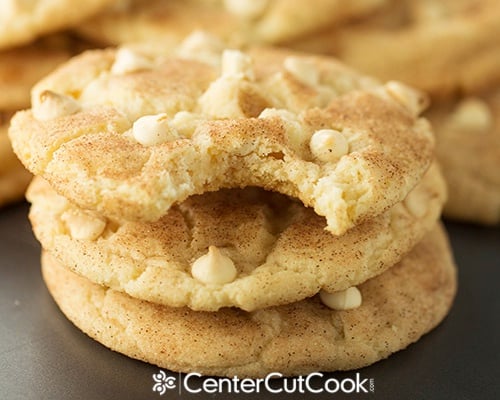 For our birthdays each year, she would make each of her grandchildren a batch of their favorite cookie. Guess which one I picked? Yup, the snickerdoodle! I wish I had her recipe, but I don't, so I decided to work off good ole Betty's recipe. That'd be Betty Crocker. I didn't want these to be plain ole snickerdoodles though, I wanted to make them big and soft with chunks of white chocolate chips!
This recipe calls for shortening. I know a lot of you are anti-shortening. If I'm being honest, I do use it sparingly, but for some recipes, it makes a big difference. This is one of those recipes. It calls for 1/2 cup, and I highly recommend you use it.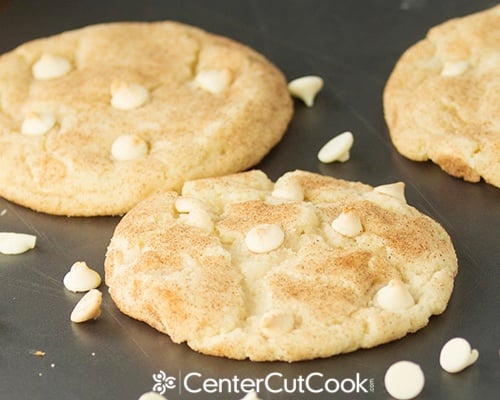 Have you ever had a White Chocolate Chip Snickerdoodle Cookie before? It's such a simple variation, but one that pays off big. There are so many variations of the snickerdoodle out there that I want to try like snickerdoodle muffins, snickerdoodle bars, and even snickerdoodle cupcakes. SO many options for the snickerdoodle fan!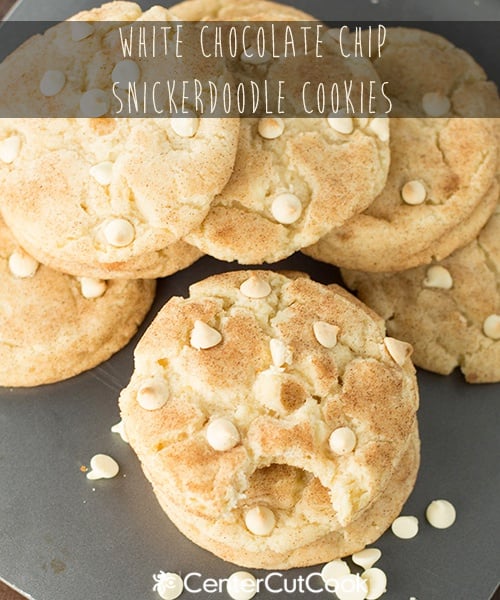 I wanted these guys to be big, so I was able to get about 15 extra large cookies from the batch. They turned out to be soft, delectable cookies, and with one bite, brought me back to my childhood. Sweet, buttery, with cinnamon and sugar and plenty of white chocolate chips, these cookies are a must-try!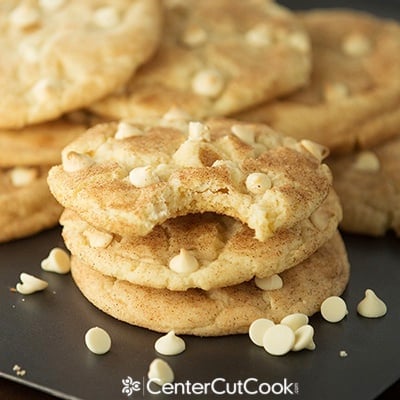 INGREDIENTS
1 1/2 cups granulated sugar
1/2 cup butter, softened
1/2 cup vegetable shortening
2 eggs
2 3/4 cup all-purpose flour
2 teaspoons cream of tartar
1 teaspoon baking soda
1/4 teaspoon table salt
3/4 cup white chocolate chips +1/4 cup for garnish
1/4 cup sugar for topping
2 teaspoons ground cinnamon for topping
DIRECTIONS
With your mixer, cream together sugar, butter, and shortening. Add in eggs and mix well.
In a separate large bowl, sift together flour, cream of tartar, baking soda, and salt.
Combine the wet ingredients into the dry and mix until all of the ingredients are incorporated together.
Stir in 3/4 cup white chocolate chips.
Place the dough in the freezer to chill for 30 minutes.
Pre-heat your oven to 350 degrees.
In a small bowl combine 1/4 cup sugar with 2 teaspoons ground cinnamon.
Measure 1/4 cup of cookie dough and use your hands to roll it into a ball. Roll the ball around in the cinnamon sugar mixture.
Place the balls of cookie dough on an ungreased baking sheet. Press additional white chocolate chips onto the outside of each cookie dough ball. Be sure to leave ample room between each cookie. I was able to get about 6 cookies on each baking sheet.
Bake for about 14-16 minutes. When just the edges of the cookies start to brown, you know they are done. The middle part of each cookie is going to appear undercooked. This is what you want!
Allow the cookies to cool on the baking sheet for about 10 minutes before transferring them to a wire rack to cool completely. As the cookies cool, they will lose the appearance that make them look like they are undercooked. Make sure to allow the cookies to cool completely!
Store leftovers in an air-tight container.
Recipe adapted from
Betty Crocker