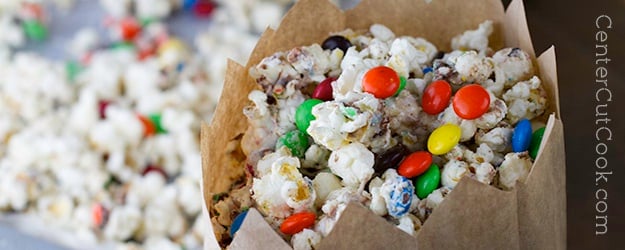 Let's talk about this White Chocolate Popcorn with M&M's. I love popcorn, but typically I'm a plain Jane and like it… well… plain. Except, of course, for the times I stop by Garrett Popcorn in Chicago and get their combo of cheese popcorn mixed with caramel popcorn. Mmmm mmmm…talk about good stuff!
Because I tend to like my popcorn plain, I was a little hesitant at the thought of chocolate covered popcorn. But I was told it was amazing and guess what? It is! This White Chocolate Popcorn with M&M's is simple in concept yet so, so good. There is no other popcorn that I've had that is similar.
You start with about 8 cups of popcorn. Make it yourself or buy it at the grocery store, it doesn't really matter. Just as long as your start with some fantastic tasting plain popcorn.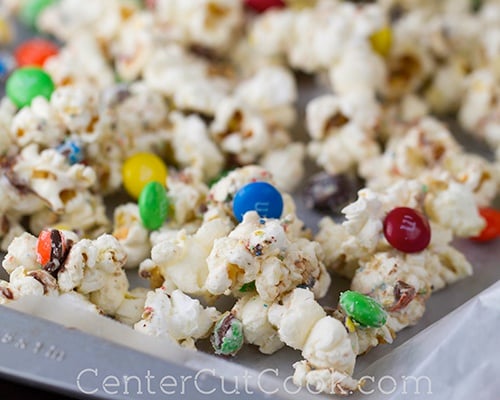 Next you'll melt white chocolate chips. I used an 11 ounce bag of Ghirardelli white chocolate chips. When it comes to chocolate chips, I love the Ghirardelli brand. Once the chocolate is melted, you'll put half the popcorn into a large bowl and drizzle half the chocolate over it. Next you'll sprinkle in a little sea salt, and some M&M's and stir well to combine. Repeat with the remaining popcorn and white chocolate.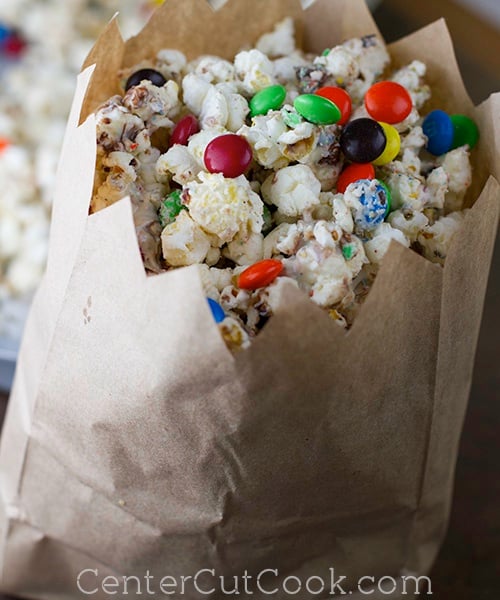 I make it in two batches so that it's easier to mix together. If you were to mix it all at once, you would have a hard time getting the white chocolate to evenly coat the popcorn. Another trick I did was to take half the M&M's and pulse them in my food processor a few times so that they were broken into smaller pieces. Then I sprinkled the small pieces of M&M's, along with the whole M&M's all over the popcorn.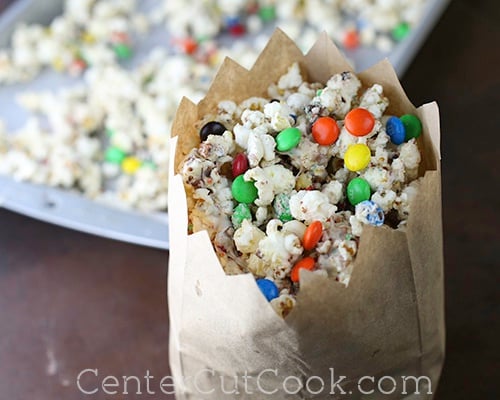 Don't forget to sprinkle the White Chocolate Popcorn with sea salt! The sweet/salty combination is fabulous! I lined a couple of rimmed baking sheets with wax paper and spread the popcorn out so that the white chocolate could set. If you're looking for a fun treat to make for parties, or even dessert, look no further! This White Chocolate Popcorn, simply adorned with M&M's will be a hit!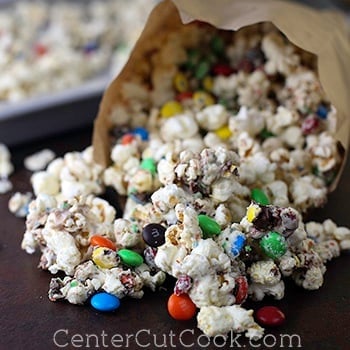 INGREDIENTS
8 cups cooked popcorn
11 ounces white chocolate chips
10-12 ounces M&M's
DIRECTIONS
If you have a food processor, start by taking half the M&M's and pulsing them in the food processor a few times so that you're left with pieces of M&M's. If you don't have a food processor, no worries, just skip this part.
Melt the white chocolate according to package directions. Place half the popcorn in a large bowl. Pour half the melted chocolate over the popcorn. Sprinkle with half the M&M's and desired amount of sea salt. Use a large spoon to combine all of the ingredients.
Line two rimmed baking sheets with wax paper and pour the popcorn on the tray so that the white chocolate can set.
Place the remaining pop corn in the large bowl, add in the remaining chocolate, the rest of the M&M's, and sea salt. Stir to combine. Pour the mixture onto a rimmed baking sheet liked with wax paper and give it about 10-15 minutes for the chocolate to set.
Serve in an air-tight container.
Recipe from
My friend Lisa