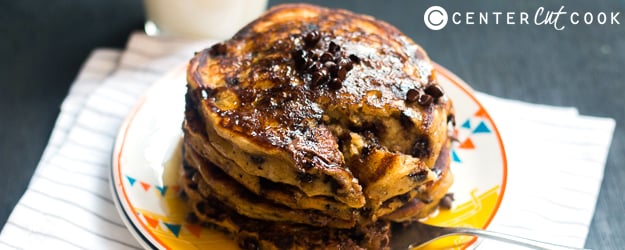 Breakfast is our favorite part of the day but a big, lazy breakfast has become such a luxury these days and happens only on weekends. So last night, we said we'll mix things up a bit and decided to have breakfast for dinner. These pumpkin pancakes were the perfect way to have a filling breakfast for dinner and not even feel the need for dessert.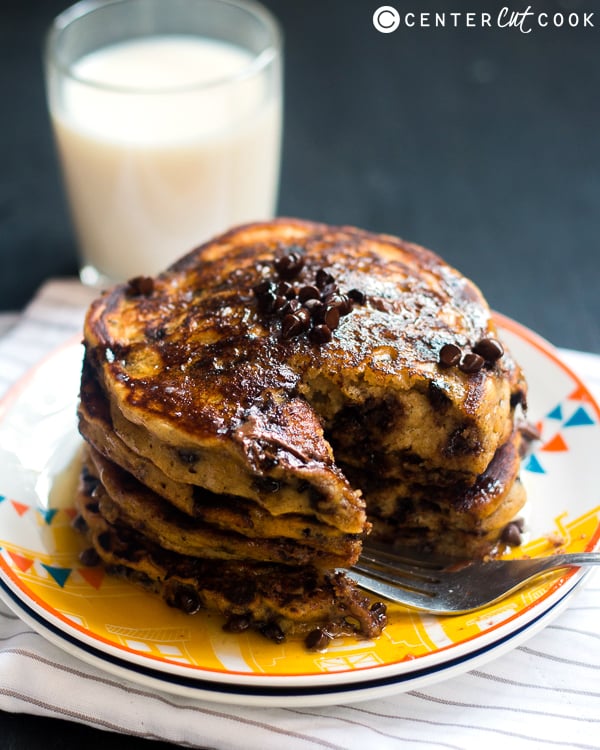 I've always made these pancakes with all purpose flour and I love how fluffy and soft they are. But the first time I tried them with whole wheat flour I was surprised at how they actually tasted better. The whole wheat flour added a wonderful nutty flavor and didn't even affect the texture.
I also added a whole bunch of chocolate chips which melted while cooking. Drizzled with some honey and warm melting butter, these pancakes sure are one of my favorite ways to welcome fall and pumpkin season.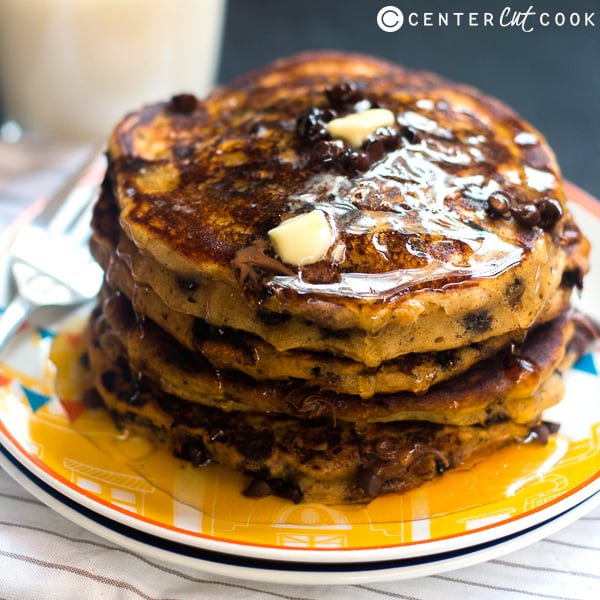 INGREDIENTS
1 cup Whole Wheat Flour
1 cup All Purpose Flour
1 teaspoon Baking Soda
2 teaspoon Baking Powder
1/4 teaspoon Salt
1 teaspoon Pumpkin Spice Mix
1 tablespoon Cinnamon Powder
3/4 cup Chocolate Chips
1 1/4 cup Pumpkin Puree
1/3 cup packed Brown Sugar
1 Egg
3 tablespoon melted Butter
1 1/2 cups full fat Milk
DIRECTIONS
In a bowl, mix together all the dry ingredients – both types of flour, baking soda, baking powder, salt, spice powders and chocolate chips.
In another bowl, whisk together pumpkin puree, sugar, egg, butter and milk. I like to use a hand blender to do this.
Add the dry ingredients to the wet ingredients and mix till just combined. It's okay if the mixture is slightly lumpy but do not overmix.
Heat up a griddle or skillet over medium heat. Once the pan is hot, brush butter on the pan and add 1/4 cup of the pancake batter. Cook for a minute till the edges start coming off the pan slightly and look bubbly. Flip and cook on the other side for about a minute and a half. Make all the pancakes this way. Brush the skillet with butter each time.
Serve hot with maple syrup, honey and butter.