**GIVEAWAY NOW CLOSED. CONGRATULATIONS TO ENTRY #691 LARISSA N.!*You guys! You guys!!! I am so excited to be announcing CenterCutCook.com's first ever giveaway! What's the reason for the giveaway, you ask? Simply just because CenterCutCook.com has the most amazing fans in the WORLD, that's why! If you are reading this, YOU are one of them. Thank you, thank you! I'm also doing this giveaway because I am obsessed with Amazon.com, and I feel like someone else should be able to enjoy the awesomeness of Amazon as much as I do. :)
I started CenterCutCook.com just a little over a year ago, and I feel so lucky to have "met" amazing fans and readers who keep coming back for more, which is why I keep at this whole blogging about food thing. I am so thankful to have you here, and I really wish I could give all of you a $100 gift card, but I can't. I am looking forward to many more giveaways in the future though!
So here's the deal. One lucky winner will win a $100 Amazon.com gift card. There are multiple ways to enter!
Like CenterCutCook on Facebook
Pin an Image on Pinterest
Follow me on Pinterest
Tweet about the Giveaway
Follow me on Twitter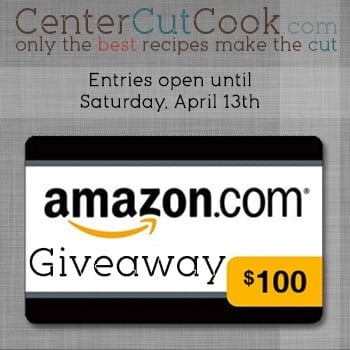 Now, don't run off and do these things quite yet. Here's the awesome thing… I am using a fabulous tool called Rafflecopter to help me manage the giveaway. Below is the entry form which will guide you through all of the options and make sure you get credit for each option that you choose to do! All you need is an email address (don't worry, it won't be published) or a Facebook account to enter the giveaway.
Now for the giveaway……