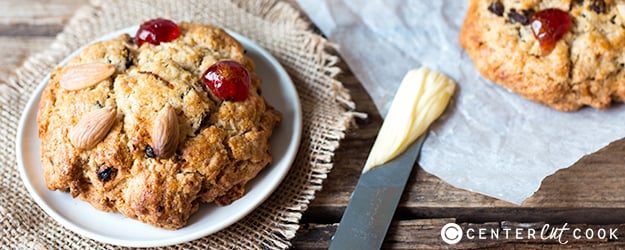 If you've ever visited the north of England, you may have heard of Betty's tea room. The first one opened in Harrogate almost 100 years ago, and since then Betty's has risen in fame as one of the best traditional tea rooms in the world.
'Fat Rascals' are one of my favourites from their menu – they're like a cross between a scone and rock cake – flecked with citrus peel and spice, and filled with juicy fruit. So good served warm with butter and nice cup of tea!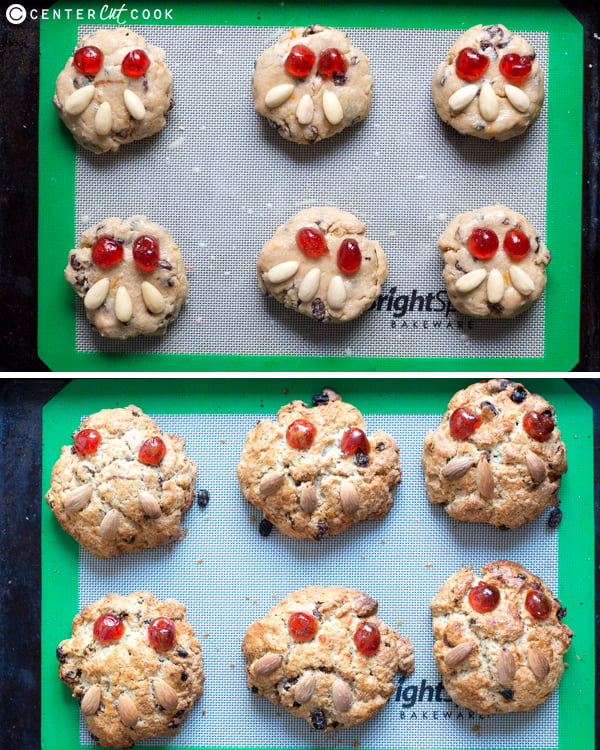 This is the closest I've been able to get in recreating the secret recipe, and despite the fact that they're rather large in size, I do find myself looking longingly at the cake tin within 5 minutes of finishing one!
They're very simple to make – a case of rubbing the butter and flour together, then mixing in the rest of the dry ingredients, and forming into a dough with the addition of the wet ingredients.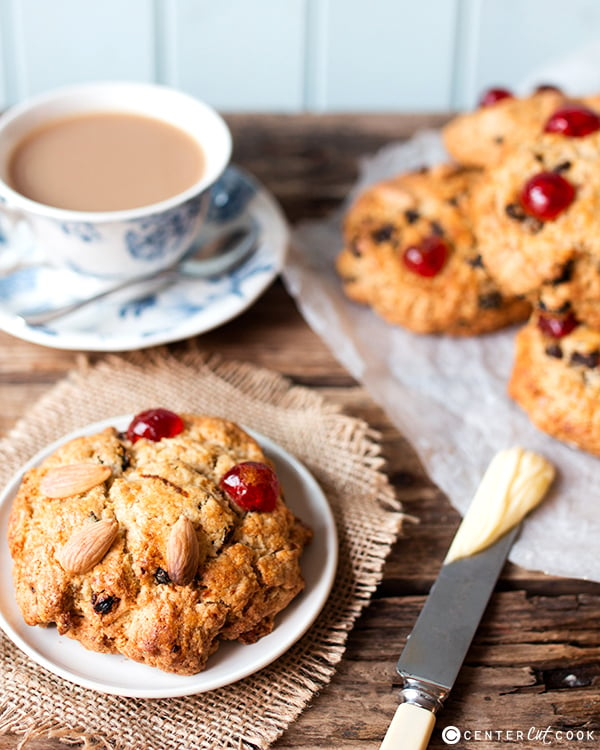 The buns are shaped, egg washed, and then topped with 2 cherry halves for eyes, and a smile made out of blanched almonds.
They're absolutely delicious, and will make the house smell fantastic too!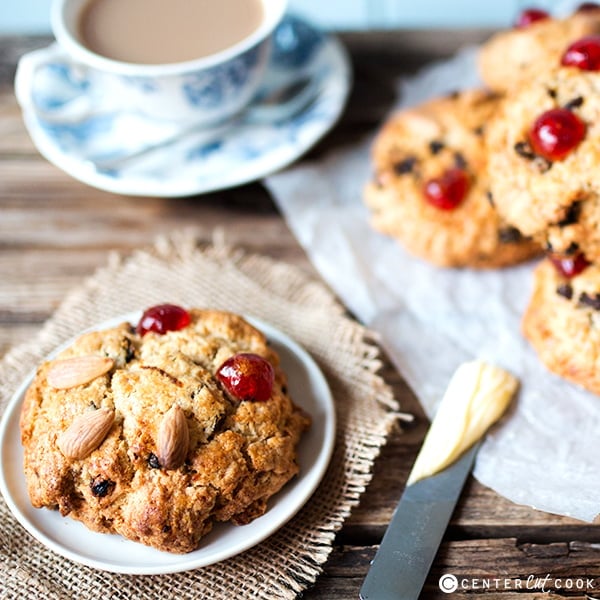 INGREDIENTS
2 cups all-purpose flour
1/2 cup all-purpose flour
2 teaspoons baking powder
1/2 teaspoons baking powder
1/2 cup cold butter, cubed
1 tbsp cold butter, cubed
1/2 cup golden caster sugar
Zest of 1 orange
Zest of 1 lemon
1 teaspoon ground cinnamon
2/3 cup raisins
1/3 cup sultanas or currants
2 large eggs
4 tablespoons heavy cream
8 Glacé cherries, cut in half
24 blanched almonds
DIRECTIONS
Heat the oven to 400f. Mix the flour and baking powder in a large bowl. Add the butter and rub together using your fingertips until you get breadcrumbs.
Stir in the sugar then add the orange and lemon zest, cinnamon, raisins and sultanas. Give it a mix, then add in one of the eggs and the 3 tbsps of cream. Mix together using your hands until you get a soft dough (add the rest of the cream if needed to get a dough consistency).
Flatten out the dough so it's about 2cm thick, then cut out 6 to 8 rounds – each one about the size of a hockey puck (you can just shape them with your hands if you don't have a cutter). Place the fat rascals on a baking sheet.
Gently whisk the remaining egg and brush the tops of the fat rascals, then decorate with the cherries and almonds. Use 2 cherry halves for the eyes, and 3 blanched almonds for the mouth.
Place in the oven and cook for 15-20 minutes until golden brown.
Take out of the oven and leave to cool for 10 minutes, then serve with butter (and maybe some strawberry jelly).
The rascals are best eaten when warm, but they can be cooled, wrapped and stored at room temperature. Eat the same day.
Servings: 6-8