This was my first year growing my own zucchini and I was so excited to see how many zucchini had grown in such a short span of time. I've been trying to use up my zucchini in as many different ways as possible. Zucchini muffins were the first on my list because they are a family favorite.
Before this, it was years since I made a zucchini muffin at home. I've been opting to buy muffins at the store or make loaves instead for the sheer ease and ability to sneak in a lot of bread at once and still call it "one slice." Making these muffins reminded me the flavor of a homemade zucchini muffin is incomparable and I am so glad I dusted off my muffin tin because I am obsessed with these bites of heaven.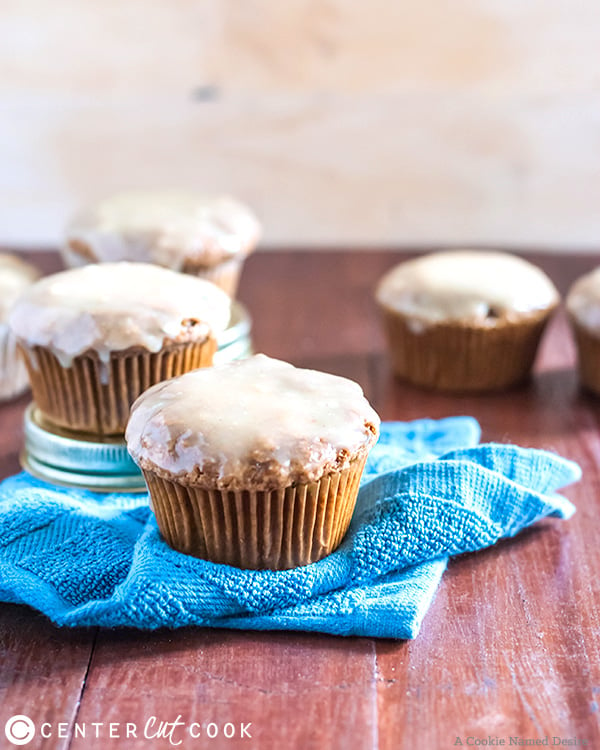 My biggest tip for making these muffins is to be sure you are squeezing out as much of the excess moisture from the zucchini as possible. Otherwise your muffins will be too moist and therefore dense. Once you do that, you can use this recipe as a base for other flavors as you like or using what you have available. Personally, I prefer to leave the muffins fairly plain since the white chocolate peanut butter glaze is plenty flavorful. Also, double dip the muffins in the glaze. Trust me, once you get a taste of the glaze, you will want to dip everything into it. It is a cross between a glaze and a ganache and incredibly creamy and wonderfully sweet. If you find the glaze to be too sweet, add about ¼ – ½ teaspoon salt to help cut down on the sweetness.
The muffins store very well. You can freeze them and reheat them in an oven at 300 degrees F for about 10 – 15 minutes, or you can store them in an airtight container up to five days. If you plan on freezing them, don't add the glaze. Instead, store the glaze in an air tight container in the refrigerator and dip as-needed. I hold no responsibility for any other dipping you may do in between muffins.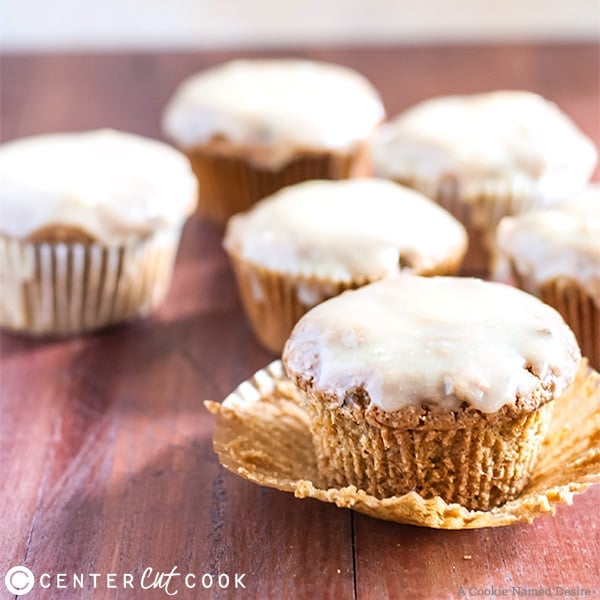 MUFFIN INGREDIENTS
GLAZE INGREDIENTS
1/2 cup heavy cream
1/2 cup white chocolate
1/4 cup creamy peanut butter
1 cup powdered sugar
1/4 teaspoon salt
DIRECTIONS
Preheat the oven to 435 degrees F, and line 9 of the cups with liners.
In a bowl, whisk together the egg, both sugars, and oil together. Squeeze out any excess moisture from the zucchini and add to the egg mixture along with the vanilla extract.
In a separate bowl, mix together the flour, baking powder, baking soda, salt, and cinnamon. Slowly mix the wet ingredients into the dry ingredients and mix until just combined. Lumps are good here! Fold in the chocolate chips, careful to not mix the batter too much.
Evenly distribute the batter among the 9 muffin cups. Bake for 5 minutes, then without opening the oven bring down the temperature to 350 degrees and bake for an additional 10 – 15 minutes. Remove and allow to cool completely.
On a double boiler, whisk together the heavy cream and white chocolate. Mix until the chocolate is melted and combined with the cream. Add in the peanut butter, powdered sugar, and salt then mix well. Dip the muffins into the peanut butter glaze.
Yield: 9 muffins