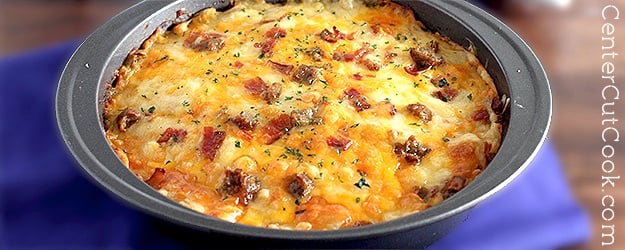 I don't even know where to start with this breakfast casserole. For starters, this is NOT your typical breakfast casserole. It's the type that will earn you rave reviews! It's simple, easy, and a great way to start your day.
The breakfast casseroles that I'm familiar with typically have cubed bread that tends to get soggy as it cooks. I just can't do soggy! So when I came across this recipe for Amish Breakfast Casserole that didn't include bread, AND had earned rave reviews, I knew I needed to put my own twist on it and give it a try.
Here's what I love:
It's versatile: you can include any ingredients you'd like. I did a combo of bacon and sausage, but you could so easily turn this into a vegetarian breakfast casserole.
You can make it the night before: I see this as the type of casserole I might make on Christmas day, or other special occasions. Those are the times when you don't really want to spend all day in the kitchen, right? You can prep this the night before, put it in the fridge, and then bake it in the morning. Easy peasy.
Portions: Once this casserole has been baked and cooled, you can divide it into individual portions and freeze it. Then, when you want a delicious breakfast on the fly, you can thaw a piece overnight in the fridge, and it can be heated in the microwave. It doesn't get much easier than that! Additionally, you can divide this recipe among two pans. I poured half in an 8×8 baking dish, and the other half in an 8 inch cake pan. One is to eat immediately, the other I will freeze for a later time.
Now, some people might look at the list of ingredients and say "only 6 eggs for the whole casserole!" Yes, only 6 eggs, and truthfully, I think it's perfect that way. I don't like eggs, but I thoroughly enjoyed this casserole. Hubby, who loves eggs, thought it had just the right amount and he wouldn't change a thing. However, if you are convinced this is not a breakfast casserole unless there's a high ratio of eggs to everything else, you can add more. Just note that the baking time will increase.
Lastly, let's talk about the onions and cottage cheese you'll find in this casserole. You may not be a fan of one or the other, or both, but in this casserole, neither of these ingredients stands out. Had I not told Ryan that there were onions and cottage cheese, he wouldn't have ever known! The cottage cheese adds a creaminess that simply can't be replaced, and the sautéed onion adds a subtle flavor. You could also sauté some red or green bell peppers that would pair perfectly with this casserole. The options are endless!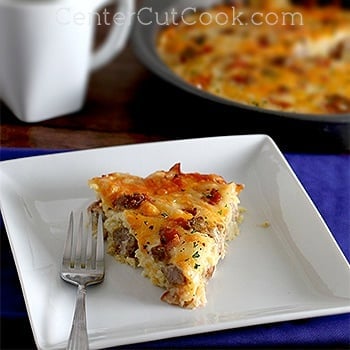 INGREDIENTS
1/2 pound bacon
1/2 pound breakfast sausage
1/2 teaspoon salt
1/2 teaspoon black pepper
1/4 teaspoon garlic powder
1 teaspoon hot sauce
2 large baked potatoes, cooled and shredded (about 4 cups) or 4 cups frozen shredded hash browns that have been completely thawed
1 small onion, finely diced
8 ounces sharp cheddar cheese, shredded – divided
8 ounces swiss cheese, shredded – divided
6 eggs, slightly beaten
1 1/2 cups cottage cheese
DIRECTIONS
Begin by cooking the bacon and sausage. I like to cook my bacon in the oven. Just line a large rimmed baking sheet with foil, place the bacon on the tray making sure the pieces don't touch. Put the tray of bacon in a COLD oven on a middle shelf. Turn the oven on to 400 degrees and let the bacon cook for about 18-22 minutes, or until the bacon is nice and crisp.
While the bacon is cooking, sauté the sausage until it is cooked through. Remove from the skillet and set the sausage aside on a paper towel lined plate. Sauté the diced onion in the same skillet. You could also sauté any other veggies you want to include at this time (red or green bell peppers, zucchini, mushrooms, etc.).
When the bacon is cooked, carefully remove the pan from the oven, and transfer the bacon to a plate lined with paper towels. When the bacon has had a few minutes to drain, cut the bacon and sausage into small bite sized pieces.
In a large bowl combine shredded potatoes with the salt, black pepper, garlic powder, and hot sauce. Stir in cottage cheese, and all but 1/4-1/2 cup each of the cheddar and swiss cheese (You'll use this for the top).
Stir in bacon and sausage, but be sure to reserve 1/4 cup of each for the top.
Next, stir in any sautéed veggies.
Stir in 6 eggs that have been slightly beaten.
Grease a 9 x 13 inch pan, or two smaller pans if you want one casserole to eat now, and one to freeze later. Spread the mixture in the pan(s). Top with reserved cheese, bacon, and sausage.
At this point, if you are making this ahead, cover the casserole with foil and place in the refrigerator. About 30 minutes before you will bake it, remove it from the fridge so that it can start to come to room temperature.
If you plan to make it and bake it at the same time, preheat the oven to 350 degrees.
Bake the casserole for 35-40 minutes, or until all of the cheese is melted and bubbling, and the casserole has set-up in the middle. You can either remove the casserole from the oven at this time, or turn on your broiler and broil the casserole for a few minutes to brown the cheese.
Allow the casserole to cool for a few minutes, then cut into pieces and serve.
Recipe adapted from
All Recipes