The Classic Italian Antipasta pasta platter is turned into a perfect pasta salad with chunks of pepperoni, pepperoncini peppers, tomatoes, cucumbers, and blue cheese crumbles!
I was shopping at Target today when I happened to stumble upon the school supply section.
The school supply section?!?! Already?!?!
When I was a teacher, seeing the school supply displays pop-up at the store was always my little reminder that I needed to take the brain out of 'vacation' mode and start getting back into 'teacher' mode.
Now that I am no longer a teacher, the school supplies simply mean that summer is winding down. On one hand, I am eagerly awaiting the start of fall with football, boots, and all things pumpkin. On the other hand, I adore summer and everything that defines it from grilling to refreshing salads.
And speaking of salads, one of my favorite salads happens to be the Antipasto salad with chunks of cucumber, tomatoes, pepperoncini peppers, and bits of salami and pepperoni!
With summer winding down, I wanted to squeeze in just a few more awesome summer side dishes for you all. I had Antipasto on the brain, which is when it occurred to me that an Antipasto Pasta Salad with its robust ingredients might just blow me away. And it did…

Side note: Try saying Antipasto Pasta 5 times over…
My favorite antipasto salad of all time includes cucumber, tomatoes, a little red onion, pepperoncini peppers, chunks of salami and bits of pepperoni. Oh, and let's not forget the cheese! It's tossed with a light dressing which is exactly what I wanted this pasta salad to be about.
Because I wanted bite sized chunks of salami , I went to the deli at my grocery store and just asked for a 1/2 pound chunk of salami. Then I was able to cut it up into perfect bite-sized pieces once I got home. If your deli offers this option for the pepperoni, go ahead and take that route. My deli only had pre-sliced pepperoni available so that's what I used.
If you've never bought pepperoncini peppers before, I found them in the same aisle as the pickles, by the roasted red peppers and other pickled vegetables.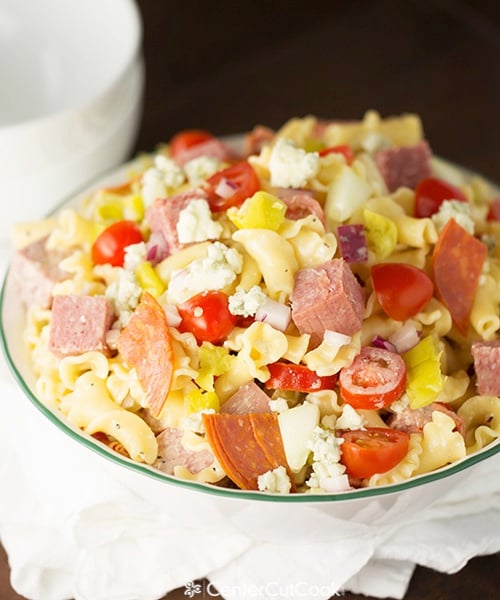 My version of Antipasto Pasta Salad includes all of those aforementioned ingredients, but it also includes some blue cheese crumbles. I adore blue cheese so I thought it was a fabulous addition! If you do not have a crush on blue cheese like I do, I'd recommend provolone cheese, or maybe even gorgonzola.
I love that this particular pasta salad is light on the mayo. Some of my favorite pasta salads like this Easy Ranch Pasta Salad, have quite a bit of mayo. While I truly enjoy the ranch pasta salad, sometimes it's nice to have options that are light on the mayo too!
Here's a close-up of this mouth-watering Antipasto Pasta Salad. Looks yum, doesn't it?
Choose any pasta you'd like. I went with campanelle pasta, simply because it looks awesome, but you can use any pasta you have on hand. You'll need about a pound of pasta. And because it calls for a whole pound, it'll serve a crowd!
Side note: Have you seen these super cute salad hands? I have them on my wish list. They are so cute and perfect for tossing together salads and pasta salads! I found them here: http://bit.ly/17SGJDd
Hopefully you've got a few more BBQ's planned for the summer so that you can enjoy this robust Antipasto Pasta Salad!
PASTA SALAD INGREDIENTS
1/2 of an average cucumber, diced
6 ounces grape tomatoes, chopped
6 ounces pepperoncini peppers, stems removed, chopped
1/4 cup of a small purple onion, chopped
1/2 pound salami, cut into bite sized pieces
1/2 pound pepperoni, cut into bite sized pieces
6 ounces blue cheese crumbles (sub gorgonzola, or provolone if you don't like blue cheese)
1 pound capanelle pasta, cooked according to package directions
DRESSING INGREDIENTS
2 tablespoons juice from pepperoncini peppers jar
8 tablespoons apple cider vinegar, divided
6 tablespoons extra virgin olive oil
4 tablespoons mayo
1/2 teaspoon garlic powder
1/2 teaspoon salt
1/2 teaspoon black pepper
1/2 teaspoon red pepper flake
DIRECTIONS
Cook pasta according to package directions.
While the pasta is cooking, whisk together 2 tablespoons juice from pepperoncini peppers, 5 tablespoons apple cider vinegar, 6 tablespoons extra virgin olive oil, 4 tablespoons mayo, 1/2 teaspoon each of garlic powder, salt, black pepper, and red pepper flake, set aside.
When the pasta is cooked and drained, toss it with the 3 remaining tablespoons of apple cider vinegar. Arrange the pasta on a rimmed baking sheet. Place the pasta in the fridge for about 30 minutes to cool.
When the pasta is cool, toss it together with chopped cucumber, tomatoes, pepperoncini peppers, diced onion, salami, pepperoni, and blue cheese crumbles.
Pour the dressing in and toss to coat. Cover the pasta salad and chill for about 30 minutes before serving.