The Classic Italian Antipasto pasta platter is turned into a perfect Antipasto pasta salad with chunks of pepperoni, pepperoncini peppers, tomatoes, cucumbers, and blue cheese crumbles!
Summer pairs perfectly with so many things including pasta salads! We have so many favorites around here including the ever classic Easy Macaroni Salad or this Hawaiian Macaroni Salad. One of our recent favorites is this Antipasto Pasta Salad inspired by a traditional antipasto salad which features chunks of cucumber, tomatoes, pepperoncini peppers, and bits of salami and pepperoni.
This Antipasto Pasta Salad with its robust ingredients is filling enough for a light summer supper, but also works great as a side dish. Let's talk about the ingredients that you'll need to make this perfect summer side dish.
Antipasto Pasta Salad Ingredients
There are two components to this recipe. First is the ingredients for the pasta salad itself. The second component is the dressing ingredients.
You'll need:
Cucumber – about ½ of an average cucumber, diced
Grape or cherry tomatoes- if they are large, cut them in half
Pepperoncini peppers – make sure to remove the stems, them chop them up into bite sized pieces
Purple Onion – you'll need about ¼ of a small purple onion, chopped
Salami – about ½ pound of salami cut into chunks
Pepperoni – about ½ pound, cut into bite sized pieces
Blue Cheese – if you do not like blue cheese you could substitute gorgonzola cheese or even provolone cheese
Capanelle Pasta – substitute any pasta that you like. Rotini would be a great option
Another delicious option would be to toss in some black olives which you'll often find in a traditional antipasto salad.
Recipe Tip
Because I wanted bite sized chunks of salami , I went to the deli at my grocery store and just asked for a 1/2 pound chunk of salami. Then I was able to cut it up into perfect bite-sized pieces once I got home. If your deli offers this option for the pepperoni, go ahead and take that route. My deli only had pre-sliced pepperoni available so that's what I used.
Pepperoncini peppers are typically found in the same aisle as the pickles, by the roasted red peppers and other pickled vegetables.
Antipasto Pasta Salad Dressing Ingredients
The dressing for this Antipasto Pasta Salad is pretty simple. You'll need:
Pepperoncini Pepper Juice – about 2 tablespoons from the jar
Apple Cider Vinegar – 8 tablespoons
Extra Virgin Olive Oil – 6 tablespoons. You could also use Avocado Oil or any other oil you prefer
Mayo – 4 tablespoons
Garlic powder, salt, black pepper and red pepper flake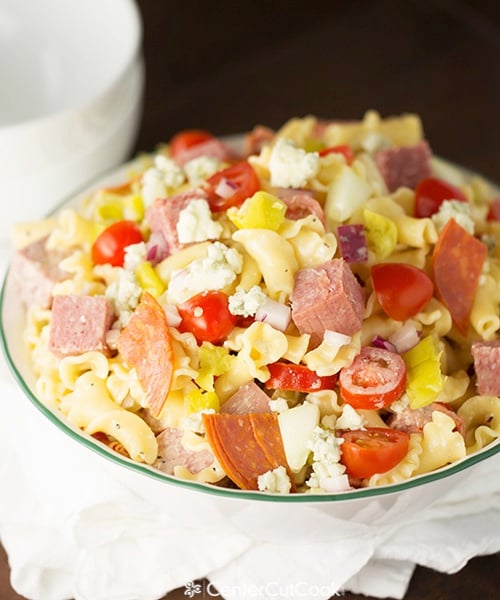 I love that this particular pasta salad is light on the mayo. Some of my favorite pasta salads like this Easy Ranch Pasta Salad, have quite a bit of mayo. While I truly enjoy the ranch pasta salad, sometimes it's nice to have options that are light on the mayo too!
Here's a close-up of this mouth-watering Antipasto Pasta Salad. Looks yum, doesn't it?
Choose any pasta you'd like. I went with campanelle pasta, simply because it looks awesome, but you can use any pasta you have on hand. You'll need about a pound of pasta. And because it calls for a whole pound, it'll serve a crowd! 
Pasta Salad Essentials!
Here are some of my favorite pasta salad essentials including a classic bamboo salad bowl. How cute are these salad hands?
Hopefully you've got some summer BBQ's planned so that you can enjoy this robust Antipasto Pasta Salad!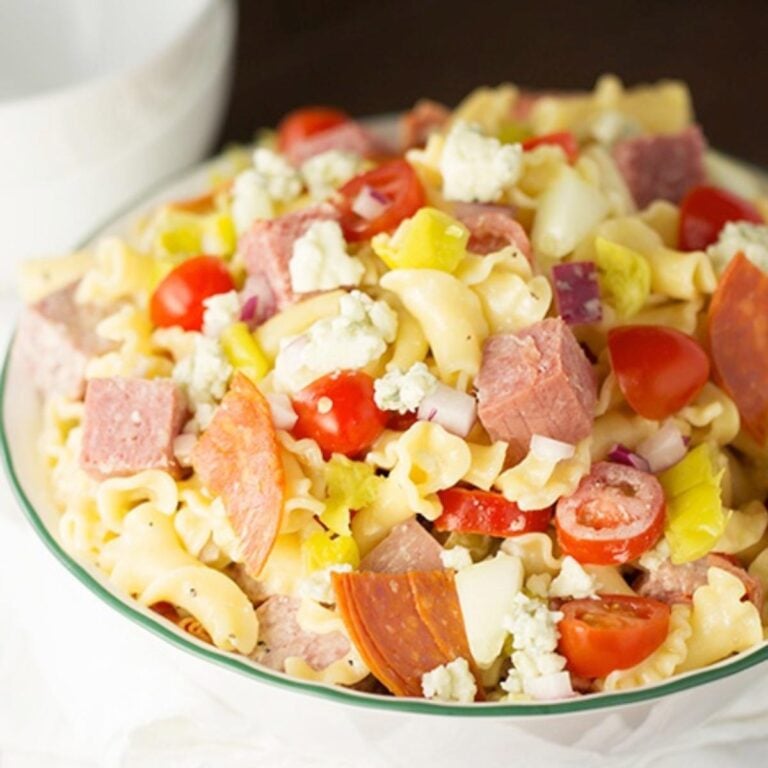 Ingredients
Pasta Salad Ingredients
½

cucumber, diced

6

ounces

grape tomatoes, chopped

6

ounces

pepperoncini peppers, stems removed, chopped

¼

cup

purple onion, chopped

½

pound

salami, cut into bite sized pieces

½

pound

pepperoni, cut into bite sized pieces

6

ounces

blue cheese crumbles

1

pound

capanelle pasta, cooked according to package directions
Dressing Ingredients
2

tablespoons

pepperoncini pepper juice

(from jar)

8

tablespoons

apple cider vinegar, divided

6

tablespoons

extra virgin olive oil

4

tablespoons

mayo

½

teaspoon

garlic powder

½

teaspoon

salt

½

teaspoon

black pepper

½

teaspoon

red pepper flake
Instructions
Cook pasta according to package directions. 

When the pasta is cool, toss it together with chopped cucumber, tomatoes, pepperoncini peppers, diced onion, salami, pepperoni, and blue cheese crumbles.

Pour the dressing in and toss to coat. Cover the pasta salad and chill for about 45 minutes before serving.