This is autumn on a breakfast plate, or dessert plate (or just a middle-of-the-afternoon snack plate if you're anything like me!!).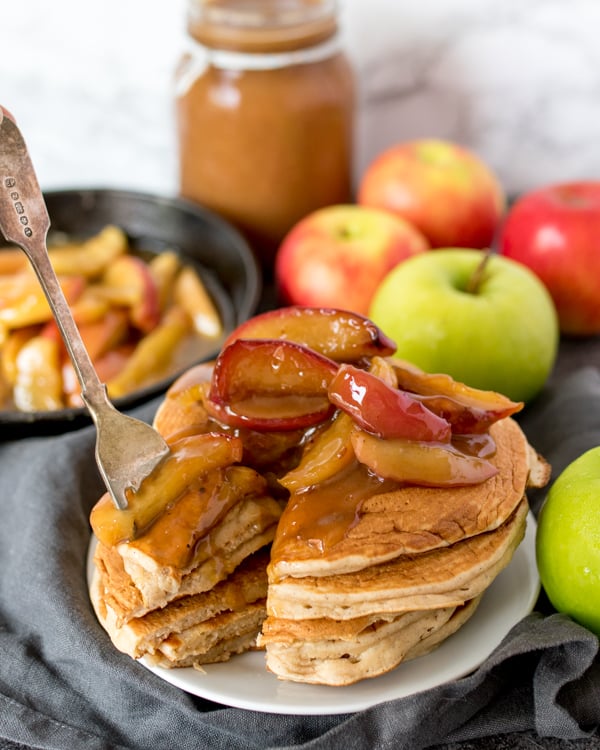 My kids are obsessed with pancakes – always their first choice for a weekend breakfast. During the summer months, we usually go for berries and maple syrup. As the days get a little colder, I know these pancakes will be an absolute favorite.
Use smooth or chunky apple sauce (apple butter works well too) and a teaspoon of cinnamon in these pancakes for a lovely, delicate apple-y flavor.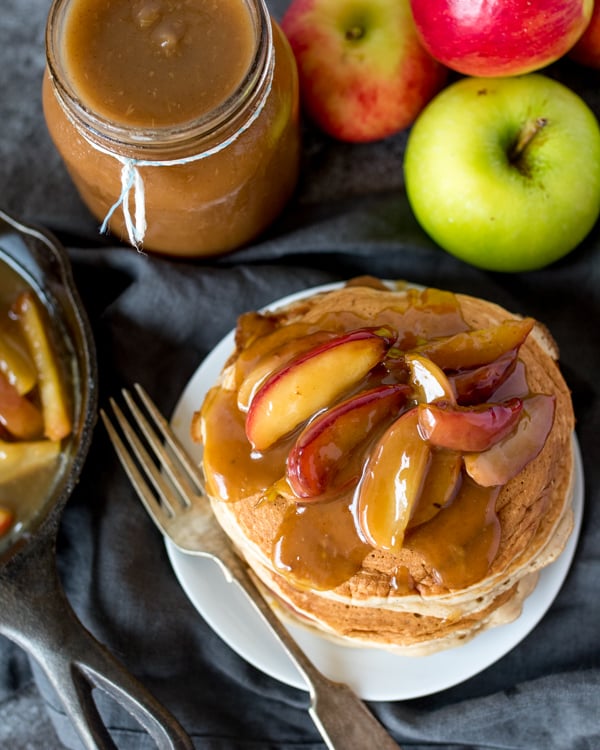 I like to make a big batch and cook extra, then any leftovers can be cooled, stacked between baking parchment and wrapped. Refrigerate them, then heat them up in the toaster for a quick breakfast the next day.
They're not quite as fluffy when reheated, but they still make a great breakfast when you're in a rush.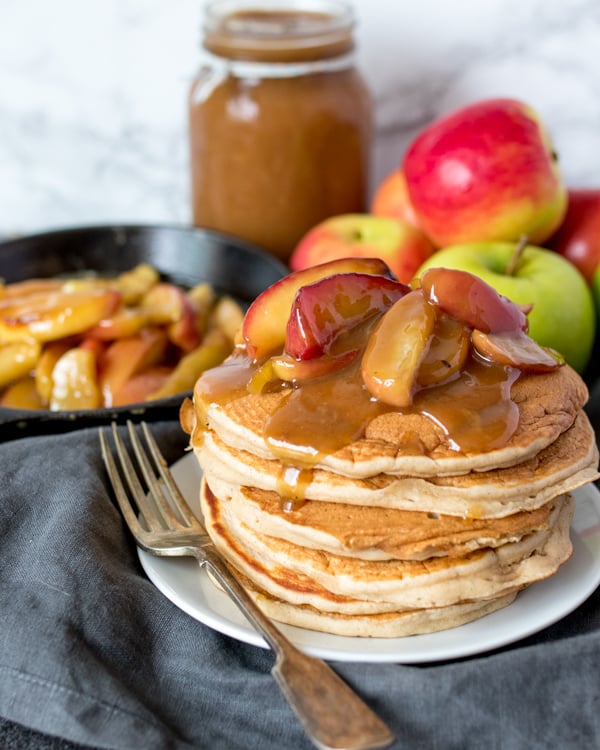 Serve the pancakes with a little butter or these quick caramel apples. Just cook the apples in butter, stir in sugar and finish off with cream for a smooth, velvety caramel sauce. Add a pinch of salt at the end if you love salted caramel.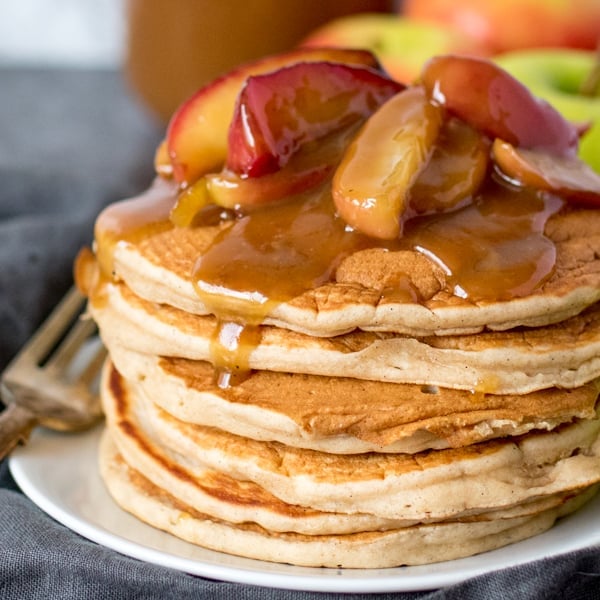 PANCAKE INGREDIENTS
CARAMEL APPLE INGREDIENTS
1/3 cup unsalted butter
4 apples (I think red-skinned apples look nice)
1/2 cup light brown (muscavado) sugar
2/3 cup heavy cream
Pinch of salt (optional)
DIRECTIONS
Place the flour, baking powder, sugar and cinnamon into a large bowl. Stir until combined, then add the vanilla extract, salt, egg, applesauce and milk. Use a balloon whisk to mix until combined.
Meanwhile, cored the apples and and cut into thick wedges (leave the skin on). Melt the butter for the caramel apples in a large skillet and add the apples. Cook on a medium-high heat for 3-4 minutes until the apples start to brown slightly (don't overcook or they'll go mushy). Add the sugar and stir in until melted (it might look like it's separated slightly but don't worry). Add the cream and stir until the sauce comes together to a smooth caramel. Add a pinch of salt if you want salted caramel flavor. Turn the heat off, or leave on a very low heat whilst you cook the pancakes.
Pour 1/4 tbsp. oil into a large skillet, then wipe around with a kitchen towel to cover the pan. Heat the pan on a medium heat until hot. Ladle pancake mixture into the pan (I use a 1/4 cup per pancake) and cook. Turn the pancakes over when bubbles form on top and then burst, and the edges start to look firm (about 1-2 minutes). Cook on the other side for another 1 minute. Repeat with the rest of the mixture until all the pancakes are cooked (you can keep the pancakes warm in a very low oven whilst you're making each batch).
Stack the pancakes onto plates and top with the caramel apples. Serve with a little whipped cream too if you like.
Servings: 4 (makes 12-14 pancakes)