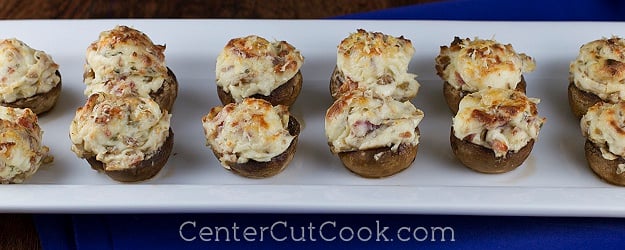 Love at first sight! Bacon, parmesan cheese, cream cheese, a little garlic and other goodies get combined together, then stuffed into mushroom caps and baked. Holy moly, this is good stuff! Make these, and I promise, it'll be hard to keep these babies around for longer than a few minutes!
I know, this is the second mushroom recipe in just a few short days (checkout the Crispy Breaded Mushrooms from the other day!). I'll blame it on the jumbo pack of mushrooms I bought at Costco, but really, is this a bad thing? I know there must be a few other mushroom fanatics out there besides little ole me, right?
I've been toying with this recipe for a few years now and changing it along the way. My most recent change to the recipe was the addition of bacon because, well…. everything is better with bacon! Truth be told, this recipe was great without the bacon, so all you vegetarians can take comfort in knowing that you can omit the bacon and still be left with a fantastic stuffed mushroom. What I love about this recipe is that it's non-traditional in that there are no bread crumbs to be found. To get the tops nice and golden brown, I just turned the broiler on for the last few minutes until they looked perfect. Easy peasy. Enjoy!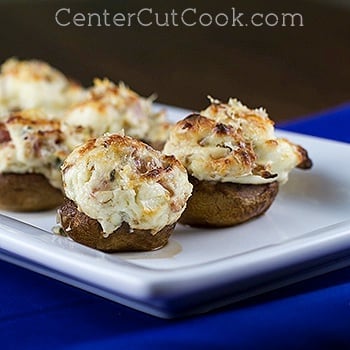 INGREDIENTS
12 ounces button mushrooms (about 15-20 mushrooms)
1- 8 ounce package cream cheese, softened and cut into cubes
1/4 cup finely grated parmesan cheese, plus some for garnish
4 strips bacon, cooked and crumbled
1/4 teaspoon red pepper flake
1/4 teaspoon black pepper
1/4 teaspoon onion powder
1/4 teaspoon dried parsley
1-2 garlic cloves, minced
A squeeze of lemon juice
1 tablespoon olive oil
DIRECTIONS
Pre-heat your oven to 350 degrees.
Remove stems from mushrooms and set aside. You'll need these in a minute.
Use a damp cloth to wash the mushrooms.
Use cooking spray to coat a mini muffin tin. Arrange the mushrooms in the mini muffin tin.
Cut any hard parts off the mushroom stems and discard. Chop up the remaining mushroom stems so that they're pretty fine.
Heat 1 tablespoon olive oil in a large non-stick skillet. Sauté chopped mushroom stems and garlic for 5-10 minutes. Turn the heat to low. Stir in cream cheese, 1/4 cup parmesan cheese, crumbled bacon, red pepper flake, black pepper, onion powder, dried parsley, and a squeeze of lemon juice. Mix well.
When all of the ingredients are combined, the mixture should be thick. Spoon about 1/2 tablespoon of mixture into each mushroom cap. You may end up with filling leftover if your mushrooms are on the smaller side.
Sprinkle of bit of finely grated parmesan cheese on top of each mushroom.
Bake in the oven for about 20 minutes.
If you'd like the tops to brown nicely, turn on the broiler and cook for a few minutes longer, until the tops are golden brown. Watch the mushrooms carefully so that they don't burn.
Let the mushrooms cool for a couple of minutes before serving.
Recipe from
CenterCutCook