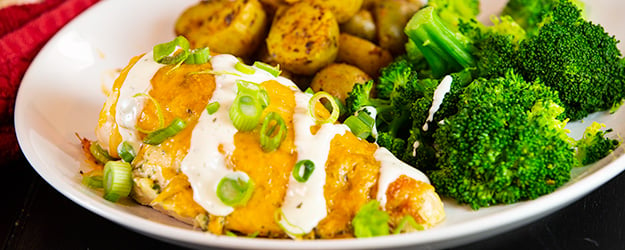 The easiest five ingredient baked ranch chicken made with ranch dressing and seasoning mix that is going to become your favorite dinner option.
There are always days when you want to make zero effort for dinner, and that's when this easy baked ranch chicken comes into the picture. It's really the best, and everybody loves it, especially on busy weeknights after work and school.
This baked ranch chicken is literally five ingredients – chicken, butter, ranch dressing mix, garlic and cheese. That's it. I like to use a Hidden Valley Ranch seasoning packet for this recipe. Either the dressing packet or the dip packet will work.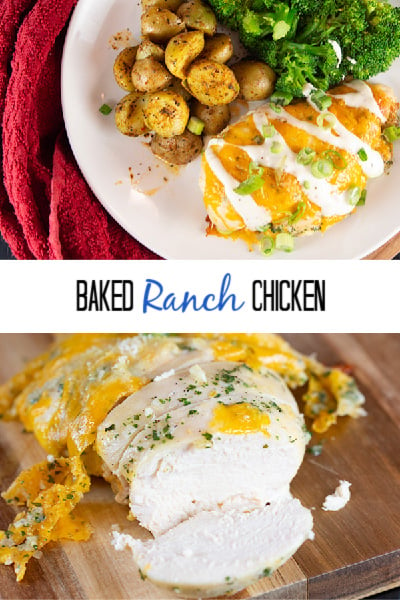 This entire recipe uses ingredients we usually have in our pantry. The baking takes about 25 minutes so you have a delicious dinner in under 30 minutes. Steam some broccoli on the side, make a nice salad or better yet, try our Slow Cooker Cheddar Bacon Ranch Potatoes and you've got a simple, quick dinner for the family.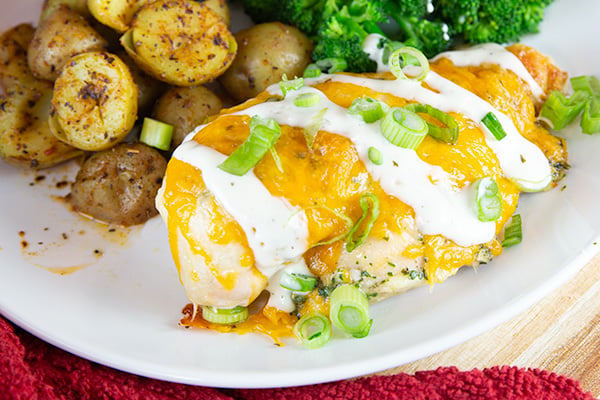 If you'd like to make it a one pan dinner, add some carrots, broccoli or cauliflower to the pan and bake everything off in one which makes this dinner even better and makes for easy clean up.
We've used butter for this recipe, because we love butter, but if you like, feel free to go ahead and swap it with olive oil. And you can easily skip the garlic, but I wouldn't recommend it. That garlic really makes everything more magical in this baked ranch chicken. You don't need flour or crackers for a crispy crust – just a nice mix of finely grated parmesan and cheddar which bubbles up in the oven and becomes beautifully crispy.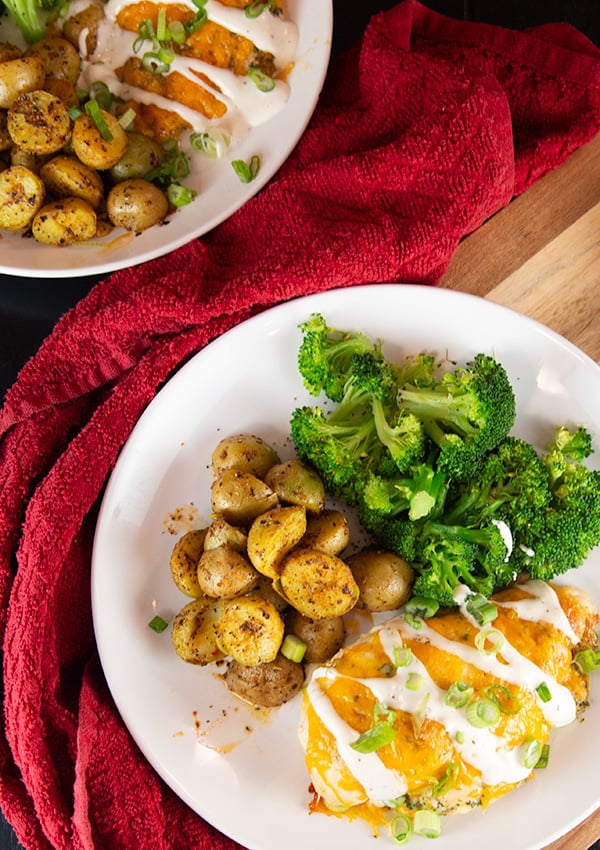 So what are you waiting for? This is easily going to become your go to dinner option. Drizzle the chicken with my homemade ranch dressing and chopped scallions and you've got a recipe to please everyone!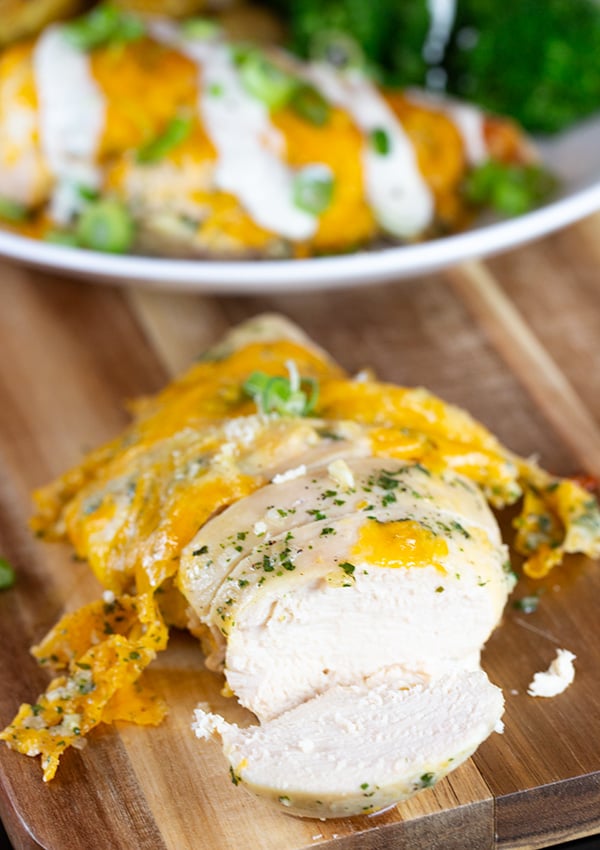 Enjoy!
INGREDIENTS
3-4 Boneless Skinless Chicken Breasts
3 tablespoons butter, melted
3 Garlic Cloves, minced
1 packet Ranch Seasoning Mix
1/2 cup grated parmesan
1/2 cup grated cheddar cheese
DIRECTIONS
Pre-heat oven to 400 degrees.
Line a baking sheet with parchment paper and arrange the chicken on the pan.
Mix together butter, minced garlic, and ranch seasoning mix.
Brush the chicken with the butter mixture.
Sprinkle chicken with cheddar and parmesan cheese.
Bake for 25 minutes or until the chicken is cooked through and juices run clear.
Serve hot.
Servings: 4