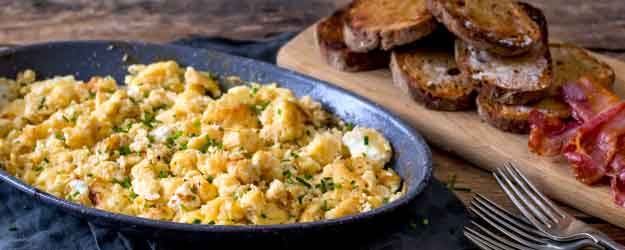 Scrambled eggs for one or two is easy on the stove, but when you're making breakfast for a crowd, they can be a little more tricky.
If you're cooking them in a skillet, you need to put them on just a few minutes before the rest of the breakfast is ready, and then hover over them the whole time. Of course that's the last thing you want to be doing when you're also juggling bacon, toast, hashbrowns and coffee!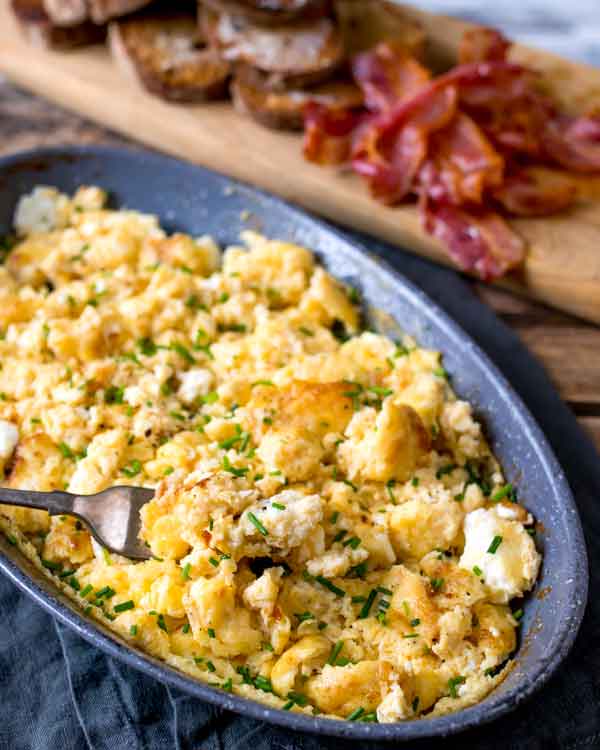 Scrambling your eggs in the oven is the perfect answer.
Melt some butter in an dish in the oven. Whisk the eggs up with a little seasoning and milk (I like to add cheese to mine too), then pour into the heated dish. You only need to mix once during cooking, and the eggs turn out so fluffy and light.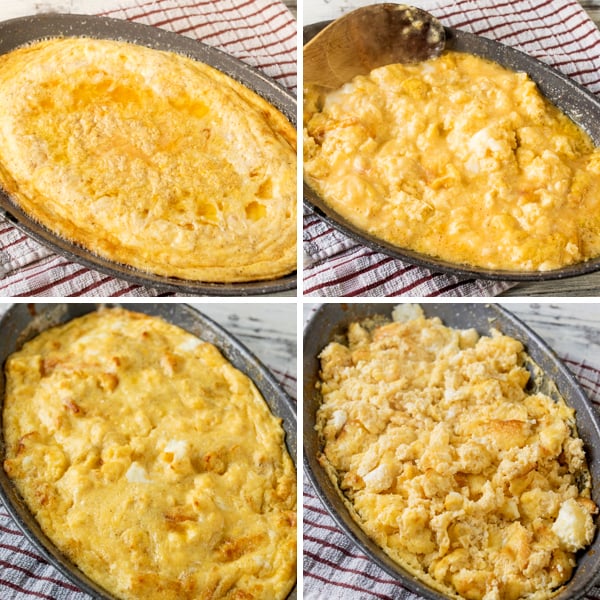 So simple and tasty you'll probably find yourself using this method every time!
It is really easy to add in some extra ingredients to make these baked scrambled eggs even better. You can make baked scrambled eggs with sausage or with veggies by just cooking the sausage and veggies first and stirring them in with the eggs before they go into the oven. My favorite veggies are pepper, onions, and mushrooms. Other extras you can add-in include: :
Shredded sharp cheddar, with a sprinkling of chives before serving
Chopped cooked bacon or ham
Hot sauce and a few sliced grape tomatoes
Cook plain, then serve with crumbled feta, avocado chunks and sweet chili sauce
Another great idea is to use these baked scrambled eggs for breakfast sandwiches. Use any toasted bread that you'd like, top with any cooked meats or veggies that you enjoy, and when the eggs are done baking, add a scoop to your sandwich and you have a perfect, satisfying breakfast!
Whether you are making baked scrambled eggs for two or baked scrambled eggs for 100, the method is simple and versatile and allows you to make an incredible breakfast that will impress your family and friends. Enjoy!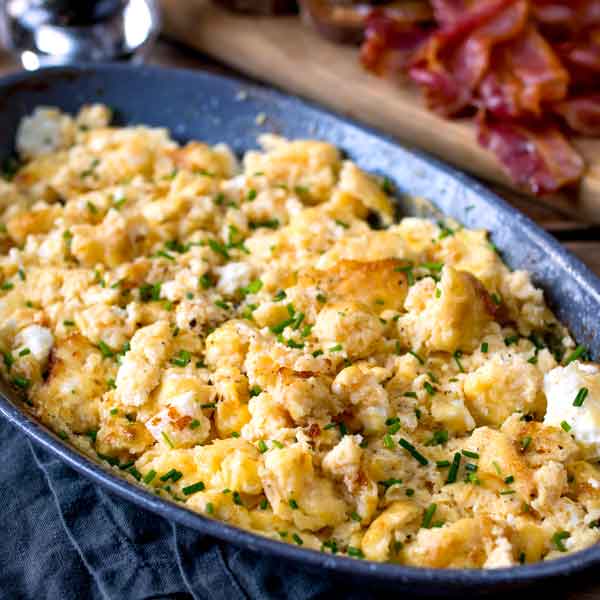 INGREDIENTS
2 tbsp butter
6 large eggs
1/2 cup shredded cheddar (optional)
1/4 tsp salt
1/4 tsp ground black pepper
1/4 cup milk
1 tbsp chopped fresh chives
DIRECTIONS
Preheat the oven to 350f/175c
Place the butter in an oven-proof baking dish (mine is a 10-inch oval dish) and place in the oven until melted – about 3 minutes.
Place the eggs, cheddar, salt, pepper and milk in a large bowl and whisk lightly to combine. Pour into the prepared baking dish.
Cook for 6-7 mins until the outside of the eggs has puffed up and cooked, leaving pool of uncooked egg in the middle. Take out of the oven and stir. Cook for a further 5-6 mins until just cooked through.
Stir again to break up the pieces. Top with fresh chives before serving.
*Note* You can double up the recipe by using a larger baking dish and adding an extra 5 minutes to the initial cooking time and an extra 2-3 minutes cooking time after stirring.
Servings: 4