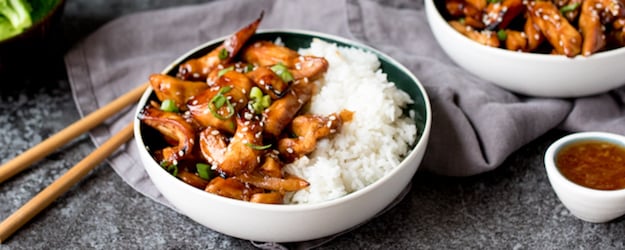 I love how easy this chicken teriyaki is. Just heat a few sauce ingredients in a pan (nearly all of it is store cupboard), pour over the chicken and bake in the oven. What could be easier!
I like to use chicken breast in this recipe. A lot of people use chicken thighs – which are delicious too, and great for ensuring the meat is moist – however I find them fiddly and time consuming to trim. That's fine at the weekend, but not mid-week when I'm in a hurry to get dinner on the table.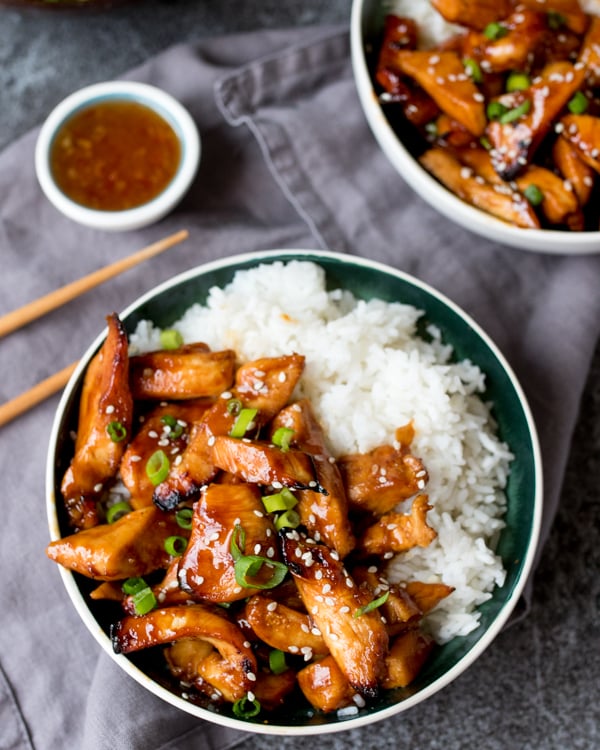 The chicken isn't in the oven long enough to render the fat off the meat in this recipe, so you really need to ensure all of the fat is removed beforehand. Using chicken breast makes that a quick and simple job, and I find it's still deliciously moist and flavorful.You don't even need to marinade the meat beforehand.
Serve with boiled rice or noodles and lots of green veg. I like to serve mine with steamed broccoli and kale. The kids eat every bite – even the veg – with the yummy sauce poured over everything!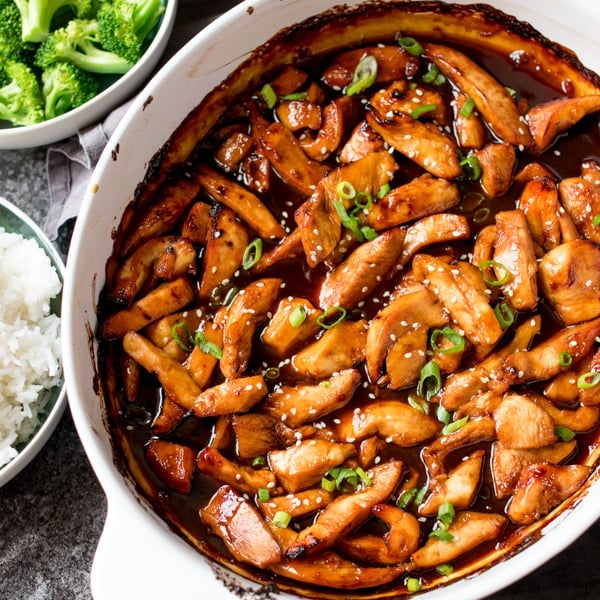 INGREDIENTS
1 tbsp cornstarch
1 tbsp cold water
1/2 cup caster sugar
1/3 cup + 1 tbsp soy sauce
3 tbsp cider vinegar
2 cloves garlic, peeled and minced
1 thumb-sized piece of ginger, peeled and minced
2 tbsp honey
1/4 tsp white pepper
4 chicken breasts cut into chunky strips
1 tbsp sesame seeds
Small bunch scallions, chopped
TO SERVE INGREDIENTS
Boiled rice
Green veg – such as broccoli and kale
DIRECTIONS
Preheat the oven to 400F.
Place the cornstarch and cold water in a small saucepan and stir together to combine.
Add in the sugar, soy sauce, cider vinegar, minced garlic, ginger, honey and pepper.
Stir together and heat, stirring slowly until the sauce comes to a boil. Turn off the heat.
Place the chunks of chicken in an oven-proof dish. Pour over the sauce and stir if needed to make sure all of the chicken is coated in the sauce.
Place in the oven (no lid needed) to cook for 30-35 minutes, stirring once or twice during cooking to ensure the top of the chicken doesn't get too dark. Check the chicken is cooked by cutting open a large piece and ensuring it's no longer pink in the middle (place back in the oven for another few minutes if it is).
Serve the chicken with boiled rice and green veg, topped with sesame seeds and chopped scallions.
Servings: 4-6