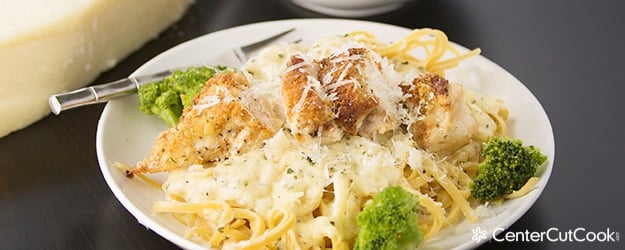 There are certain days where leftovers are an absolute must, not only because there are containers of leftovers piling up in the fridge just waiting to be eaten, but also because you need something ultra quick and easy. I'm talking' easy as in 2 minutes in the microwave!
This Parmesan Crusted Chicken Alfredo came to be, completely on a whim as I was trying to put a dinner together made entirely from leftovers!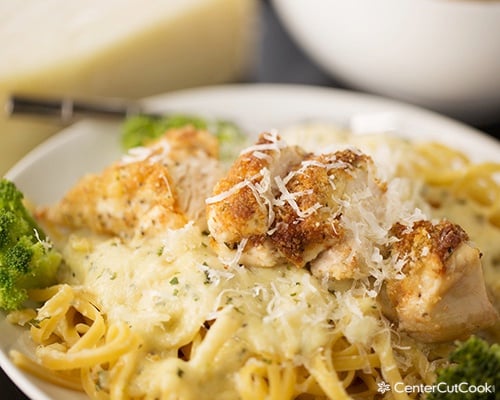 The particular day that this recipe came to be, I had a jam-packed day and hadn't even thought about what to make for dinner.
I had gotten up early to take my Dad to a doctor's appointment to have his port removed. Anyone familiar with cancer probably knows what a port is. I think of it as a direct line to a vein. When my Dad was diagnosed with cancer two years ago, this was something they recommended he have done so that it would be easy for him to get chemo and have his blood drawn.
He has been cancer free for quite some time now (hooray!), and getting the port removed was essentially the last thing he needed to do to wrap up his treatment with cancer ( double hooray!!!). He lives over an hour away and my sister lives 5 minutes from him so any time I make the drive up to my hometown, I usually stay all day to make the most of the drive and catch up with family! The port got removed, we celebrated with lunch, and then I hung out with my sister and her cute little son for the rest of the day.
Side note: When we got to the appointment, the nurse asked my Dad if he wanted his wife (me! haha) to come back for the procedure. Either my Dad looks good for his age, or I look bad for mine! ;)
By the time I got home it was dinner time and I did not feel like making dinner!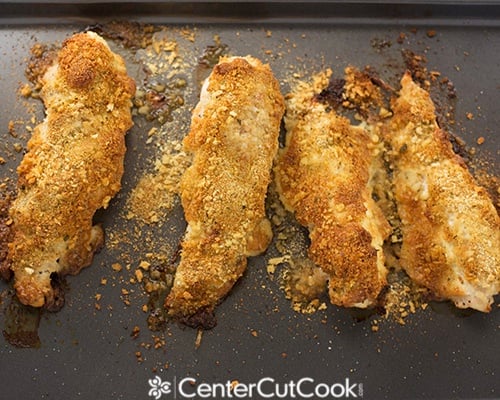 In my fridge I had some creamy alfredo sauce, the one that is ready in 20 minutes. Creamy, delicious!
And… I had leftover Parmesan Crusted Chicken. This is another quick and easy recipe that requires only 10 minutes of hands-on time which I love.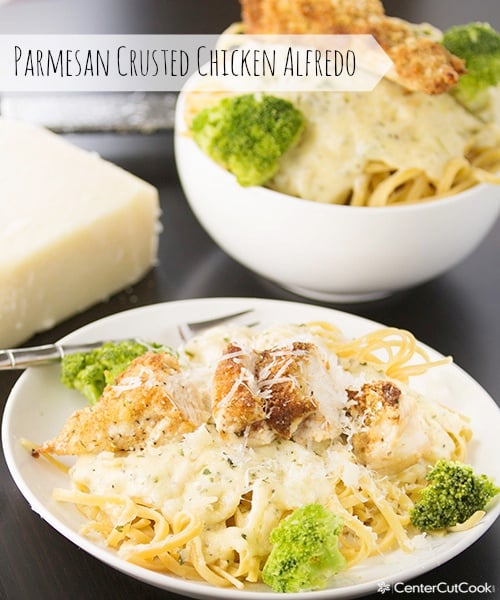 I decided I'd combine the leftovers from two separate, but very delicious meals to create this Parmesan Crusted Chicken Alfredo and guess what? it was delicious! It's funny that something so tasty came to be as a result of combining leftovers!
The next time I make this, it won't be because I have leftovers in the fridge, it'll be because I wrote it in on the meal plan. WE thoroughly enjoyed this combination, and I hope you do too!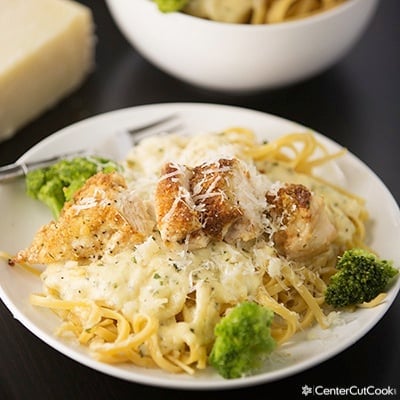 INGREDIENTS
DIRECTIONS
Prep 1 batch Parmesan Crusted Chicken.
As the chicken is baking, cook pasta according to package directions.
Make 1 batch Creamy Alfredo Sauce.
When the chicken is done baking, cut each piece of chicken into bite sized pieces.
Toss cooked linguini with alfredo sauce.
Stir in broccoli.
Place the sliced Parmesan Crusted Chicken on top of the pasta and serve.
*Note: I do not recommend stirring the chicken into the pasta mixture. The breading is delicate and would likely fall apart if you stirred the chicken into the mixture. I recommend placing the chicken on top of the pasta like what you see pictured.
Recipe from
CenterCutCook