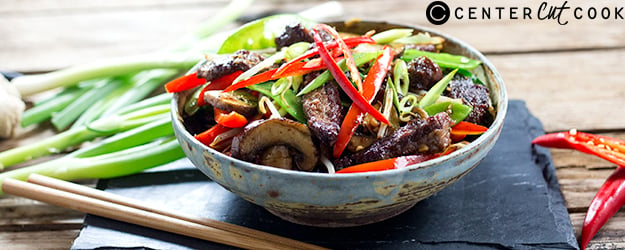 I've got a real thing for Asian food, and this meal hits the spot completely.
Ready in 20 minutes, it's perfect as a quick mid-week meal or you can save it for the weekend as a great alternative to take-out.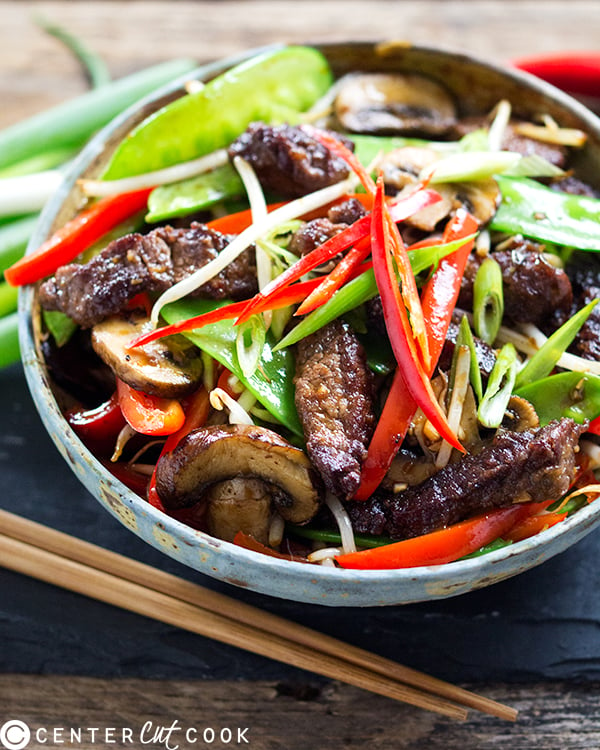 The steak is dusted in cornstarch and fried until crisp on the outside – but still juicy on the inside. Then it's all thrown together with crunchy vegetables and a sweet and spicy sauce.
I like to make an extra-large batch of this, then save some leftovers (drain off any excess sauce, then cover and refrigerate) and serve with a pile of baby spinach or pea shoots for a great salad the next day.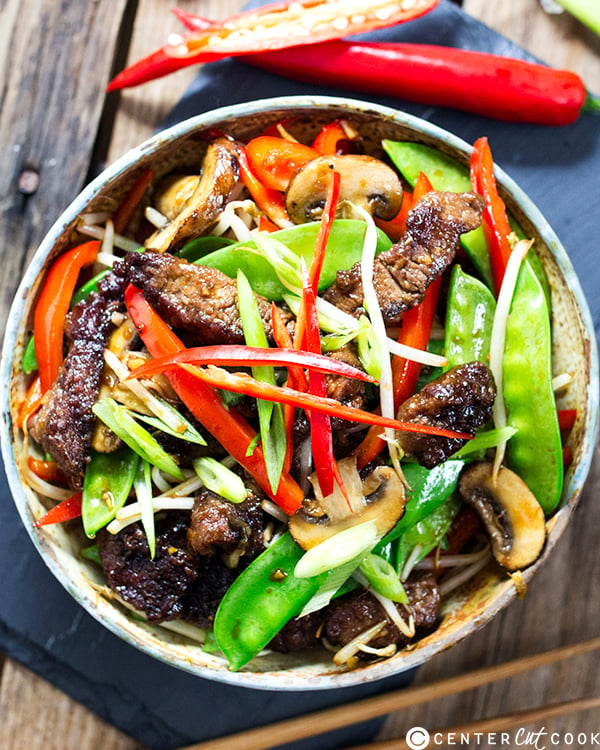 If you're cooking for kids, you can leave out the sweet chilli sauce initially. Simply dish up the kid's portions first, then stir in a dash of chilli sauce before serving to the adults.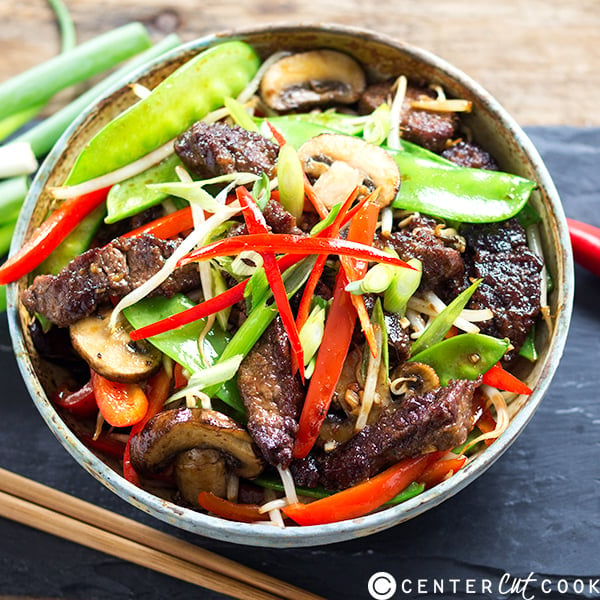 SAUCE INGREDIENTS
2 tbsp oyster sauce
2 tbsp soy sauce
2 tbsp dry sherry or Chinese rice wine
1 tbsp soft brown sugar
2 tbsp sweet chilli sauce
STIR FRY INGREDIENTS
1/4 cup vegetable oil
1/2 lb rump steak, cut into slices against the grain
1 heaping tbsp cornstarch seasoned with 1/4 tsp salt and 1/4 tsp black pepper
2 mushrooms, sliced
1 red bell pepper, deseed and sliced
1 cup snow peas
2 cloves garlic, peeled and minced
1 thumb-sized piece ginger, peeled and minced
1 cup mung bean sprouts
Small bunch scallions, sliced
DIRECTIONS
Mix the ingredients for the sauce in a small bowl and put to one side.
Heat the oil in a wok or a large frying pan until very hot. Dredge the steak slices in the seasoned cornstarch then carefully place them into the hot oil (it will spit, so watch out)
Fry for 5-6 minutes, moving around the wok a few times, until the steak is well seared, then remove from the pan and place in a bowl to rest.
Discard all but 2 tbsp of the oil and fry the mushrooms, bell pepper, snow peas, garlic and ginger for 2-3 minutes on a medium heat.
Turn the heat up high and pour in the sauce. Bring to the boil and then simmer it for a 2-3 minutes until it reduces slightly. Add in the cooked steak and mung bean sprouts and cook for a further 2-3 minutes until the mung bean sprouts are heated through, but still crunchy.
Serve topped with sliced scallions, either on it's own or with rice or noodles.
Servings: 2