In a perfect World, I would have time to make every meal from scratch from start to finish, I'd grow all of my own organic produce, take long walks on the beach, and chocolate chip cookies would have zero calories and fat. I should just keep dreaming, right?
Life is hectic these days. With Ryan still undergoing chemotherapy every other week, and little Miles still waiting for his liver and kidney transplant, you could say that my time for baking and cooking from scratch is limited. I'm sure on some level, you can relate. Sometimes life is just BUSY, isn't it? It's during those busy times that it's best to turn to semi-homemade options where you can get the experience of baking something delicious, while benefiting from the convenience.
When Fleischmann's's Simply Homemade's reached out and asked if I'd be interested in trying their new Muffin & Bread Mixes made specially for Greek yogurt, I didn't have to think twice before saying yes. Fleischmann's is a trusted brand I grew up seeing in my Mom's kitchen. She always had a stash of Fleischmann's yeast packets at the ready to make homemade rolls for Sunday dinner.
The new mixes come in three varieties: banana, lemon poppyseed and raspberry. Usually, I can tell the difference between muffins and breads made from scratch and muffins made from a mix, but I was pleasantly surprised when the banana muffins I made not only tasted like they were made from scratch, but they were ultra moist too. Simply Homemade's muffin and bread mixes are the first ones that specifically call for Greek yogurt which results in ultra delicious muffins and bread. Plus, with four grams of protein and four grams of whole grains per serving and no artificial colors, flavors, or preservatives, you can feel good about serving these to your family.
Let me tell you a little bit about what I used to make the muffins pictured. The great thing about these mixes is that they are versatile and you can get creative with add-ins. I tossed in about 1/2 cup mini chocolate chips right into the mix, and then pressed a few more on top of each muffin before baking. You could try adding in white chocolate chips or even chopped walnuts which would be really delicious too. Add-ins are totally optional.
For those of you who, like me, love to share baked goods with family and friends but need something quick and convenient, the Fleischmann's Simply Homemade Muffin & Bread Mixes are a perfect solution. Requiring only eggs, oil, water, and Greek yogurt, you are going to love stocking your pantry with Fleischmann's Simply Homemade Muffin & Bread Mixes.
I am excited to have partnered with Fleischmann's Simply Homemade to bring you this post. As always, all opinions are my own. Thank you for supporting the companies and brands that make CenterCutCook possible!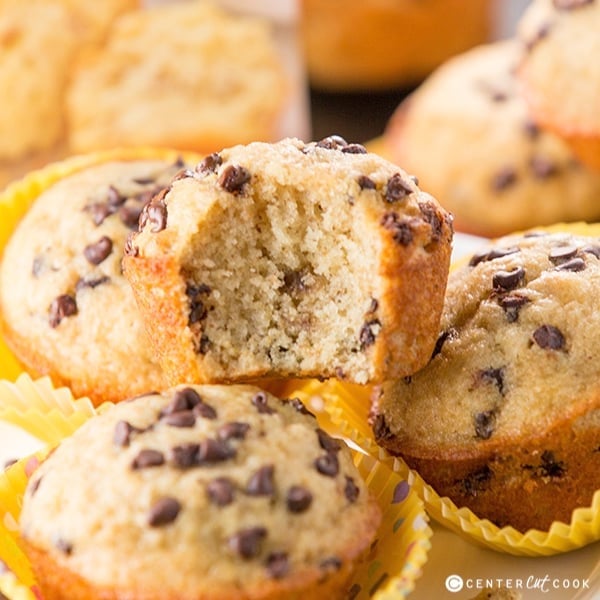 INGREDIENTS (for Muffins)
1 box Fleishmann's Simply Homemade Banana Muffin & Bread Mix
2/3 cup plain or vanilla flavored Greek Yogurt
2 large eggs
1/2 cup oil
1/2 cup mini chocolate chips + additional for garnish
1/4 cup chopped walnuts
DIRECTIONS
Preheat oven to 375 degrees F.
Line a muffin tip with paper liners or spray with cooking spray.
Combine all ingredients, except chocolate chips until well combined.
Fold in chocolate chips. Spoon the batter evenly among the prepared muffins cups, filling each cup about two-thirds full.
If desired, press additional mini chocolate chips onto the top of each muffin.
Bake for 15 to 20 minutes or until a tooth pick inserted in the center comes out clean.
Cool for 5 minutes on a wire rack, remove the muffins from the pan and serve.