Banana Pudding is one of these random desserts that I will absolutely devour if given the opportunity. Recently, my husband and I were visiting New York City and absolutely had to visit the famous Magnolia Bakery. They are known for their Banana Pudding and I wanted to see if it lived up to the hype! Oh trust me, it did. So much that I asked where I could have the recipe (never hurts to ask), and was told I could find the recipe in their cookbook. Well that was sure easy!! So this Banana Pudding is out of their cookbook, with just a little tweak.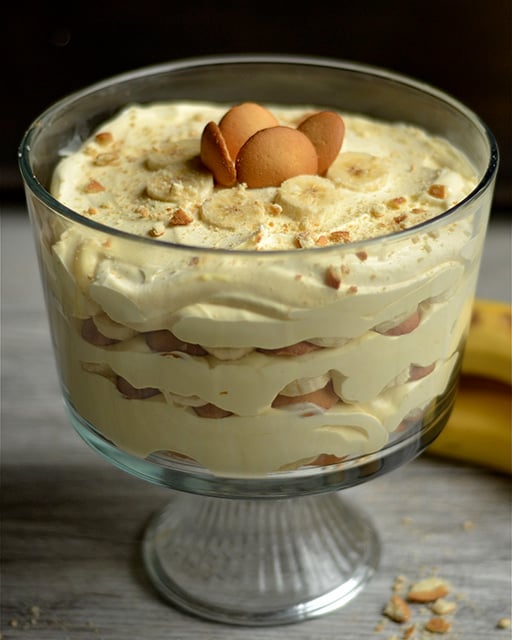 This recipe is actually super simple with only a few ingredients. I will say, that the whipped cream is important and absolutely necessary! The whipped cream gets folded into the pudding to make it less sweet, and more fluffy and light. The wafers give all the texture to the pudding, and all you need is the taste of ripe bananas (no artificial banana flavoring). Another little tip for the bananas is to pour a little lemon juice on them so they don't brown so easily. You can throw this pudding together in just a few minutes time, making it ideal for entertaining!
Be sure to factor in making the pudding part the night before, or letting it chill for at least 4 hours. But don't worry, the pudding only takes 1 minute to whip up. Once you make your whipped cream, start to fold the cream with the pudding and begin to layer your dessert. I love this as another option for the holidays instead of traditional pies that are more labor intensive. Best of all, a trifle is always fun and beautiful to look at! You can also serve in individual cups or mason jars. Enjoy!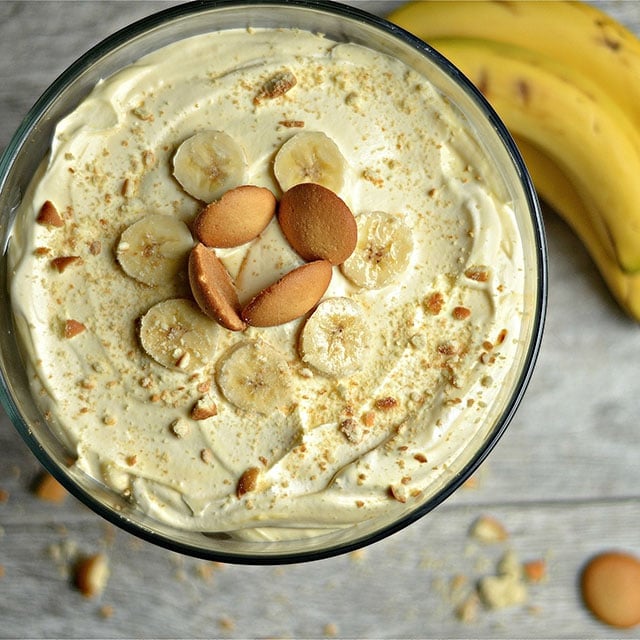 INGREDIENTS
1 3.4 oz box instant vanilla pudding
1 14 oz can sweetened condensed milk
1 1/2 cups cold milk
4 ripe bananas
2 tbsp lemon juice
1 12oz box vanilla wafers/cookies
3 cups heavy whipping cream
DIRECTIONS
Begin by mixing together the instant pudding with the sweetened condensed milk and the cold milk. Whisk until combined, place in an air tight container and refrigerate at least 4 hours or overnight.
Make the whip cream by whisking the heavy whipping cream until stiff peaks form. Fold whipped cream into pudding, then begin layering the dessert.
When ready to assemble your dessert, slice the bananas and cover with lemon juice to prevent browning. Set aside.
Layer your banana pudding by beginning with vanilla wafers, then bananas, and finally the pudding. Repeat for two more layers. This can be done in a trifle bowl or individual cups or mason jars.
Finally, top with any remaining cookies or bananas to garnish. Serve or refrigerate.
Dessert will hold for a few days, but the bananas will continue to get brown and mushy. Best if served within 8 hours of assembling the trifle!
Servings: 12
Recipe adapted from
Adapted from: Magnolia Bakery Cookbook