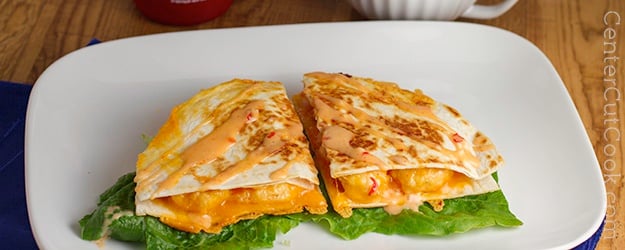 Over the summer, I was introduced to Bang Bang Shrimp, a popular menu item at a restaurant called Bonefish Grill. Since then, it's appeared in our house too many times to count! I even went as far as to experiment using the same sauce for chicken kabobs, and the result… Bang Bang Chicken Kabobs was a total hit!
At the time when I posted those recipes, I hadn't actually tried the Bang Bang Shrimp at Bonefish Grill because there isn't really one close to my house. Just last week, I finally made it to my first Bonefish Grill. There were a couple of things I noticed about their version – first, their shrimp are a teensy bit crispier, but that's because they deep fry them (I'd rather save the calories and pan fry them in A LOT less oil). Secondly, they use a little less sauce than I do. We like things saucy in this house, so it's all good. Lastly, I noticed that one of their menu options was Bang Bang Shrimp Tacos, which led me to the idea of….
Bang Bang Shrimp Quesadillas! Tender, crispy shrimp get tossed in a creamy, spicy sauce. Then, they get arranged on tortillas with plenty of sharp cheddar cheese and cooked until the tortillas are crisp. Because we love the sauce so much, we drizzled a bit more on top of the quesadillas and dinner was ready!
If you like Bang Bang Shrimp, this is a no-brainer!
*Notes: You should have enough shrimp for 4-6 quesadillas, depending on how many shrimp you place on each.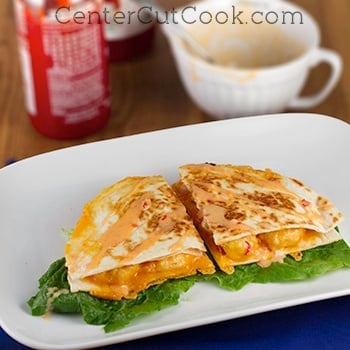 SHRIMP INGREDIENTS
QUESADILLA INGREDIENTS
Soft Taco Sized Tortillas – 2 per quesadilla
1 1/2 cups shredded sharp cheddar cheese
DIRECTIONS
In a large bowl, toss the shrimp with salt, black pepper, and garlic powder.
Place corn starch in a shallow dish like a cake pan.
In another cake pan, lightly whisk two eggs together to create an egg wash.
Dip each piece of shrimp in corn starch to coat, then dip in the egg wash to coat.
When all the shrimp have been coated, heat 6-8 tablespoons of oil in a large skillet on high heat. When the oil is hot, carefully add the shrimp to the pan. You may need to cook the shrimp in two batches so that you don't overcrowd the pan.
When the bottoms of the shrimp are crispy, flip the shrimp so that the other side can cook. This should only take about 30 seconds- 1 minute per side if the oil is hot.
Remove the cooked shrimp to a paper towel lined plate.
In a small bowl, whisk together Thai Sweet Chili Sauce, Sriracha Sauce, Mayo, and Peanut Butter. When the mixture is smooth reserve half the sauce, then coat the shrimp with the remaining sauce.
Heat a griddle or skillet to medium high heat.
Assemble the quesadillas by layering cheese on one tortilla, top with shrimp, more cheese, then place the tortilla on top. Place in the warm skillet. When the bottom is nicely browned, flip the quesadilla and allow the other side to brown.
Cute into quarters, then drizzle reserved sauce over the quesadillas and serve immediately.
You should have enough shrimp for 4-6 quesadillas.
Recipe from
CenterCutCook