When I'm in the mood for a burrito, the last thing I want to do is run out to Taco Bell or Chipotle to satisfy the crave, ESPECIALLY when I can easily make my own Beef and Bean Burritos right at home. Today I'm sharing my go-to recipe for homemade burritos, and if I had to choose, I'd say they taste much more like what you'd get at Chipotle than at Taco Bell. If you ask me, that's a good thing. :)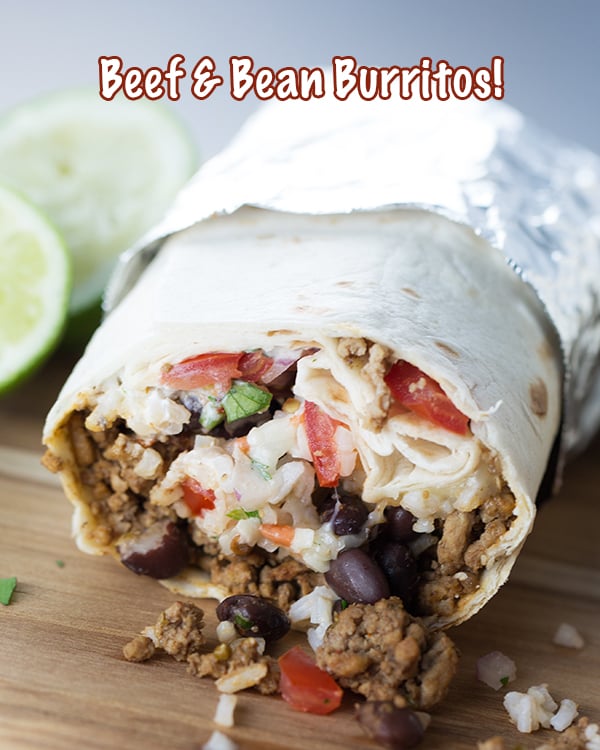 The base of these burritos is seasoned ground beef and black beans. I have made these burritos three different ways: with beef and beans, with just beef and with just beans. If you're looking for a meatless option, go ahead and leave the meat out and enjoy a simple bean burrito. With all of the additional toppings like the cilantro lime rice and the homemade pico de gallo, you won't miss the beef. I usually end up making half with the beef and beans for Ryan and half with just beans for me. Did I mention these burritos are great as leftovers?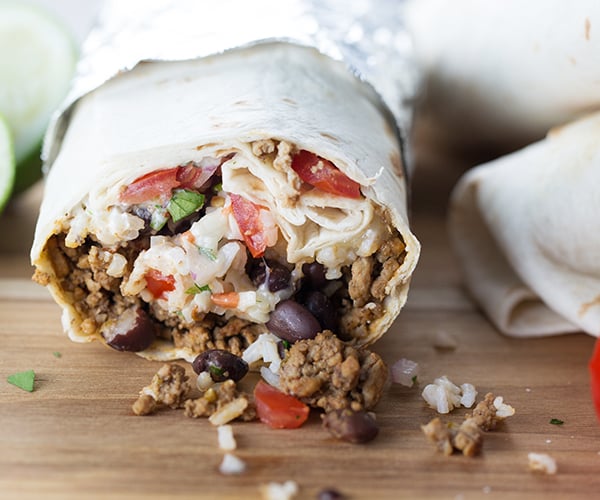 I decided to make homemade pico de gallo to stuff inside of these burritos, but you could also use any salsa of your choice (here's my homemade salsa). The only other possible ingredient that might make these burritos better would be a spoonful of my favorite homemade guacamole! This batch will make six burritos, perfect for feeding a family, or great if there's just two of you and you'd like leftovers. The best part? They are ready in under 30 minutes. Enjoy making these tasty Beef and Bean Burritos right at home!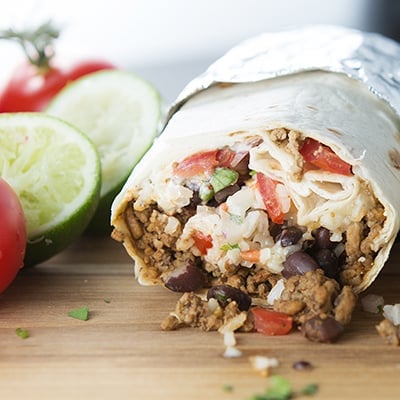 INGREDIENTS
1 pound lean ground beef
3 garlic cloves, minced
1 teaspoon dried oregano
3 teaspoons ground cumin
1 teaspoon chile powder
1 chipotle chile in adobo sauce- diced + 2 teaspoons juice from can *omit if you don't like spicy
2 cups cooked rice, warm
Juice from 2 limes, divided
2 tablespoons chopped fresh cilantro
1/4 teaspoon salt
15 ounce can black beans rinsed and drained- warm for a about 60 seconds in the microwave
6 burrito size tortillas
2 cups monterrey jack cheese
1/2 cup sour cream
*Optional Pico De Gallo – recipe below OR 1 cup salsa (The Pico de gallo needs to chill for 30-60 minutes before using)
PICO DE GALLO INGREDIENTS
3 roma tomatoes, diced
1 small red onion, finely diced
1 jalepeno, seeded and diced
2 tablespoons chopped fresh cilantro
1 green onion, finely chopped
1/2 teaspoon garlic powder
1/4 teaspoon salt
1/4 teaspoon black pepper
Squeeze of lime juice
DIRECTIONS
In a large skillet over medium-high heat, sauté ground beef and break up into small bite sized pieces with a large spoon. A minute or two before the beef is cooked through, add in the garlic and cook for a minute longer.
Drain excess fat from the meat.
Season the meat with 1 teaspoon dried oregano, 3 teaspoons ground cumin, 1 teaspoon chile powder, 1 chipotle chile in adobo sauce- diced, and 2 teaspoons juice from chipotle chile can.
Pre-heat your broiler to high.
For the rice: To the 2 cups warm cooked rice add in juice from 1 lime, 2 tablespoons chopped fresh cilantro, and 1/4 teaspoon salt.
For the black beans: rinse and drain black beans. Warm them in the microwave for about 60 seconds. To the beans add in juice from one lime and stir to combine.
Place the tortillas between paper towels and warm in the microwave for 60-90 seconds.
Line baking sheet with foil.
Arrange your tortillas on a work space. Divide the meat among the 6 burritos, placing the meat down the center. Divide the rice among the 6 burritos. Top with beans, pico de gallo (or salsa) and sour cream. Sprinkle cheese down the center of each burrito.
Fold the sides over the burrito towards the middle. Then fold the bottom of the tortilla over the sides and filling and roll up tight.
Place on the prepared baking sheet, seam side down. Broil for 3-5 minutes, or until the burritos are slightly browned.
PICO DE GALLO DIRECTIONS
Combine all pico de gallo ingredients in a large bowl. Cover and refrigerate for 30-60 minutes before using.
Recipe from
CenterCutCook