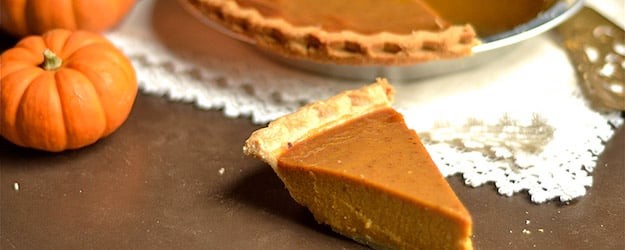 Nothing says Fall or Thanksgiving like a slice of classic pumpkin pie. So many people look forward to this little slice of fall spice all year. I know I certainly do! Pumpkin Pie can be made in so many different ways, but today I'm giving you my tried and true really EASY recipe. I love the simplicity (and shortcuts) because it gives me time to spend on the rest of my menu, and spend time with my loved ones. I also love the way it tastes! Perfectly pumpkin flavored and sweetened, with just the right amount of spice. And if pumpkin pie isn't your thing be sure to check out our other recipes that use pumpkin!
So just how easy is this recipe? My 9 year old made it, and it only took her about 5 minutes. The filling is made by whisking together canned pumpkin, a can of sweetened condensed milk, eggs, cinnamon, and pumpkin pie spice. That's it!! No fancy mixer, just a wired whisk. I use a frozen pie crust to add even more simplicity, and you can use your own personal favorite pie crust. A graham cracker crust is also delicious!
Another trick to this pie, is to not take it directly out of the oven, but let it cool in the oven for an additional 10 minutes. This will prevent any cracking in the pie. Serve with fresh whipped cream or coffee!
INGREDIENTS
DIRECTIONS
Preheat the oven to 375 degrees.
In a large bowl, whisk together pumpkin, milk, eggs, spices, and salt. Whisk until smooth and pour inside unbaked pie crust.
Place inside oven and bake for 45-50 mins or until pumpkin pie feels firm, but not overcooked!
Turn off the oven and crack open the oven door. Let sit in the oven an additional 10 minutes before taking it out to prevent cracking.
Cool to room temperature before serving. Pie can be made ahead, just bring to room temperature before serving.
Pie can be stored in the fridge for up to 5 days.
Servings: 8