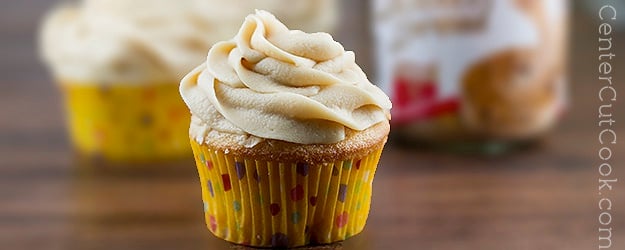 Have you heard of Biscoff Spread before? It's made in Belgium, and is (supposedly) Europe's alternative to peanut butter. We heard about it when it was mentioned on a podcast that we regularly listen to. It's only available in certain stores (check here to see where you can find it near you), but after it was described as one of the most delicious things on the planet, I decided to make a special trip to Meijer to track some down. They sell creamy and crunchy varieties for about $4-5 per jar and after one taste, I was sold! It is utterly addicting, and SO SO good!
For the first few days, I could be found eating spoonfuls of the stuff! Then I got a little more civilized and started slathering it on crackers. Eventually I got a brilliant idea that Biscoff, aside from being eaten by the spoonful, would be AMAZING in a frosting. But then came the great debate. What should I make to go with it? Cake or cupcakes? Yellow or Chocolate? I wanted whatever I made to pair perfectly with the Biscoff frosting! Eventually I decided upon homemade yellow cupcakes and I think it was the right decision. The Biscoff Cream Cheese frosting really shined when it was paired with yellow cupcakes!
While frosting may be intimidating if you've never made it before, it is pretty foolproof and usually super simple to make. I knew I liked the way this recipe for Peanut Butter Frosting turned out, so I decided to use it as my base, and just swap the Biscoff Spread in for the Peanut Butter. Success! The frosting turned out perfectly! For the cupcake portion, I went with a homemade yellow cupcake mix adapted from Cook's Country (yellow cupcake recipe here). It's a great go-to recipe, but feel free to use any recipe you'd like, or even boxed mix from the store if you're in a rush.
LIke I said, Biscoff by itself is uber addicting, and equally if not more addicting in frosting form. Cautiously indulge, and don't blame me if you gain a pound or two after you introduce Biscoff Spread into your life! ;)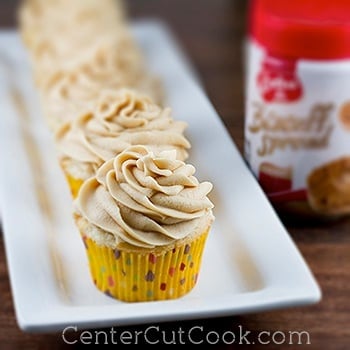 INGREDIENTS
DIRECTIONS
Combine cream cheese with unsalted butter in a mixer. Beat until fluffy
Add in 5 cups powdered sugar, one cup at a time, mixing well after each cup.
Add in the Biscoff Spread and mix until it's blended well. Make sure to scrape down the sides of your mixer bowl to ensure everything is combined.
If the frosting is too creamy, add a little more powdered sugar 1/2 cup at a time until you get your desired consistency.
Divide the frosting evenly among the 24 cupcakes. Tip: I bought a cheap mini cake decorating kit at Target, in the baking aisle, for under $10. It came with a few bags, a few different tips, and an instruction booklet. This is all I use for decorating my cupcakes. They don't look perfect, but they do look better than using a knife to slather on frosting.
Recipe adapted from
Chocolate Peanut Butter Frosting