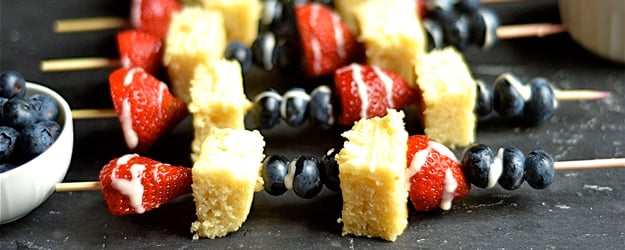 I love the idea of dessert on a stick! It makes such a fun presentation for kids and adults, it's easily portable, and can be made in advance for entertaining. With 4th of July just around the corner, these made Blueberry and Strawberry Shortcake Kabobs definitely are a must for your family and friends. They add that special touch to your festive table, without the hard work. I love the lightness of a strawberry shortcake in the summer, and the addition of blueberries makes it even better!
My kids had such a fun time helping me make these. We started off by making a basic sheet cake, and cut the cake into small 1-1.5 inch squares. For the cake, you can either use a jelly roll pan, or divide the batter into a 9×13 and an 8×8. You don't want the cake to be super thick, and either one of these options makes for the perfect thickness. I prepped the strawberries by cutting off the stem (slice in half for larger strawberries) and just simply washing the blueberries. We made a fun pattern, and I let them create their own version. Once the cake and berries were patterned on the stick, I drizzled with a simple glaze of butter, powdered sugar, lemon, and milk. The glaze will get a little stiff so that it doesn't continue to run once it's dry.
I know that the holidays certainly bring out a ton of desserts, but I really like the idea of this one being on the lighter side. The cake portion is very small, the fruit adds the right texture and taste, while the glaze is a minimal final touch. A dessert that we shouldn't feel guilty about feeding our families! These kabobs are sure to be a hit with kids and adults!
*If you're looking for a dessert that's just a bit more decadent, try our Red White & Blue Patriotic Dessert Tart,It is beautiful, delicious and perfect for patriotic entertaining!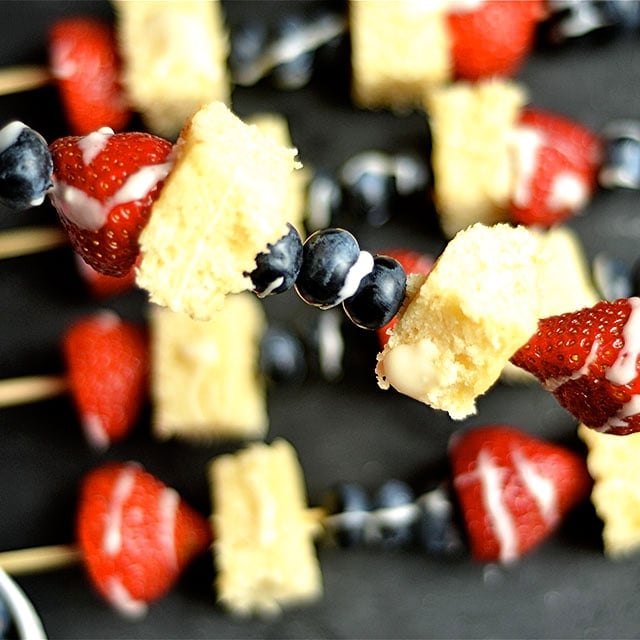 CAKE INGREDIENTS
KABOB INGREDIENTS
1 lb strawberries
2 cups blueberries
GLAZE INGREDIENTS
DIRECTIONS
Begin by preheating your oven to 350 degrees.
In a large bowl, mix together flour, sugar, and baking powder. Set aside. Meanwhile, heat water, oil and butter in a medium saucepan until ingredients are melted and hot. Mix together wet ingredients with dry.
In a smaller bowl, whisk eggs, vanilla, and buttermilk. Slowly incorporate into cake batter, using an electric mixer (do not over mix).
Lightly grease a jelly roll pan. Alternatively, use 1 9×13 pan and 1 8×8 pan, diving the batter between the two pans. Bake cake at 350 degrees for 20-25 minutes or until firm and edges are lightly browned. Set aside to cool.
Begin to make your kabobs. Rinse and dry the fruit. Remove stem from the strawberries (if they are really big, cut in half).
Make the glaze by melting the butter, whisking in powdered sugar, and finishing off with milk and lemon juice. Continue to whisk until smooth.
Cut the cake into small 1 – 1.5 inch squares. Make your own pattern of cake, strawberries, and blueberries. Drizzle the glaze with a spoon. Let sit until the glaze stiffens.
Kabobs can hold in the fridge for up to 2 days. Serve chilled or at room temperature.
Servings: 20 kabobs