Everybody needs a go-to patriotic dessert recipe that can be served for all of those Red, White and Blue holidays like Labor Day, Memorial Day, and 4th of July.
This dessert tart made with a shortbread crust, cream cheese filling, and loaded with fresh berries is the perfection treat for patriotic entertaining.
Raspberries, blueberries and strawberries lend themselves well for desserts like this, not only because they are the perfect patriotic colors but also because they are in-season, and juicy during all of the months that the United States celebrates a red, white, and blue holiday.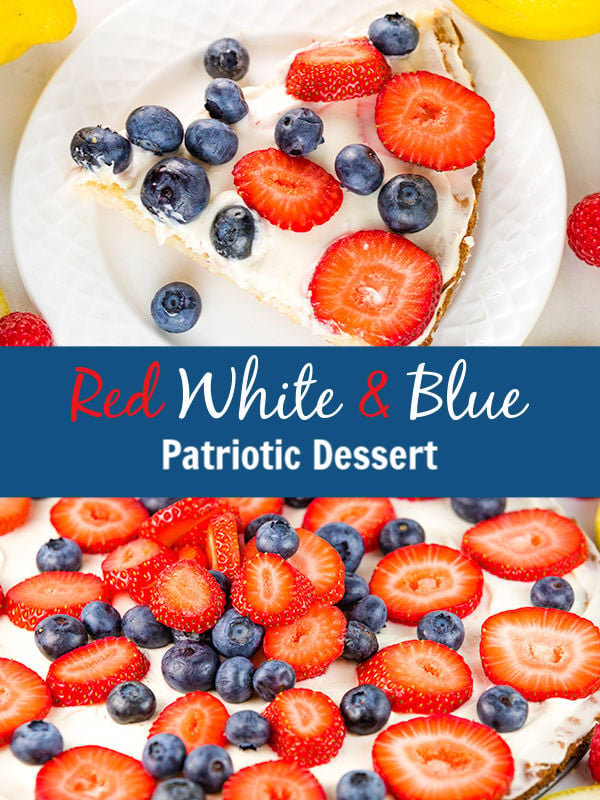 This delicious berry tart screams summer and is so easy to make. You'll start with a shortbread crust, then top it with a cream cheese filling before finally topping the tart with juicy, fresh berries. (If you're looking for another less patriotic-y dessert tart, this Fruit Pizza recipe is excellent)
Can I use low-fat cream cheese?
When you are making the cream cheese filling, make sure that your cream cheese has had plenty of time to soften. The filling will not be as smooth or decadent if you're working with hard, straight-from-the-fridge cream cheese. And make sure you are using full-fat cream cheese. The reduced-fat variety does not lend itself well to this dessert.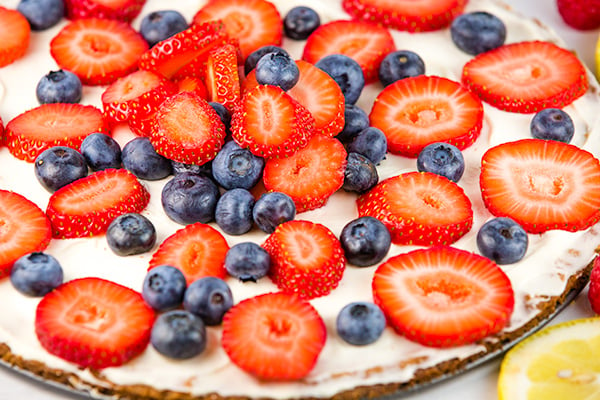 What kind of berries can I use?
The topping for this red white and blue dessert is the fun part because you can get creative with how you arrange the berries. You will need about 2-3 cups of berries. While we used strawberries and blueberries, you can use any variety of berries that you'd like. Raspberries would also be delicious in this recipe as would blackberries.
Can I use frozen berries?
I do not recommend using frozen berries for this tart. It is best made with fresh, juicy berries while they are in season.
(If you are looking for another amazing, delicious, patriotic dessert, these Blueberry and Strawberry shortcake kabobs are beautiful and perfect for your celebration).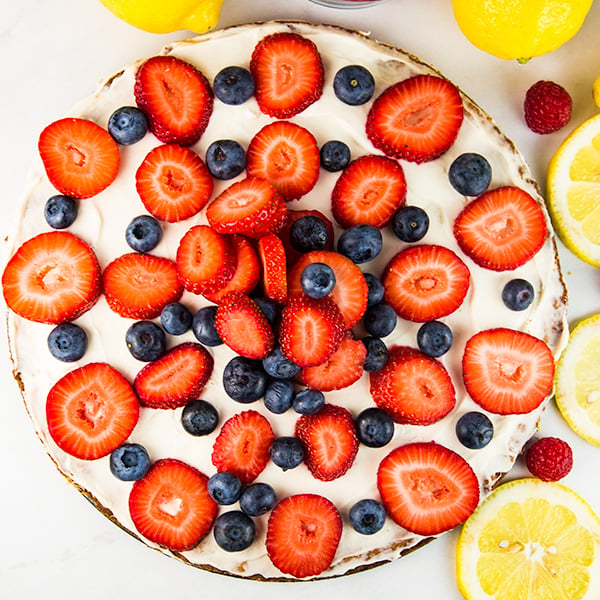 Red White & Blue desserts are always fun to enjoy for patriotic themed entertaining. I hope you enjoy this Berry Tart as much as we do.
Enjoy!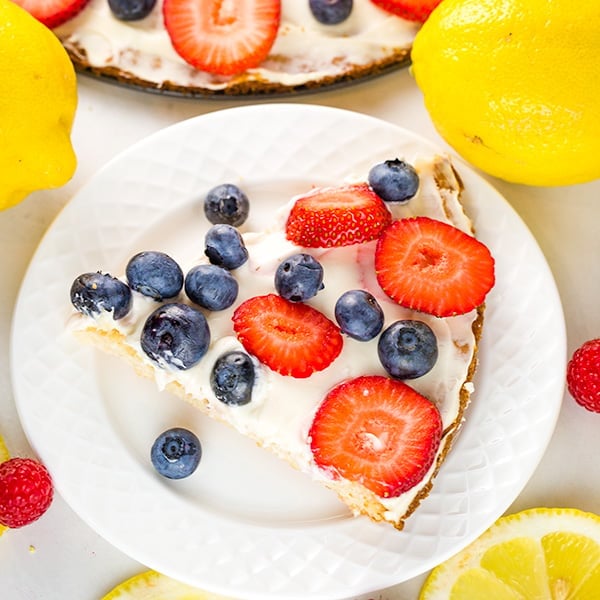 SHORTBREAD CRUST INGREDIENTS
1/2 cup unsalted butter, softened
1/2 cup sugar
1/2 teaspoon vanilla extract
1 cup flour
CREAM CHEESE FILLING INGREDIENTS
BERRY TOPPING INGREDIENTS
2-3 cups berries of choice (strawberries, blueberries, raspberries, etc.)
CRUST DIRECTIONS
Preheat oven to 400 degrees.
Grease 10" springform pan and set aside.
In the bowl of your mixer, cream together the softened butter and sugar on medium speed for about 1-2 minutes.
Using a spatula, scrape the sides of the bowl, then add the vanilla extract. Mix on low speed just until combined.
Slowly add in the flour and mix on medium speed until it forms a dough. You will know it is done when it starts to form a ball and pull away from the sides of the bowl.
Scoop the shortbread dough into the greased 10" springform pan and gently press the dough down evenly into the bottom of the pan.
Bake 10-12 minutes or until the crust is light brown.
Let the crust cool in the pan. While it's cooling, prepare the cream cheese filling.
FILLING DIRECTIONS
In the bowl of your mixer, beat the softened cream cheese.
Add in powdered sugar, and mix together until smooth.
Add 1/4 cup heavy whipping cream and 1 teaspoon vanilla extract. Mix together on medium-high speed until it is light and fluffy.
TART ASSEMBLY DIRECTIONS
Remove the shortbread crust from the pan. (Pro tip: It should slide right off the bottom of the pan easily; but if you are having trouble, you can pop it in the freezer for a couple minutes to firm up a little. Then it should come out easily).
Spread the cream cheese filling evenly over the shortbread crust. Slice the berries and arrange on top of the filling. You can either arrange the berries in a design or just evenly spread them on top of the filling.
Refrigerate if not eating right away. If making ahead of time, wait to add the filling and berries until right before serving to prevent it form getting soggy.
Servings: 8
Recipe Credit: Brittany Jenkins