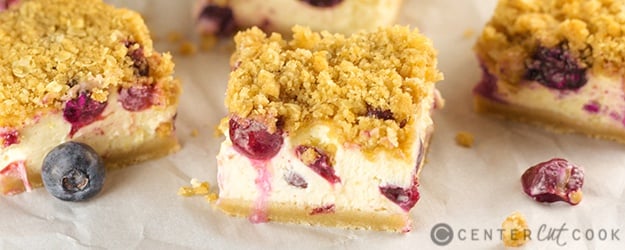 If I had to pinpoint my favorite dessert recipe that I've made lately, without a doubt it would be these Blueberry Cheesecake Bars! Hey cheesecake lovers? I am talking to you right now, you are going to l-o-v-e them!
These Blueberry Cheesecake Bars have just a hint of lemon, nothing overpowering, but enough to give it a little citrusy zip! And the blueberries? Sweet and juicy! My favorite part is the crumbly streusel topping that finishes the whole dessert off just perfectly.
These cheesecake bars do take about 25 minutes to prep, but I have included easy-to-follow instructions so that the end result will be a crowd-pleasing dessert that is pretty painless for you to make.
Just look at these beauties! I used fresh blueberries for these cheesecake bars but you could also use frozen blueberries that you have thawed completely. As these cheesecake bars bake, the berries turn from blue to a more purple shade like what you see in the pictures.
I know some of you are probably wondering if you could sub-in strawberries, raspberries or even blackberries and the answer is yes. However, I just love the blueberries with a hint of lemon. So refreshing!
And can we talk about the crumbly streusel topping? I have had a few blueberry cheesecake bars in my day, but it always seemed as though they were missing something. When I thought about it, I realized that they were missing just a little bit of crunch! I decided to experiment with a streusel topping and it ended up working out perfectly.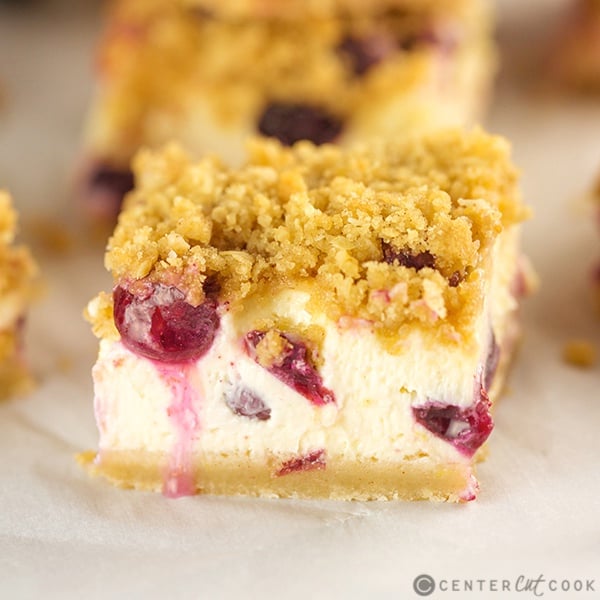 Be sure to follow the cooling instructions. These cheesecake bars will need to cool at room temperature for about an hour, and then they will need to continue chilling in the refrigerator for about three hours.
Please do not attempt to cut into these cheesecake bars until they have cooled for the entire four hours!
Blueberry Cheesecake Bars are just perfect for any occasion, especially since you can sub in thawed frozen berries. Make this summer or winter, or whenever you get the urge for a juicy blueberry cheesecake bar with a hint of lemon. Enjoy!
Note: If you don't like lemon, leave out the lemon juice and lemon zest.
Hey blueberry lovers! Try these Blueberry Crumb Muffins. They are another delicious blueberry treat!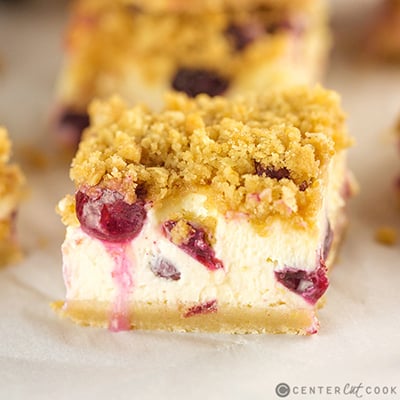 BASE INGREDIENTS
CREAM CHEESE INGREDIENTS
16 ounces cream cheese, softened
1/2 cup sugar
2 large eggs
1 teaspoon vanilla extract
Zest from 1 lemon
Juice from 1 lemon
1 1/2 cups fresh blueberries, divided (you can also use frozen berries that you have thawed)
STREUSEL TOPPING INGREDIENTS
1/2 cup packed light brown sugar
1/2 cup all purpose flour
1/4 teaspoon cinnamon
1/4 cup quick cooking oats
1/4 cup butter, slightly softened
DIRECTIONS
Pre-heat your oven to 350F degrees.
For the base: In a large bowl combine flour, brown sugar, salt and cinnamon. Cut in butter with two forks until you are left with a crumbly mixture.
Line a 9 x 9 inch square pan with foil hanging over the sides so that you will be able to easily remove the cheesecake bars from the pan. Spray the foil with non-stick cooking spray. Press the crust mixture into the pan and press down firmly. Bake for 15-18 minutes until it just starts to turn a light golden brown color. Allow the crust to cool.
While the crust bakes, make the streusel topping: in a medium bowl combine 1/2 cup packed light brown sugar with 1/2 cup all purpose flour, 1/4 teaspoon cinnamon and 1/4 cup quick cooking oats. Use two forks to cut 1/4 cup butter into the mixture. When crumbly, sprinkle the mixture over the cheesecake.
For the cream cheese layer: With your mixer, beat the cream cheese with 1/2 cup sugar until smooth, about 2 minutes. then add in eggs, one at a time, then vanilla.
Add in the zest and juice from 1 lemon. Mix well.
Fold in half of the blueberries.
Pour the mixture on top of the crust and spread it out evenly.
Press remaining blueberries on top.
Sprinkle the streusel topping over the blueberries.
Bake for about 35-40 minutes, until the filling has set and just the center is still a bit jiggly. Cool to room temperature for about an hour, then continue chilling in the fridge for about 3 hours.
Remove the cheesecake bars from the pan by lifting the foil out.
Cut into pieces and serve.
Recipe from
CenterCutCook