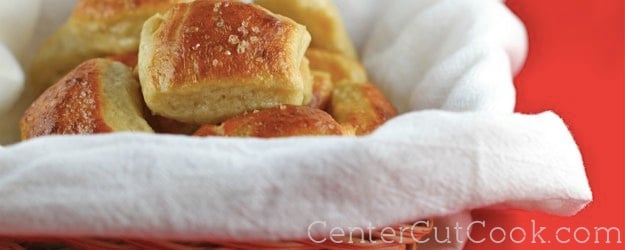 Any time I make a dip, I find myself searching for the perfect dipper. Sure, there's always the standard crackers, veggies, and toasted baguette, but I wanted something a little different. Somehow or another, I ended up on the King Arthur Flour website and found an awesome recipe for Buttery Soft Pretzels that was perfect for tweaking and turning into pretzel bites.
I'm sure the recipe for soft pretzels is great as-is, however, the little bite sized bites are so much more fun and go a long way! The very first time I made them, I used a cheddar dip from the store which was good, but definitely not as good as using them with Pizza Dip or an amazing Cheddar Bacon Dip that I'll be posting this week!
And can we talk for just a minute about how easy they are to make? These Buttery Mini Soft Pretzel Bites require just a few ingredients, about an hour of your time (although 30 minutes of that is just waiting for the dough to rise a bit), and they are foolproof! The recipe calls for instant yeast which is the same thing as rapid rise highly active yeast. This means you don't have to mix the yeast with liquid and wait for it to rise before incorporating it into your dough, so the entire process goes much faster.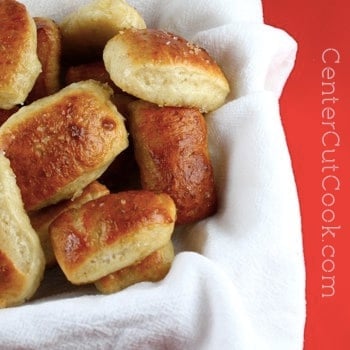 DOUGH INGREDIENTS
2 1/2 cups flour
1 teaspoon salt
2 teaspoons sugar
2 1/4 teaspoons instant yeast
1 cup warm water
TOPPING INGREDIENTS
DIRECTIONS
Pre-heat your oven to 475 degrees.
In the bowl of your mixer, sift together flour, salt, sugar, and yeast.
Add in 1 cup of very warm water and use the dough hook to mix it well. You could also do this by hand or use a food processor. Knead the dough until it is smooth.
Sprinkle flour in the bottom of a bowl. Place the dough in the bowl and cover it. Allow it to sit for about 30 minutes to rise.
After 30 minutes, knead the dough for 30 seconds to 1 minute. Divide the dough into 4 equal sections. Form each section into strips about 8 inches long and about 1 inch wide.
Cut each strip into about 6-8 pieces. You should end up with 24-32 pretzel bites.
In a shallow dish (I used a cake pan), combine the very hot water (I microwaved it for 2 minutes, you could also boil the water on the stovetop) with the baking soda and stir to dissolve.
Place the pretzel bites in the water/baking soda mixture and allow to sit for one minute. Then flip the pretzel bites and allow to sit in the mixture for one minute longer. Arrange the pretzel bites on a greased baking sheet.
Allow the pretzel bites to rest for about 5 minutes, then sprinkle with a bit of kosher or sea salt before baking them for 10-11 minutes, or until the pretzel bites are nice and brown!
While the pretzel bites are baking, melt 3 tablespoons of butter (1 minute in the microwave).
When the pretzel bites are done baking, immediately brush each bite with melted butter. Keep brushing the bites with butter until it is all gone.
Serve with your favorite dip!
Recipe adapted from
King Arthur Flour