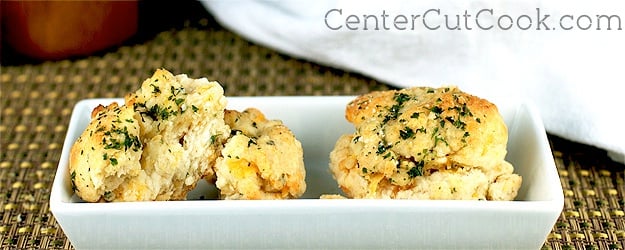 If there's one thing that Red Lobster is known for, it is probably their Cheddar Bay Biscuits. This popular seafood chain serves over 1.1 million biscuits every single day (source)! And let me tell you, I've had more than my fair share of those buttery little things in my lifetime thanks to the fact that I was a server there during my college days. When those babies would come fresh out of the oven, it was definitely hard not to snack on one or two, especially on slow days when we'd stand around waiting for tables. Nothing is better than fresh Cheddar Bay Biscuits!
There are a ton, and I mean a TON of recipes floating out there for these things, and I've tried at least a half dozen of them over the years. Most of the recipes call for Bisquick which I never have on hand, so this version is Bisquick-free. Another thing worth noting is that many of the recipes out there do not call for baking soda. Red Lobster says themselves that there are two things you should do to make Cheddar Bay Biscuits at home. First, your recipe should include baking soda – check. Secondly, you should not over-knead the dough- check. This keeps the biscuits light and fluffy.
This recipe satisfied my craving for Red Lobster's Cheddar Bay Biscuits enough that I will no longer need to try any additional recipes. This is it. This is my go-to recipe! You can serve these biscuits with so many different things, but they went perfectly with my Broccoli Cheddar Soup.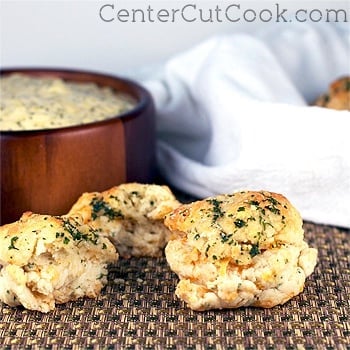 BISCUIT INGREDIENTS
TOPPING INGREDIENTS
2 tablespoons butter, melted
1/4 teaspoon dried parsley flakes
1/2 teaspoon garlic powder
Pinch of salt
DIRECTIONS
Pre-heat your oven to 450 degrees.
In a small bowl combine yeast and warm water. Set aside.
In a large bowl, use a large wooden spoon to combine flour, sugar, baking powder, baking soda and salt.
Use a fork to cut in the butter until the mixture is crumbly.
Add in cheddar cheese and stir.
Pour in the buttermilk, then the yeast/water from step 2 and stir to combine. Do not over-mix.
Once all of the ingredients are combined. cover the dough and let it rest for 1-2 hours.
In a small bowl combine topping ingredients by mixing melted butter, dried parsley flake, garlic powder, and a pinch of salt.
After the dough has rested, grease a baking sheet and drop spoonfuls of dough (about 1/3 cup) onto the cookie sheet.
Brush each biscuit with a bit of the topping mixture, then bake for 12 minutes or until the biscuits are golden brown. Top with remaining butter mixture.
Recipe adapted from
Recipe Junkie