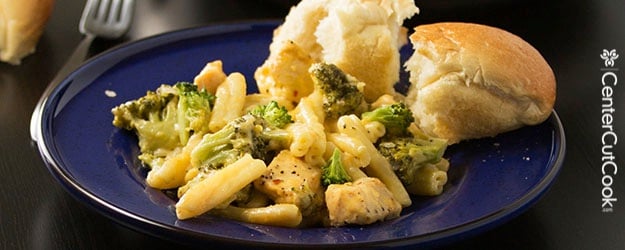 What is it about cheese, broccoli, and chicken that seems to draw me in? I was halfway through making this recipe for One Skillet Cheddar, Broccoli and Chicken Pasta when it occurred to me that just a few weeks ago I already shared a recipe for Creamy Four Cheese Baked Pasta Skillet. At first I thought about not sharing the recipe with you, and then I realized I was just being silly. If you are anything like me, there is no such thing as too much cheese… or pasta, no siree!
One skillet suppers are my new best friend, which is why I wanted to share this recipe with you. The entire meal, I mean the whole shebang… is made in one skillet. For someone who despises washing dishes almost as much as cleaning toilets, one skillet suppers are a dream come true. Especially the ones where they really truly are completely made in one skillet. I've come across recipes that claim to be, only to find out you still have to make the pasta in a separate pot of boiling water.
With this recipe? Even the pasta cooks in the same skillet as everything else. Win!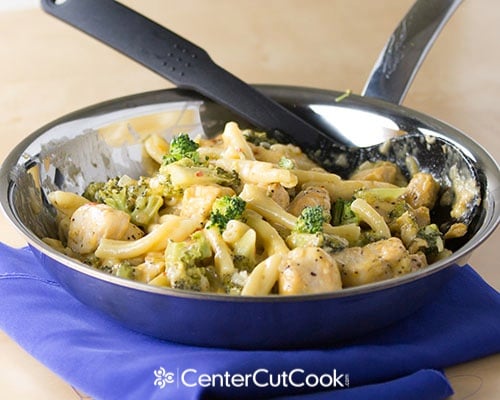 Meals during the summertime can be a little bit tricky. I wrestle between trying to make something that won't heat up the entire house and trying to find quick suppers so that I can enjoy my evenings outside taking walks with Ryan and my pups.
What I love about this is that while it does require the stove, it's only one burner which is surely better than two or three right? And certainly it has to be better than turning on the oven to 450 degrees?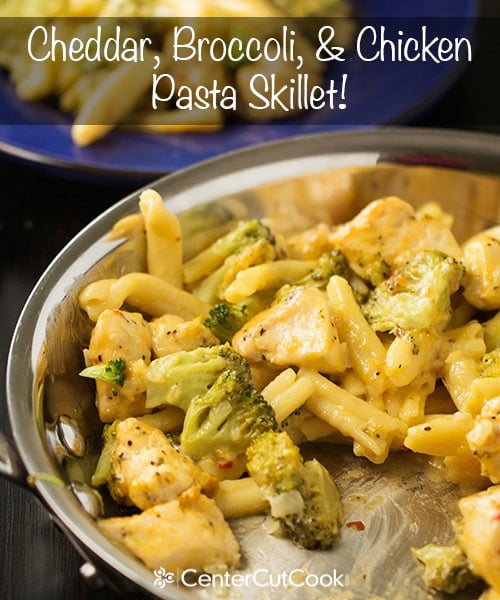 Aside from the fact that this is a one skillet meal which pretty much rocks my world, I also love the cheese factor. I debated long and hard about which cheese I should toss in here because I had cheddar, parmesan, and monterrey jack stocked in my fridge.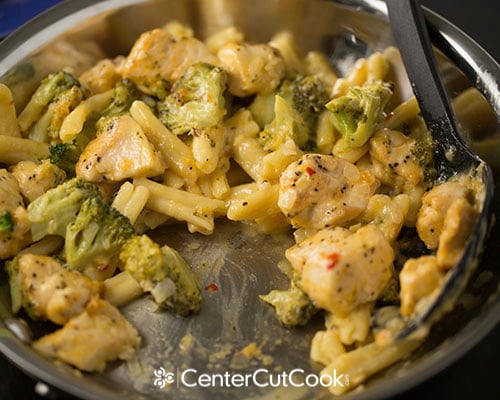 In the end I went with cheddar, simply because I love the combination of cheddar and broccoli which is probably why I am a total sucker for homemade Broccoli and Cheddar Soup.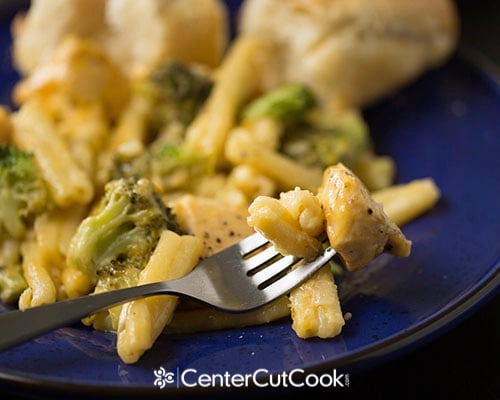 This serves four but could easily be doubled to serve more than that. I like to serve crusty bread alongside so that I can use it to soak up any cheddar cheese sauce that's leftover.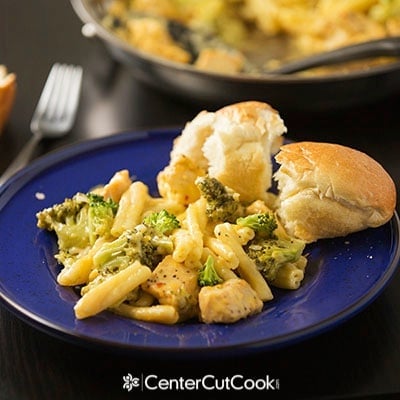 INGREDIENTS
2 large or 3 medium boneless skinless chicken breasts, cut into 1 inch chunks seasoned with a bit of salt and black pepper
2 tablespoons olive oil
1 small onion, finely chopped
2 garlic cloves, chopped
1/2 teaspoon dried oregano
1/2 teaspoon red pepper flake (omit if you don't want the spice)
8 ounces pasta of choice (I used Casarecce pasta because it looks cool!)
1 2/3 cup chicken stock
2 3/4 cups water, divided
8 ounces broccoli florets, chopped into small pieces
1/2 cup heavy cream
1 cup cheddar cheese
1/2 teaspoon salt
1/2 teaspoon black pepper
DIRECTIONS
Heat 1 tablespoon of oil in a very large non-stick skillet. Add the chicken chunks and cook until the chicken is browned on both sides, and almost entirely cooked through. Remove the chicken from the pan, cover, and set aside.
Add another tablespoon of olive oil to the pan. Cook the onions for several minutes, until they start to turn translucent. Add in the garlic and cook for another minute or two. Sprinkle in oregano and red pepper flake.
To the pan add in 1 and 2/3 cups chicken stock, and 2 cups water. Stir in the pasta and bring to a boil. Cook for 12-15 minutes until most of the pasta liquid is absorbed into the pasta.
Add in the broccoli, 3/4 cups water, and cover. Reduce heat and simmer for about 5 minutes, or until the broccoli is tender.
Add in the cooked chicken, 1/2 cup heavy cream, cheddar cheese, and increase the heat to medium high. Continue stirring until the cheese melts and the sauce thickens, about 5-10 minutes.
Sauce will thicken as it stands. Add in 1/2 teaspoon salt and 1/2 teaspoon black pepper, or more if needed to taste.
Recipe adapted from
America's Test Kitchen – Season 7: Streamlined Chicken Skillet Suppers