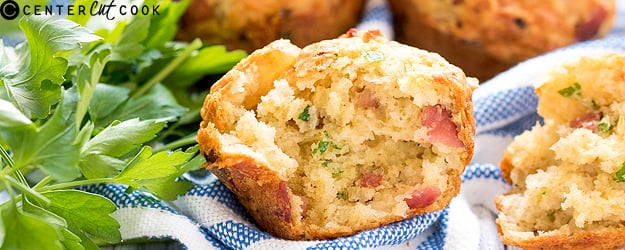 A warm savory muffin, spread with a little salted butter. Could there be a more satisfying breakfast?
These muffins are soft and flufffy, flecked with parsley and pieces of crispy bacon.
They're so versatile too. Breakfast, lunch, picnic food or as a side dish to a bowl of tomato soup (or according to my kids, a plate of sausages and baked beans!!).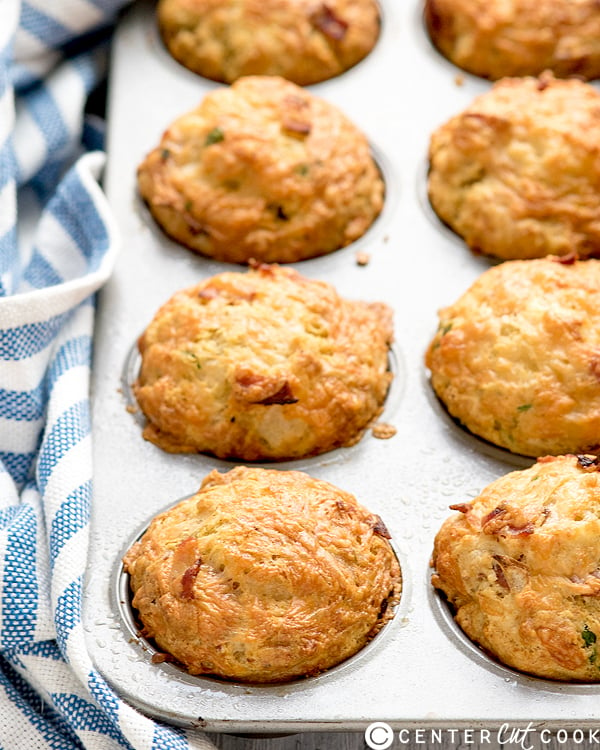 I often find that savory muffins have more of a dense biscuit-like texture. However these muffins use a combination of buttermilk (which is an acid) and baking soda (which is an alkaline) – this combination ensures a lighter texture and great rise. The mixture of oil and butter also ensures the muffins are beautifully moist.
They're best served warm from the oven, but can be eaten cold too. If you want to reheat them, just place them in a 350F oven for 5-6 minutes.
You can also freeze them. Simply defrost in the refrigerator overnight, then reheat in the oven as above.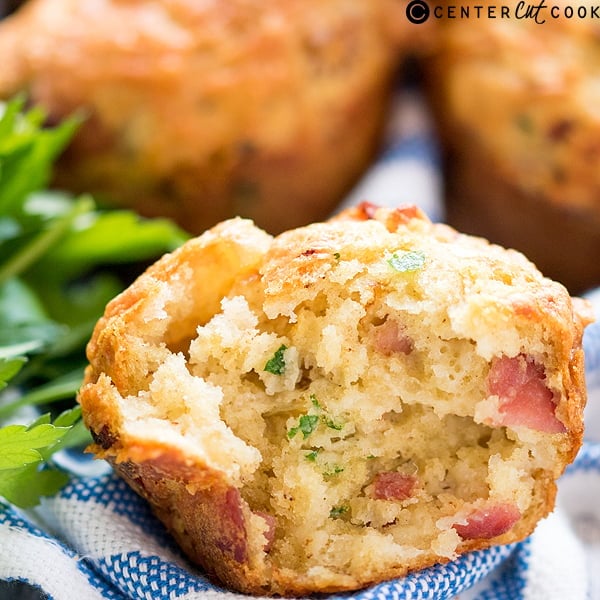 INGREDIENTS
6 rashers bacon, chopped into small pieces
1/2 small onion, peeled and chopped finely
3 tbsp vegetable oil
2 tbsp butter, melted and cooled
1 large egg
1 cup buttermilk
2 cups all purpose flour
1 tsp baking powder
1 tsp baking soda
1 packed cup cheddar cheese, shredded
1/4 tsp salt
1/4 tsp garlic salt
A few sprigs of parsley, roughly chopped
DIRECTIONS
Preheat the oven to 400f
Heat one tsp of the oil in a skillet and fry the bacon and onion until the bacon is lightly crisped and the onions have softened. Leave to cool slightly
Add the remaining oil, melted butter and egg to a bowl. Mix using a fork or balloon whisk. Add in the bacon (reserve a few pieces to sprinkle on top), onion and any oil left in the pan, then add in the buttermilk and stir.
Add in the flour, baking powder, baking soda, all but 3 tbsp of the cheese, salt, garlic salt and parsley, mix together using a wooden spoon until just combined (don't over-stir or the muffins will be tough)
Take a 12 hole muffin tin and fill 10 of the holes – the mixture will be thick, but it should just about reach the top of each hole. Sprinkle with the reserved bacon and cheese. Place in the oven and cook at 400f for 5 minutes, then turn the oven down to 350f and cook for a further 10-12 minutes – until an inserted skewer comes out clean. Once cooked, leave to cool in the tin for 10 minutes before removing and cooling further on a cooling rack.
Servings: 10