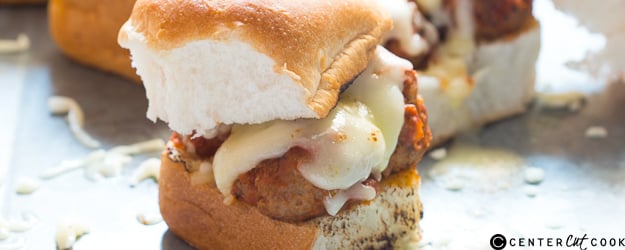 We love meatballs in our house, and just need an excuse to make a batch. It's so satisfying to eat a bowl of hot meatballs and binge watch your favorite TV show on a Sunday night. I love smashing up meatballs in the sauce and just mixing it all up.
A couple of weeks back, I had an extra batch of meatballs and decided to change things up and turn them into cheesy sliders. The family loved it so much that I've now been making meatballs just for sliders. It's perfect for a lazy dinner or a Sunday barbecue or a kiddie party.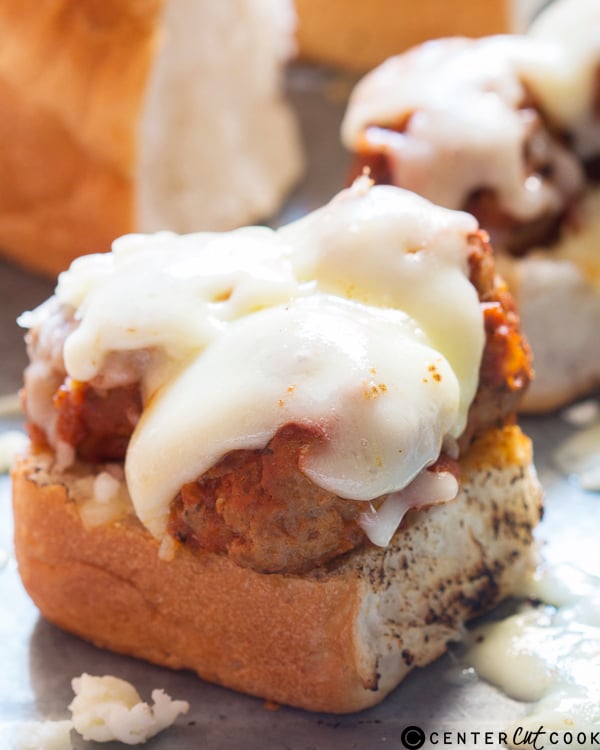 The best part about this recipe is that these meatballs are juicy, airy and perfect when you have a craving for italian food. I prefer not to use eggs while making these meatballs because I feel that eggs make them tough. And trust me, you really don't need them to bind these.
You can make a large batch of meatballs and freeze them. Cook them a bit in the sauce on the day, add them to slider buns, top with cheese and they are ready for dinner!
You can just as easily use larger hamburger buns if you aren't too fond of sliders or even add them to hoagie buns and turn them into sandwiches.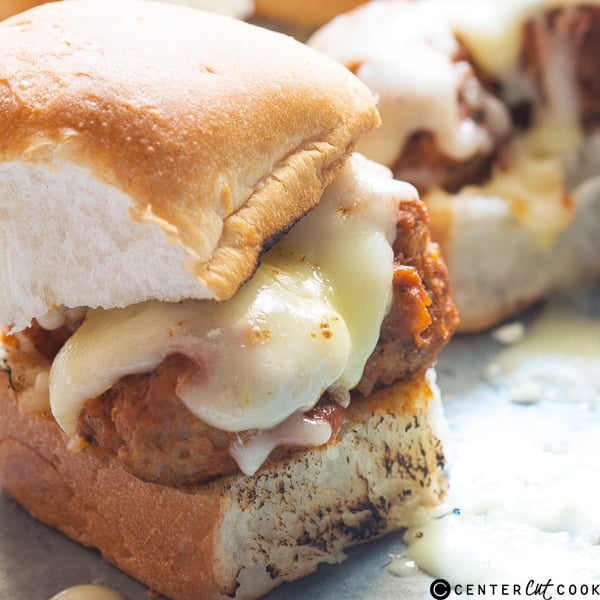 INGREDIENTS
3 tablespoon Olive Oil
4 Garlic Cloves, minced
1 large Onion, finely chopped
1 1/2 lbs. ground beef (I use chuck)
3/4 cup Breadcrumbs
1/2 cup Milk
1/2 cup grated Parmesan
2 tablespoon chopped Parsley
Salt and Pepper to taste
2 cups Marinara Sauce
1 cup grated Cheese (I used Mozzarella)
8 Dinner Rolls
DIRECTIONS
Heat a tablespoon of olive oil in a skillet and add minced garlic and onions. Cook till the onions are translucent and set aside to cool slightly.
Mix together bread crumbs and milk in a large bowl and add ground beef, onion mixture, parmesan, parsley, salt and pepper. Be gentle while mixing everything because we want to incorporate as much air into the mixture as possible.
Roll mixture into golf sized balls. You should get 15-16 meatballs with this mixture.
In the same skillet, heat remaining olive oil. Add the meatballs and brown them on all side for about 3-4 minutes. Pour in the marinara sauce, and simmer for 20-25 minutes till the meatballs are cooked through.
To assemble the buns, slice each bun in half, smash two meatballs and place them on the bun along with a spoonful of sauce and top with grated cheese. Place under the broiler for 2-3 minutes till the cheese melts.
Serve hot.